FaceIT has now switched to Monokai Toolkit – The latest multifunctional Facebook Toolkit.
Join the channel

Telegram

belong to

AnonyViet

???? Link ????
Please read here
—————————
Author Nguyen Anh Nhan of Multifunctional Facebook tool continues to release a tool to add features for Facebook called faceIT. In my opinion, this is the most practical Toolkit you need when using Facebook. I also wanted Facebook to develop these features for a long time, but fortunately, there was a Vietnamese programmer.
faceIT – Tool to add features for Facebook
The author was too generous to add 5 features to this new tool. Mainly these features belong to privacy management. If before, you want delete all posts on wall then you need to use a script, now faceIT will support you on the interface. I would like to briefly introduce the features of faceIT:
Install faceIT
FaceIT is a web browser extension. So you need install faceIT into Chrome or Coc Coc to use. The main interface is English, the author will soon add Vietnamese to this tool
Log in, switch accounts
If you have multiple Facebook accounts, then use this feature to switch accounts. The advantage is that it is faster than Facebook's feature, which uses the Cookies mechanism. You can login to Facebook with Cookies. If log out still don't die cookies and tokens.
Scan post – Scan all status to delete, set privacy, or hide
This function allows you to scan to find all your Facebook Status. You can find your posts based on date, article typeor private mode.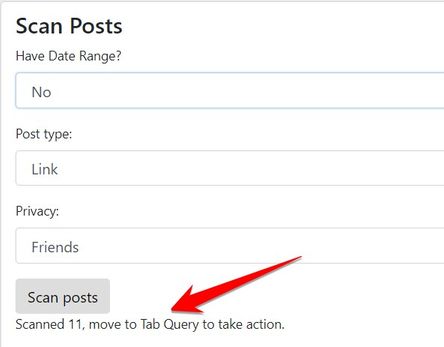 The scan result will be in the menu Query. You can choose the action: delete, reset post privacy, or hide from the wall for all posts by clicking the Action button.
For example: You want to change all posts to only me status
You choose: Action: Set Privacy
Next choose: Privacy Value: Onlyand press the button Start.
Similar for the functions to delete posts, or hide posts
Schedule post – Schedule posts on personal Facebook
The timer feature is only integrated by Facebook on Groups and Fanpages, but faceIT cho has added this feature to his personal wall. Now you can choose a time to schedule a personal post mine. The Personal Facebook Post Timer feature can also post images.
You note: when setting the time, in the last cell is the value SA/ONLY (morning afternoon). See example image below:
Reactions – Automatically drop hearts on Facebook
You can automatically drop Reactions to Facebook. Support drop all emojis available on Facebook. This feature will drop hearts every 5 minutes on Newsfeed. According to many reviews, this feature is not complete, so you may be blocked if you abuse the feature.
Select Status: Enabled, and press the . button Save for the auto-release feature to work.

Friends – Scan friends – Automatically Post on the wall, poke, export friends list file
This feature will scan all your friends list. You can optionally scan under conditions such as: gender scanor scan by relationship.
The scan result will be in Menu Query, Friends tab. Here you have the option to Post to all friends' walls, or poke all friends, or export the friends list to a txt file.
If you export your friends list, it is recommended to use notepad++ to open the file. Now the list of IDs will display vertically.
So I have introduced through the functions of faceIT, a powerful support tool for Facebook. These features will save you more time when managing your personal Facebook.