Many Facebook accounts have been hacked these days. Later renamed to Messeňger Vietnam nice Messeger system... then send the winning message to all your friends in your Facebook account. If that's all, don't say anything, some hackers take advantage to ask your friends to buy phone cards or transfer money because they are in urgent need. So not only affects the reputation of the person being hacked, but also affects the economy of others.
Join the channel

Telegram

belong to

AnonyViet

? Link ?
In the recent case, a friend of mine was in the hotel business. She owns a fanpage to introduce the hotel. Customers can book rooms through messages on the page. Suddenly her Facebook was hacked, of course she lost her fanpage. Hackers took advantage of the fanpage to ask customers to transfer money to their own accounts, if customers want to book rooms in advance. In the end, the money went to the Hacker, the guests did not have a room, and the hotel lost its reputation.
So why is it so easy for Facebook accounts to be hacked?
Usually hackers attack the greed, gullibility, and computer literacy of their prey. The way hackers most often use is Phishing (set up a fake website with Facebook interface) to trick the prey into logging into the account. As mentioned above, they often send messages to their friends' Messenger with winning content.
More advanced, hackers can install backdoor, rat, keylogger on the victim machine to record the login information.
Recently, a new trend is that hackers steal login cookies through junk extension, fake extension on chrome, mug cup. Has the function of extracting the victim's cookies to send to you.
How to protect Facebook account
To avoid your Facebook account being hacked or locked by Facebook for any reason, do the following:
Make sure you Declare information on Facebook yours is correct: full name,

date of birth, identity card.

To mode private about friends, date of birth, phone number.
Turn on mode Use 2-factor authentication (send a message to confirm the code when logging in).
Are not Set the Facebook password to match the Email password.

Always check if the login link is from Facebook.com or not?

Alert with winning messages, by buying a phone card, by wire transfer, and by borrowing money.
Are not grant permissions to applications (Apps) unreliable.
Facebook account is hacked what to do?
In the worst case, your Facebook account gets hacked. You cannot access your account because your password has been changed, your email and phone number are also changed. It's okay, calm down and take the following steps:
Absolutely do not use email, hacked phone number to create a new Facebook account.
Access the link to report hacked account:
https://www.facebook.com/hacked
Click on My account has been compromised
Next, fill in phone number or email of your Facebook account being hacked. Then click Search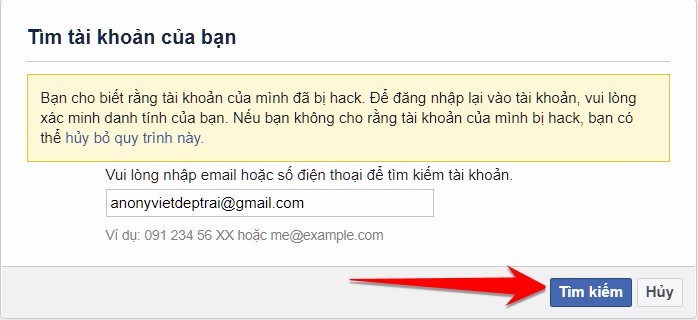 In this step, you enter Email (phone number) and old password before being hacked.
If successful at this step, you will be redirected to the account confirmation page. Now just enter change password and Full name to avoid being hacked again.
With the article Facebook account is hacked what to do? AnonyViet hopes that you will raise your awareness of protecting your Facebook account more. Partially limit being hacked Facebook, affecting me and my friends.