Bing has a policy of giving points to redeem Grab and Shopee Vouchers used in Vietnam with the Microsoft Rewards program. To get points is very simple, you just need to use Bing to search instead of using Google, Yahoo, Coc Coc as before. This is also a way for Bing to attract users to itself, since Chatbot AI Bing was born. Maybe with this policy of giving points, Microsoft's Bing will have a large number of users with its search engine.
Join the channel

Telegram

belong to

AnonyViet

👉 Link 👈
How to earn points with Bing to redeem Grab Voucher, Shopee…
Microsoft Rewards is to reward you for using a Microsoft product. You can earn points when you search on Bing.com and make purchases from the Microsoft Store in Windows 10/11. At page Rewards, Microsoft will add new ways to earn new points every day. When you reach a certain point, you can exchange Vouchers (discount codes) to use services such as Grab, accumulate points to VinID or buy online products…
Microsoft Rewards is built into your Microsoft account, you just need to Microsoft account registrationthen go to the page Rewards Press the button Join Now Sign in to Bing.com and search using this tool. As your score increases, so does your chance of getting these rewards.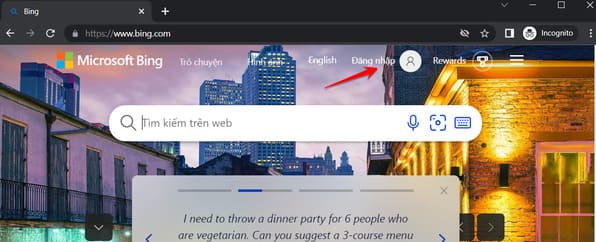 Bing Rewards Points can be redeemed for gift cards, sweepstakes, and donations to charity. If you were previously a member Bing Rewards your account has been automatically converted to Microsoft Rewards.
5 Ways to Earn Scores Fast on Bing
Completing Microsoft Rewards Activities
When you sign up for the program Microsoft Rewards For the first time, you will see a series of activities below. Each active cell will have a number indicating the number of points you will receive upon completion. You can start here and begin your journey to accumulate points.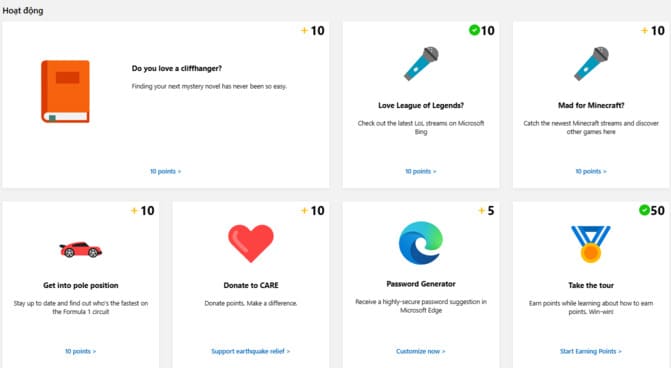 Use Bing and Edge to increase your score
Every day, you use Edge access to this page
Then type any search term, for example type AnonyViet. Then click on the search result and you have points. Continue to repeat the above steps, each time you click a different link, you will get points.
To check your score, you visit the page Microsoft Rewards: Status to view available points and current account status.
Purchase from Microsoft Store
Purchases of games, apps and subscriptions also generate bonus points. Microsoft will reward you with points for every dollar you spend buying content from Microsoft. You can make purchases using your mobile phone, Xbox, Windows PC, or even the online store.
Make sure you first sign in with the same account you used for Microsoft Rewards. Remember that the percentage of points changes when you become a second level user. Then you earn 10 points for every dollar you spend on Microsoft.
Install Microsoft Rewards Extensions
Bonus points will be awarded when you use Bing as a search engine. But you have to change the default search engine in your Chrome browser. However, you can install the Microsoft Rewards extension, which will automatically change your default search engine.
You can disable the extension after completing the daily quota. Also, you can check out activities that can help you earn more money.
Download: Microsoft Rewards for Chrome | Edge | Safari
Earn points with Xbox
Microsoft offers weekly challenges and rewards points when you play select games. This is one way to increase your chances of earning bonus points. There are even more methods to earn bonus points on Xbox like watching Xbox console highlights.
How to redeem Microsoft Rewards points to receive Grab Voucher, VinID
After getting enough points, you can go to the page reward exchange and use your points to get a discount code. Depending on the country, the reward will be different. Now surfing the Web and making money has become a reality.