Hello friends,
Join the channel

Telegram

belong to

AnonyViet

? Link ?
Nowadays technological improvements lead to double the workload on a system and sometimes our system can't control those workloads and in a result, our computer become slow to work. This often happens while load memory exceed RAM That system is Random Access Memory. Leads to the stagnation of the computer's capacity.
So what should we do – Follow these simple but very effective tips!
End of System Tray
Normally, most of the applications running on your computer appear in the system tray or you can in the notification area. If you detect any unnecessary applications running in your system tray, close them. This will definitely make your PC run faster.
Remove unwanted programs
Sometimes programs are installed on our computer without our command and these programs can affect the computer speed to a great extent. Hence it is better to uninstall this unnecessary program. By uninstalling programs, disk space is free and this will speed up your computer.
To uninstall, just go into the control panel and select programs and features. Now uninstall the programs you don't want on your computer. Or you can use software tools to support root removal such as IObit Uninstall, CClean, etc.
Disable

Startup Programs
Many computer users think that they computer starts very slow the main reason for that is that there are many startup program is structured to start when a window is started. This is called the startup program. To speed up your computer, just disable startup programs. For this you need to dial " msconfig " without quotes on the RUN command and disable the program of your choice. This will disable all startup programs and your computer will be boosted.
Run Disk CleanUp available on Windows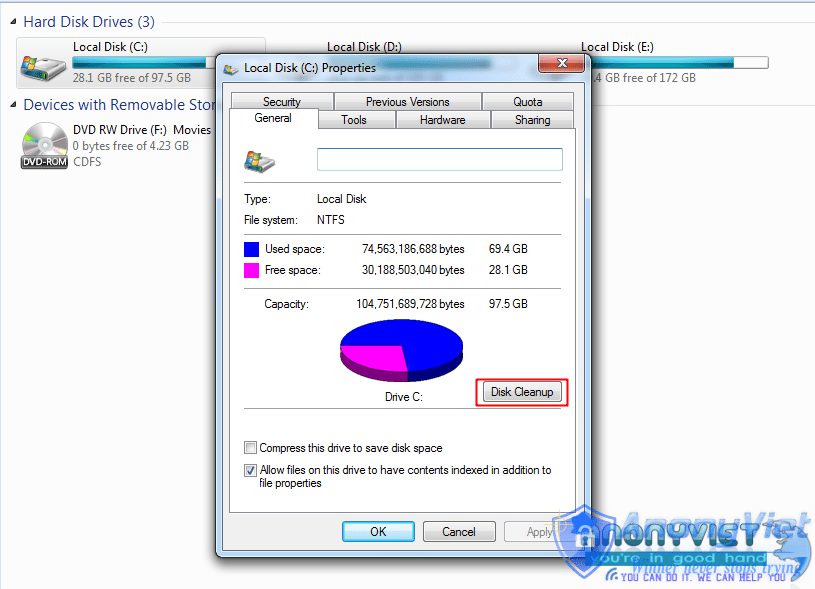 Disk CleanUp wipes all unwanted caches of a drive. After clean, computers get faster. To clean, moderate disk cache click on the C drive and on the General tab select Cleanup, select the drive and clean all caches.
Use the third option Cleanup
There is also some software available on the internet to clean the disk cache.
For example Ccleaner – This software cleans up unwanted space of your computer and wipes out all unwanted files including cache. And by this computer get faster speed.
Stop the process from management
Task Manager is a very useful feature of windows. You can monitor each and every process. If any process gets dumped on your computer or crashes your computer just open Task Manager by pressing the key combination CTRL + ALT + DELETE . In this you can stop any unwanted process by right clicking on a process and end the process there.
Disable unnecessary extensions on Google Chrome
If you notice that your Google chrome is running slower. You can try disabling the extensions. Recent studies have revealed that Google Chrome consumes more RAM compared to other browser. The Opera browser can be a convenient option if you are looking to free up some RAM. Or update to the latest version October 2016 will now consume less RAM.
Remove bloatware
Bloatware are pre-installed apps that came with your device. You can uninstall apps that you no longer want! You will find a lot Bloatware in your program list. You can try some advanced installation programs to remove stubborn applications.
Turn off unused Windows features
When you install Windows 7, Windows 8 and Window 10 with default settings then you install many unused features and services in your system that normal users never use. programs and services in the Windows operating system. But you can turn this feature off when you don't use it.
Follow the steps below
Open Control Panel and click Uninstall a Program. On the left side you will see Turned off Windows – click on that.
Select one by a program and service that you want to disable windows on your machine.
Always update software from Official Website
Every software developer makes an update of their software after a period of time. You should update the software from only its official websites. Because in other websites this software can update with many deadly viruses that can get into your computer and make it slow. Here is a sincere advice from Anonyviet.
Increase RAM via Pendrive
You can use USB/pen drive as ram in Windows 7, 8, 10. You don't need any third party application to do so. We have discussed two working methods in our article how to increase RAM using USB / pendrive In Windows 8 & 10 will help you to increase RAM usage of your pendrive.
Remove Virus, Malware, and Trojan
Viruses are the most influential and haunting thing in a computer. A single virus can make you computer is very slow. So to avoid this, Download and install the Software Antivirus and best of all Avast or IOBit Spyware on your computer and let it run with the computer to prevent Virus. Perform a regular scan of your computer and clean all your computer viruses. This will make your computer run fast.
Defrag your hard drive
Defragmentation tools install in your Windows operating system by default, so use this tool and improve your computer speed. This way, you can defragment your hard drive with one word from this tool. The defragmentation process is very manageable and you need to follow some simple tips
Right click on each drive and select properties and click the Defragment tool tab at that node.
Reset your computer
Windows 8, 8.1, 10 comes with an option to reset your computer. Sometimes due to some registry errors, your computer may not perform efficiently! So you can try reinstalling your system. This will work but it takes too long to complete the whole reset procedure.
It is best if it is too slow, please reinstall Windows and install the defragmentation software right from the beginning to get the best effect.
The best upgrade for your computer
Hardware plays an important role in software operations. Having the best configuration is always the better choice. So you can Add more RAM chips on your computer to make it fast. This is really expensive but it is a positive and extremely scientific solution.
Good luck !!