For those of you who are new, HoneyGain is an application that can be installed on your computer and mobile device and it uses your internet connection to earn free money. You can see how to sign up for Honeygain and get $5 for free here. I also wrote a post Instructions for withdrawing money on Honeygain okay then.
After a few months of use, I have drawn 11 ways for you to use to increase income on Honeygain.
11 ways to increase income when using the HoneyGain app
Prefer computer over phone
Install HoneyGain on desktop is likely to earn more than on mobile.
You can see the test results below.
You can see that when using Honeygain on a computer, the speed will be 2 times or even 3 times faster than that of a mobile phone.
The processing speed of these devices is also important. So use faster devices if possible.
Add 3 devices per IP
For most of us using residential IP addresses, that will be up to 3 devices.
So you can increase your chances of making money by installing Honeygain on all 3 different devices.
For a business IP address, it allows only one computing device.
Turn off battery optimization on your phone
Android has a battery optimization function to help save battery life. While this functionality is useful to many of us, it is really a hindrance to the HoneyGain app.
After a certain amount of time, Android will automatically kill HoneyGain's background process if the app hasn't been opened for a while. To ensure HoneyGain is constantly running in the background, disable battery optimization in your Settings.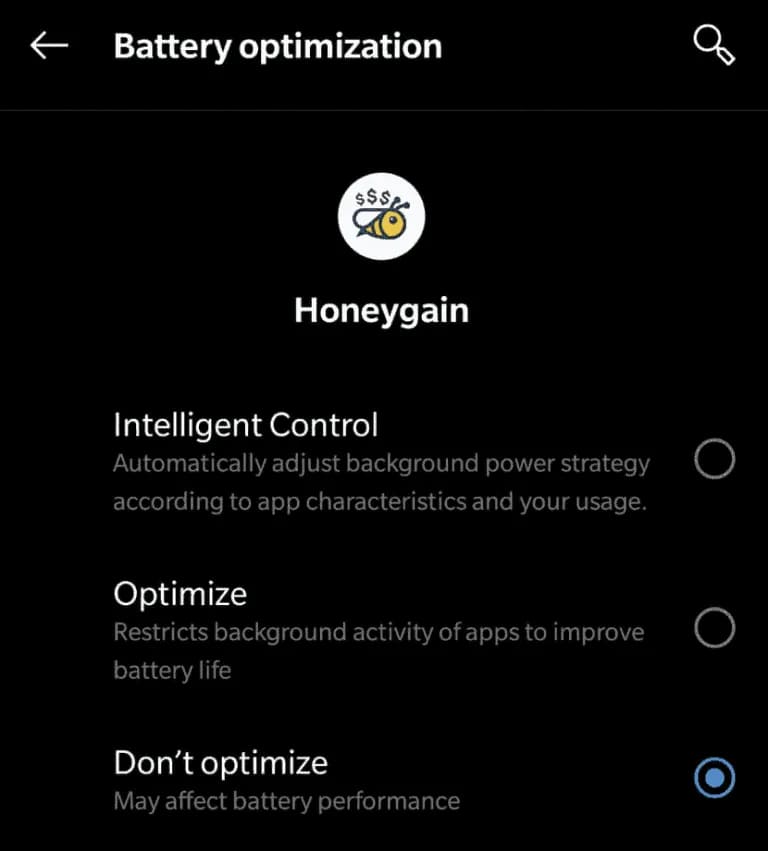 Runs 24/7 in the background
The longer you allow HoneyGain to run on your device, the better your chances of making a profit. Phone devices are usually on 24/7 and that shouldn't be an issue here.
To maximize monetization, consider keeping your computer (Windows/Mac/Linux) running for as long as possible.
Connection type (Wifi or wired)
If you use a wired direct connection (Ethernet) to your computer, the internet connection will be more stable and faster.
Wired connection has faster internet connection speed than wireless connection.
VPN services are used by many people and are great for activities like staying anonymous while browsing the web, downloading bit torrents, viewing censored content, etc.
However, HoneyGain does not support the use of VPN Internet connections. Just remember to turn off the VPN service when you're using Honeygain.
Use tethering (Use Wi-Fi or Mobile Data)
You can share your Internet connection using Wifi, or Mobile Data. If your mobile subscription allows it, you might consider allocating a monthly portion of unused data to HoneyGain.
During HoneyGain testing, I used a phone with a monthly subscription of 30GB of data, but I only used 5-10GB per month. Therefore, I can use the remaining space for honeygain.
The first time you install HoneyGain on your phone, you'll be asked if you want to allocate mobile data. You can enter the amount in GB.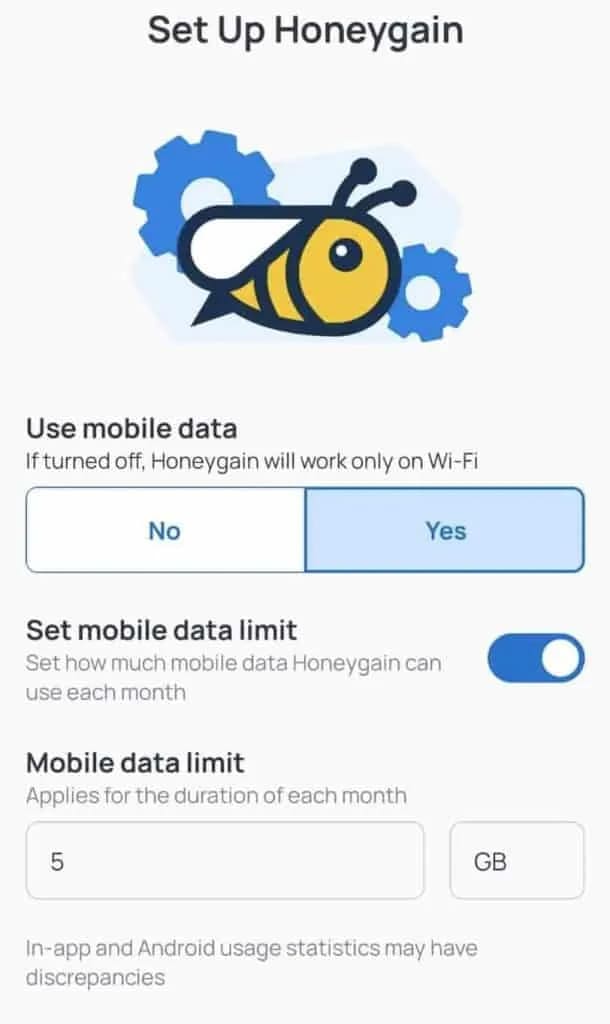 You can turn mobile data usage on and off in the app's Settings.
Depends on your country and usage needs
In certain countries and times will increase income. You can study the last 30-day chart in your Dashboard to determine which days will increase your earnings if you don't intend to run your equipment 24/7.
Enable Content Delivery (Beta)
You can use Content Delivery (beta), which allows HoneyGain to use your internet connection for bandwidth-intensive content such as video streaming, audio and visual usage. By doing so, you can earn more and faster than the phone.
Content Delivery currently only works on computers, and it supports Windows, macOS, and Linux. If you're supported, you can enable it in the Settings menu.
Get daily rewards
By making an effort to access the HoneyGain (phone) or Dashboard (desktop) app, you will see a small message box giving you a chance to open the Honey Jar.

Opening Honey Jar allows you to win free credits daily and try your luck to get up to 100 credits per day. This bonus will add to your account balance. In addition, you can also use the tool to automatically receive Honey Jar here.
Get free $5 when you sign up honeygain
For users who sign up for HoneyGain for the first time, you can get 5$ free as soon as you sign up with this link.
The minimum amount to withdraw is 20 USD. You can choose to pay with your Paypal account or as Bitcoin (BTC). For Bitcoin payments, you need a btc wallet address.
Recommend others
After you start using HoneyGain, you can also refer others to join through your own invitation code in the Dashboard.
For each successful referral you can earn up to 10% of their monthly income.