What is a Youtube VPS? How to buy VPS for Youtube? If you are a youtuber, you are building and developing your youtube channel, the above questions are the questions you often ask. VPS Youtube will help you run tools to increase views and subscribers, quickly turn on the monetization button on Youtube channels. Don't miss the following article to get experience on VPS Youtube!
Join the channel

Telegram

belong to

AnonyViet

???? Link ????
What is a Youtube VPS?
Youtube VPS is a private VPS virtual server used for Youtube channel development jobs such as: Uploading videos, increasing views, increasing Youtube subscriptions for different purposes, including making money online from Youtube.
The VPS used for Youtube often use Windows operating system as the main operating system to run the software.
What are the benefits of using a Youtube VPS?
The main benefit of using a Youtube VPS is that VPS has the ability to bring a large number of views and subs to the Youtube channel. As a result, your videos will more easily receive recommendations in the process of being a Youtuber.
Advantages of renting VPS for Youtube
Fast download/upload speed
Youtube is a very popular online video sharing platform globally. So youtubers often upload videos with different lengths and lengths. There are videos that only take a few minutes to upload, but videos can take a few hours to play. Uploading as usual is very time consuming. If you use VPS, downloading or uploading videos will be significantly improved. The average speed of a VPS can reach when Download is: 30MB/s ~ 70MB/s. Upload speed of VPS can be higher than Download.
Thus, when using VPS, you will save time and effort when downloading / uploading videos. In addition, VPS also helps limit errors arising from not uploading videos on time due to network problems.
The ability to plow the view continuously 24/24
VPS can work 24 hours a day without worrying about wear and tear of equipment, no worries about wasting electricity, accessing VPS on your phone, laptop, or PC whenever you need it. Using VPS to quickly increase viewing hours, increase views, subs … is extremely effective. This is the biggest advantage of VPS, supporting quick view plow.
VPS Youtube can automatically run videos, this increases views quickly without having to go through physical, time-consuming manipulation.
Easy configuration upgrade
As your Youtube channel grows more and more, all your operational needs increase. You just need to contact the provider to upgrade the VPS configuration to suit your needs.
Disadvantages of using VPS as Youtube
In parallel with the advantages of VPS when doing Youtube, VPS will also have some disadvantages as follows:
VPS running smoothly, stable or not depends a lot on RAM. To perform Youtube operations (download, upload or render videos), the minimum RAM configuration is 2 GB. If you want to install more video editing software, you should use a VPS with at least 4G RAM.
Users need to consider carefully, based on the purpose and needs of use, to be able to choose a VPS with the right configuration for Youtube. When renting a VPS, we should choose a package with sufficient or slightly larger configuration. Avoid choosing VPS with too high configuration that wastes resources. At the same time, do not use VPS configuration too low compared to needs, it will cause jerky, lag, and work efficiency is not as expected.
How to buy VPS for Youtube?
There are many ways to make Youtube from VPS. This article will guide you in detail how to use VPS to increase views for VPS.
VPS Youtube solution to increase views safely
Many people plow youtube views by using tools, running virtual views, etc. However, these methods are not safe. If Youtube detects, your channel will be filtered view, more severe you will be fined or even locked the channel. Thus, increasing the view should choose a method that is both safe and effective.
Video views from a safe, healthy VPS virtual server. With this method, the growth rate is not fast, but the number of views is real and appreciated by Youtube. Using VPS to increase Youtube views avoids cases where views are deducted or beaten for violating Youtube rules.
VPS Youtube plows views continuously
VPS has the ability to operate continuously 24/24, so increasing the view will be faster than plowing the traditional view on a PC. The amount of views and subs when plowed with VPS will soon reach the monetization level, supporting increasing recommendations for videos on Youtube.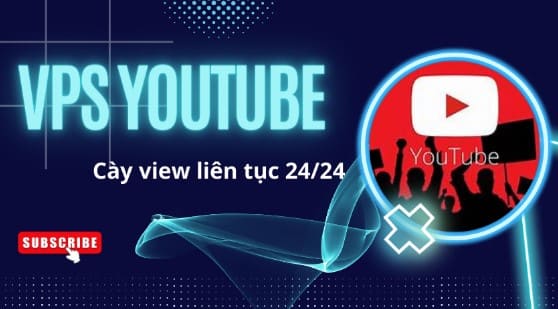 If you are building a brand, selling through Youtube, using VPS also contributes to increasing accessibility, increasing customer interaction, increasing the ability to place orders, develop sales, etc.
How to use VPS to plow Youtube views
Based on the outstanding advantages of VPS, we can refer to plowing Youtube views with VPS in the following way.
Step 1:

On a Youtube channel, you need to create 2-3 playlists and add all the videos on the channel to those playlists. Note that each playlist created needs to have different information such as: Name, description, number and order of the videos.
Step 2:

Buy VPS

and use, the more VPS you use, the more the view will increase. On each VPS install many different browsers such as Chrome, Firefox, Coc Coc, etc. Each browser we will run each playlist created above.
The algorithm on how to calculate views and watch time on Youtube is constantly changing. Mainly Youtube will rely on user behavior to evaluate the authenticity. So you need to figure out how to get YouTube to consider you as a real user as possible. You can apply more tips such as changing IP, regularly interacting with videos such as liking, commenting and subscribing to impromptu channels, etc. It is recommended to search and watch more videos with similar topics to be honest. than.
Note when buying VPS Youtube
Minimum Youtube VPS configuration
For work on Youtube to work with good performance, it is necessary to choose a VPS with the following minimum parameters:
CPU speed: 2GHZ.

CPU: 1 Core.

Ram: 1GB or more.

Minimum OS: Windows 7
Besides the minimum configuration above, you should also note some other criteria including interface, price, etc.
Address to buy a reputable Youtube VPS
When buying a Youtube VPS, you should choose a domestic provider for a faster and more stable internet connection. VPS Vietnam will also be a reasonable choice for youtubers to choose. Vietnamese VPS has stable speed and lower cost than foreign VPS.
Website ENODE specializes in providing genuine, reputable and affordable VPS. Using ENODE's VPS for Youtube has many advantages.
Virtual server with high performance, intelligent user interface and 100% automatic.

Powerful infrastructure, using super-fast Enterprise NVMe hard drives.

Privacy policy and safety are clear, users are completely assured when using.

Allows resource expansion as demand increases.

24/7 customer support to solve all arising problems.
Contact ENODE:
Phone: 0339126579

Telegram: @Enodevn

Website: Enodevn
VPS Youtube is increasingly used by YouTubers. Through this article, I hope readers get more information about What is a Youtube VPS? From there, have more experience using VPS on Youtube and other MMO jobs. Good luck!