Use your phone right on your computer is a very convenient and useful feature for people who often work with computers. You can receive and send messages, calls, view notifications, take photos, access apps, and more without having to pick up your phone. This will save you time, improve productivity, and avoid being distracted by constant notifications from your phone.
Join the channel

Telegram

belong to

AnonyViet

???? Link ????
Introducing Phone Link
Phone Link is a new feature of Windows 11 allows connecting Android or iOS phone to computer via Bluetooth or Wi-Fi brings many benefits such as:
Save time and effort by not having to switch back and forth between your phone and computer for work or play.
View and manage notifications from your phone on your computer, and receive and send SMS or MMS messages
Make and receive calls
View and edit photos, play music, access and share files from your phone, and even use Android and iOS apps on your computer (select devices only).
More security and safety when using your phone. You don't have to worry about your phone being lost or stolen when you leave it somewhere far from your computer.
It is possible to erase data on your phone remotely if it is lost or stolen.
Your computer's keyboard, mouse, large screen, and speakers can be used to enter data, move the pointer, view images, and hear sounds from your phone.
Easily drag and drop files from computer to phone or vice versa easily.
How to use the phone right on the computer
For Android phones
To use Phone Link on Windows 11 for Android, you need to perform the following steps:
Step 1: You access this page > Select "For Android Users"
Step 2: Click on the link to follow the instructions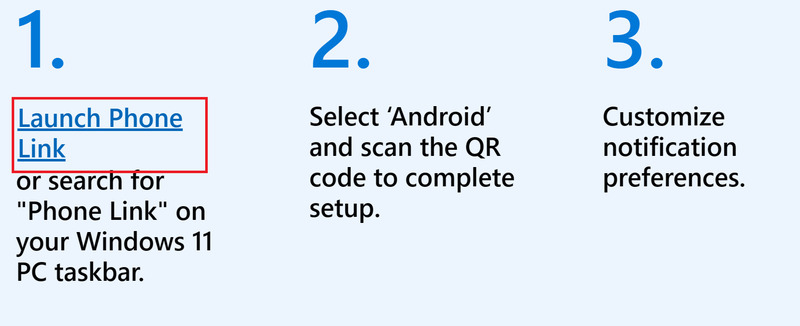 Step 3: On your Android phone, paste aka.ms/yourpc into your browser and follow the instructions. You will be redirected to the Google Play Store
Step 4: Download the Link to Windows app if you don't already have it. Once completed, click "Open" then click "Link your phone and PC"
Step 5: You will see a message saying "Is the QR code on your PC ready?. Click "Continue" to continue
Step 6: Hold your phone close to the QR code on your computer to scan it, or enter the PIN instead.
Step 7: Click "Continue" on your phone, then click "Continue" on your computer.
It's done! Most functions are available now, you will need to pair via Bluetooth and grant additional call access.
For iOS phones
Step 1: Access to next page > Select "For iOS users"
Step 2: Select "iPhone"
Step 3: Click "Turn on Bluetooth"
Step 4: Turn on Bluetooth on your phone and pair it with your computer.
Step 5: On iPhone, scan the QR code displayed on the computer screen.
Step 6: Open the link, then you click "Continue".
Step 7: Click "Continue"
Step 8: Select "Continue"
That's it! You will now see a screen that looks like the one below.
Epilogue
Phone Link is the feature that makes it possible Use your phone right on your computer conveniently and effectively. Phone Link allows you to access and manage your phone's apps, messages, calls, notifications, photos, music and files on your computer easily and quickly. Try Phone Link today and share your thoughts with us!