How to get 1 year of free AOMEI FoneTool license is a topic that many people are interested in today. However, to use all its features, you need to purchase a software license for 39.95 USD/year. This is not a cheap price, especially for people with low income or who do not need to use it regularly. So is there any way to get a free AOMEI FoneTool license? Let's explore through this article!
Join the channel

Telegram

belong to

AnonyViet

???? Link ????
AOMEI FoneTool is a professional and simple iPhone data management and backup software. With AOMEI FoneTool, you can backup and restore your iPhone data quickly and securely, transfer data from iPhone to new iPhone or computer, import data such as music, contacts, photos, videos into iPhone, manage data with many convenient features, and completely and permanently erase iPhone data to prevent personal information from being exposed.
FoneTool is the leading iPhone data transfer software, originally priced at $39.95 and currently free, to get it follow the steps below:
Step 1: You access this page > Select "Free to get it now"

Step 2: Unzip the downloaded folder, there will be 1 setup file and 1 text file containing the license key information with a 1-year term (Remember to activate the code before 6/10)

Step 3: Install the software > Click Register > Enter the license key and you're done.
The gift giving program will last from September 6 to October 6, 2023. Alternatively, you can also share this giveaway on Facebook or Twitter by clicking "Join the campaign now" with the hashtag #FoneTool for a chance to win up to $200 cash.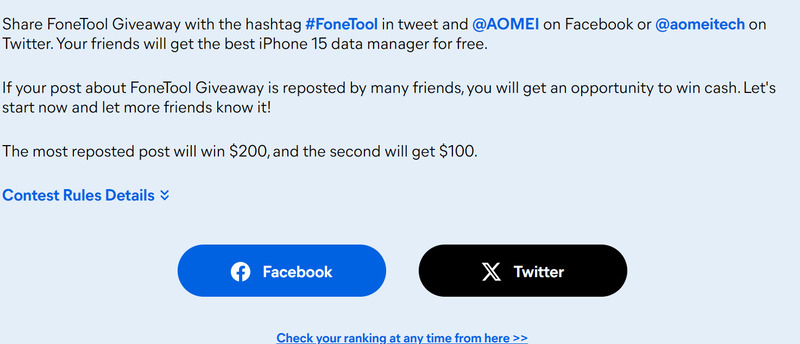 After installing FoneTool on your computer, you proceed to connect two iPhones, you can transfer all or part of data from old iPhone to new iPhone with just one click.
You can also back up iPhone data to a computer or permanently erase data on your old iPhone to protect your personal information. In addition, FoneTool also has other useful features such as removing duplicate images, converting HEIC images to JPG/JPEG/PNG, etc.
Don't miss this opportunity to own great iPhone data management software. Join the program today and experience the difference!
Epilogue
That is how to get 1 year license of AOMEI FoneTool for free which you can try now. Just follow the instructions, you will have the data management software on your smartphone conveniently and securely. Good luck and good luck winning $200!