If you're a techie and you like Halloween but are a little bored with traditional scares, then this one is for you. It's time to bring Halloween pranks to the digital world. Here are the scariest Halloween pranks and computer tricks to scare your friends.
Join the channel

Telegram

belong to

AnonyViet

👉 Link 👈
Top 13 scary computer games on Halloween
#first. Change entered words to scary words
Word's built-in autocorrect feature is a goldmine for these types of jokes.
The spelling dictionary used locally on the computer can be changed to suit the user's needs. This feature is used for professional jargon or specialized words, etc.
But in your hands, this tool can become a terrifying scare.
If your friends use Word regularly, just mess with the Autocorrect settings if you can access their computer.
Go File/Options and wait for the window Word Options turn on. Click Proofing in the sidebar, then click the button AutoCorrect Options.
You will then see a list of words that are replaced by another word when entered. You can easily add your own desired changes to the list.
Depending on your imagination, you can freely create scary things.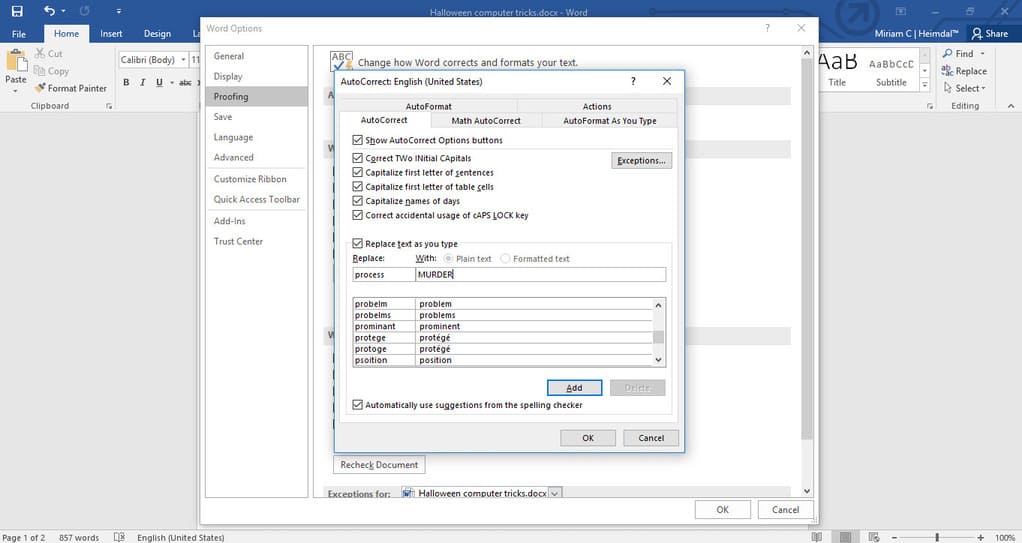 #2. Create non-clickable icons on the desktop
Place creepy icons on the victim's screen.
These can be renamed game icons or individual icons, depending on the time you have.
Or simply folders with creepy names are also an option. Just create them right next to any icons already on your friend's desktop.
Next, take a screenshot of the desktop and set it as wallpaper.
After you apply and save your new desktop background, remove the icons you added, or better yet, leave them as is. At first, the victim will try to delete them and then they will frantically try to select them again and not understand why they are not selected.
#3. Blue Screen of Death (BSOD)
BSOD or Blue Screen of Death is one of the scariest ever. Perhaps because of its long history in all versions of Windows, BSOD just scares us when we see it. Especially if it appears suddenly, because we haven't had time to save the work.
Here's how to give your friends the chills. However, it disappears when they move the mouse or press a key.
Version 1
Download and install BSOD screensavers and run it. This screensaver was originally developed by Sysinternals and it is now directly owned by Microsoft since its acquisition of the Sysinternals company. It's made for a great office joke since it was launched, and it's also become a fun Halloween computer trick.
Version 2
Use the BSOD image (or use the image above).
Place pictures in Windows' Pictures folder.
If there are other images there, move them somewhere else.
Make sure that the only image in the folder is a screenshot of the BSOD.
Go to screensaver settings in Control Panel.
Select the Pictures folder as the screen saver.
Apply the changes and set the inactivity timeout to a low value (leave the computer on screensaver for only 2-3 minutes of inactivity).
#4. Summon a true BSOD
Here's what to do to truly summon a BSOD.
Use the victim's computer and open a new Notepad file.
Write this to the file: start %0 %0
Save the notepad file using the "Save as" option. Select 'All Files' and then scroll until you can select the .bat extension. Name this file Download manager.bat.
Go to the Program Files folder and create a new folder called 'Download Manager'. Place the file 'Download manager.bat' in it.
Create a shortcut on Desktop and set its path to "C:\Program Files\Download Manager\Download manager.bat". Also, name the shortcut 'Download manager'.
Go to the shortcut's Properties (by right clicking) and click the 'Change icon' button. Select a generic icon (or a previously saved icon that is already on the computer).
And now you just need to say that that shortcut helps them download content much faster.
Or you can also place the shortcut in the startup folder. This way, the script will launch when the computer boots and the computer will continue to enter the BDOS crash loop. However, be careful, because it will be difficult to fix. You need to delete the shortcut from the startup folder using Safe Mode.
#5. Scary maze game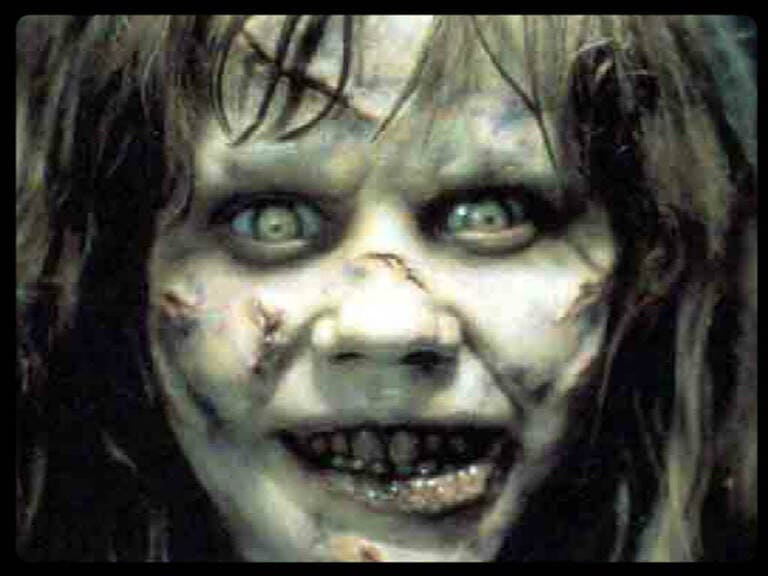 A maze game that looks simple but at some point a hellish horror scene and unpleasant sounds will appear.
You can see what awaits deep in the inner maze this YouTube channel.
If you want to invite your friends to play this game, you can find it here.
Make sure they are playing in full screen mode (by pressing F11 to make the browser go full screen). Also, make sure the volume is turned up to maximum.
Warning: Don't do this if your friend has epilepsy or another neurological condition, heart disease, or anxiety.
#6. Change the login screen in Windows 10 to a dark screen
Click 'Settings' in the Start Menu.
Then go to Personalization and to the Lock screen tab. You can also directly search for Lock screen in the settings search.
Then, turn on the "Show lock screen background picture on the sign-in screen" option.
You can now select "Windows spotlight" to automatically change image selection. Or, select "Picture" or "Slideshow" to choose your own photo.
#7. Spooky mouse
How would your co-workers feel if their mouse started moving on its own and could do strange things right before their eyes? They will certainly feel scared.
Here's how.
Install TeamViewer on the target computer. Be careful, though – this software has been known to be vulnerable to multiple security breaches in the past, so you may want to check with your IT department first.
You can sneak this in during your lunch break when your coworkers aren't using their computers. By the way, people should not leave their devices unlocked when away from them; that is a huge danger.
You can download TeamViewer software for free here.
Wait for your colleagues to return from their lunch break and continue working.
Whenever they are looking directly at the screen or working on something, move your mouse and their mouse moves too.
#8. Double the fun with the spooky mouse
If you want to prank two people at the same time, it will be easy if they use a wireless mouse.
Just swap the mouse USBs on both of their computers. Then just watch them toss and turn as they try to continue their work after the break.
On the other hand, this Halloween computer trick will probably be much faster than the above tricks. On the plus side, it works even if your coworkers lock their computers.
#9. Change regular Windows sounds into something spooky
Do you know those regular sounds Windows makes whenever there's mail or calendar notifications, etc.?
Let's change this notification sound to a more scary sound.
When your friend isn't on the computer, move over Control Panel -> Hardware and sound -> Sound and change to the sound you want.
Use the Program Events window to select a different sound for each audio notification. First, select the notification and then look through the list of sounds right below.
You can tap the 'Test' button to see the notification sound. Or insert your own audio by selecting "Browse".
#ten. Create a spooky atmosphere with Google Home
If you or your friends use Google Home, you can easily set an eerie tune to welcome them when they return home. However, this game takes more effort and requires a bit of investment.
First, you need to buy some mini smart speakers (like Google Home Mini or Nest Mini). Hide it somewhere in the house.
When you see your friend coming, say "Hey Google, get spooky". This will cause Google Home to play an hour-long playlist suitable for Halloween. It is full of creepy sound effects and menacing music.
#11. Reverse mouse on Windows
Open your friends' computers when they're not there.
Go Control Panel -> Mouse Settings and choose "Switch primary and secondary buttons".
Apply changes and close the window.
Then enjoy watching your friend click frantically until they realize you're pranking them.
#twelfth. Continuously create spam messages for friends on iPhone
If you're using iMessage and have friends who also use it, you can fill up their inboxes easily. This is an old option that was available in the iMessage app a while ago. But Apple removed this feature because of its annoying potential.
However, if you want to harness the power of texting this Halloween, you're in luck. Bee Movie Spam is an external application that allows you to create a collection of relevant messages. The app will then load and activate them into the selected iMessage chat.
Depending on the words or lines you intend to write, you can be just annoying or funny, or actually create a scary prank.
#13. Change keyboard layout to DVORAK
Most people are using the QWERTY layout, as it is also printed on top of the keys. But it's not the only layout you can choose from.
From all the layouts to choose from, the DVORAK layout is the most different. If you switch to this mode on your friend's device, they will definitely be quite annoyed.
Here's how.
Go Control Panel -> Language.
In the window Languageclick Optionsthen click 'Add an input method'.
Select the Dvorak layout and then click Add. Save changes and exit.
Next, from the right side of the taskbar in Windows, you can easily switch between installed keyboard layouts.
Select the newly installed Dvorak option and enjoy their reaction.