Have you ever transferred some pictures to your computer and then forgot where to store them?Or maybe you already have several storage drives and don't want to search for them manually? This is a simple way for Windows to find all your photos on your computer.
Join the channel

Telegram

belong to

AnonyViet

? Link ?
How to find all images manually
Images are stored in different places on your computer depending on where you put them. Windows automatically stores images in folders "Picture". Some sync services also store in the Pictures folder, but you'll usually find images saved in DropBox, iCloud, and OneDrive in their own folders. And if you download images from the internet, where it is stored depends on your browser.
If you're lucky, you can find the image you're looking for in 2 folders "Download" and "Picture". Both folders you will find in the "Quick access" section of File Explorer.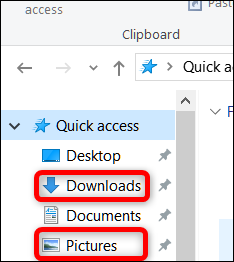 Use Windows Search to find all images on Windows
File Explorer has quick tips for searching different types of documents. Open File Explorer and select the location you want to search. You can search your entire PC by selecting "This PC".
You can also search for a specific hard drive or folder. In this example, we will search for the C drive:
Continue, click on Search box at the top right of the window. At this time, 1 . will appear tab "Search" above. Click on the Search Tab, click the . button "Kind"and select "Pictures" in the drop-down menu.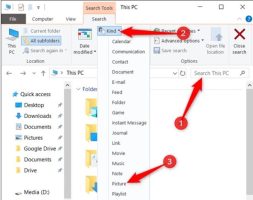 This means that you type the command kind:=picture frameless Search
The results return all the images stored in your computer. Result tThe search includes images saved in JPG, PNG, GIF and BMP formats.If you've stored photos in another format, like RAW, you'll have to find them differently.
Searching for the above image on drive C: returns 27,494 results.

Once you have found the image you are looking for, right-click on the image file, then select "Open File Location" to open the folder containing it.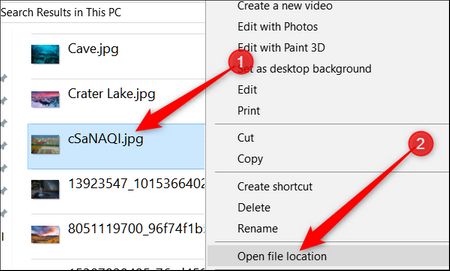 After finding all the images, you should save them in a separate folder. It is best to give the folder a name that is easy to remember so that you can find it later. One way I often use is to sync up Google Photos. Currently Google Photos allows to save unlimited photos. Or use a portable hard drive for private storage. In addition to searching for images, you can find other file types this way.