Claude.AI is a newly emerged artificial intelligence, with the latest updated data and completely free. In today's technological age, the use of artificial intelligence (AI) is becoming increasingly popular in many fields. One of the prominent and recently appeared AI applications is Claude.ai. So what is Claude.ai and what makes it stand out? Let's find out through the following article.
Join the channel

Telegram

belong to

AnonyViet

👉 Link 👈
What is Claude.ai?
Claude.ai is an AI virtual assistant developed by Anthropic with the aim of creating an AI that is safe and can learn from humans. Said to compete with ChatGPT, Claude is trained using reinforcement learning technology with human supervision to be able to understand and respond to user needs accurately and sensitively.
Claude.ai is designed based on advanced AI technology, helping users easily perform many tasks that previously required human intervention. Under the talented hands of developers, Claude.ai brings a completely new experience to users.
Especially Claude.AI's data is updated up to time 2023so it will be newer than ChatGPT3's data.
As you can see, AI Claude's data is updated in real time on the day I wrote this article. So great
Outstanding features of Claude.ai
I have been using Claude.AI for more than 2 months and feel that it is better than ChatGPT 3. If you want to compare with ChatGPT4, you have to upgrade to Claude Plus, but I don't have the conditions to try it yet.
Compared to writing Vietnamese, I think Claude.AI writes sentences and words much better than ChatGPT 3. Because it is still being continuously learned from users.
One of Claude's highlights compared to other AIs is his ability to explain and be transparent about how he thinks and makes decisions. This helps users monitor and evaluate the quality of answers. Claude also has the ability to self-correct if incorrect or inaccurate information is provided to the user.
Additionally, Claude is designed to comply with ethical principles, do no harm, and respect user privacy. Anthropic engineers continuously update and improve the system to make Claude increasingly smarter, more useful and safer.
Regarding technology, Claude uses a large language model based on transformer, a breakthrough neural network architecture developed by Anthropic called Constitutional AI. This model allows Claude to process natural language, understand the context and semantics of the text.
Claude is capable of working on many different platforms and applications such as chat, answering emails, customer support. Thanks to that, Claude can serve many purposes in life and business.
Some large companies have applied Claude to their products such as Anthropic, NVIDIA, Microsoft, GoDaddy. Developers can easily integrate Claude into their applications via API.
With ethical, safe and user-friendly AI capabilities, Claude promises to be the preeminent AI assistant solution for businesses and organizations in the future. The birth of Claude marks an important step forward in the ethical development and application of AI, bringing practical benefits to society.
Share your Claude.ai account for free
Currently, to register for a Claude.ai account, you need to have a foreign phone number. You can Rent at SMS Follow the instructions in ChatGPT for $0.9, this way you can create your own Acc with your Email. Or use the free Claude.ai account shared by AnonyViet, in the following way:
Step 1: Visit AnonyViet's temporary Mail page with sugar this link.
Just keep the temporary email page intact and don't close it.
Step 2: You enter the page Claude.aienter email: [email protected] (remember to enter this email correctly) and press Continue with email
Step 3: You return to AnonyViet's virtual Mail page in step 1, wait about 10 seconds and you will see the OTP code sent to Mail.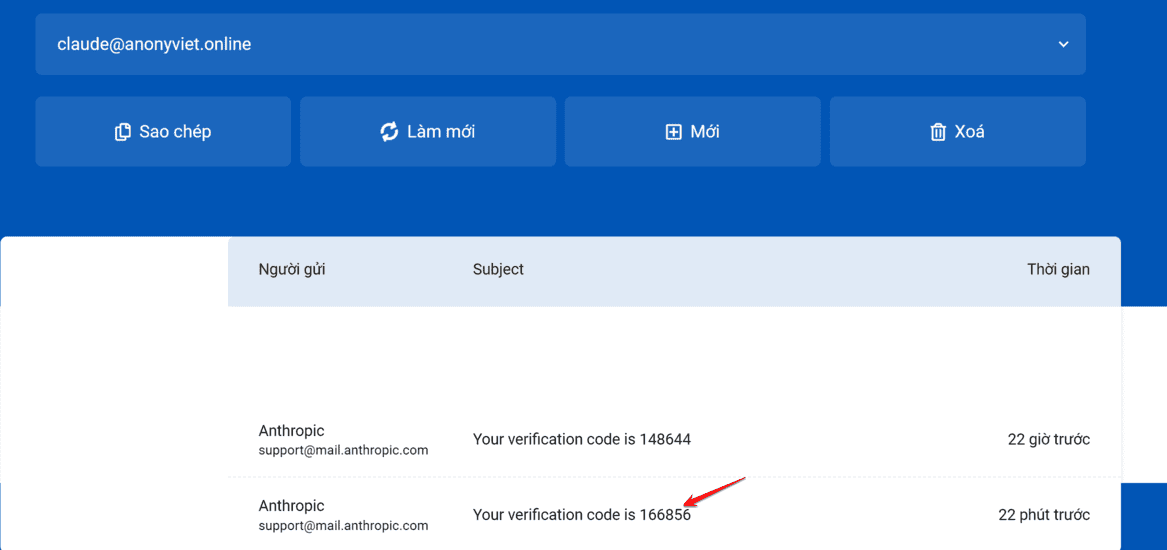 Step 4: Return to Claude.Ai's login page, Enter OTP code to access and use Claude.AI's AI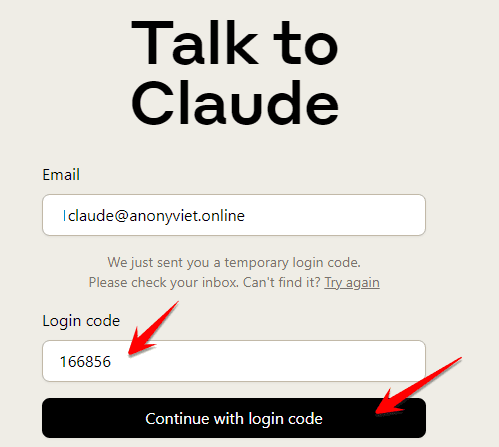 After accessing the chat page with AI, you can upload txt, doc, pdf or other file types so that AI can analyze and respond to you. Also you can use them at the same time ChatGPT for free and Claude to get richer and more accurate answers.