Today, a member shared TUT unlimited Facebook name change. I found this to be a pretty good and useful TUT, so I posted it for everyone to use. Usually we will have a certain number of name changes within 1 month.
Join the channel

Telegram

belong to

AnonyViet

? Link ?
If you exceed that number of renames, you'll have to wait a very long time before you can change it back. But with this TUT, you will be able to change your Facebook name even after the name change runs out. This TUT is shared for free at AnonyViet.com and strictly prohibited forms of commercial take-away !!!
TUT unlimited Facebook name change
This method does not require you to Fake IP at all. Just let it be normal and then do it, the important thing is the ID card with the language. We will change the Facebook language to Kurdî (Kurmanc) to do.
After changing the language, prepare an additional ID card (ID card) with the same information as the account. If Fake ID, you have to try to Fake it really well, it's true because Facebook is very difficult these days.
Steps to take
Step 1
Log out of your current account and then go to one of the two links below. Remember log out then you can go in.
Link 1 – For normal accounts
Link 2 – For Fanpage
Step 2
After entering the appeal page, fill in the full name, email, and date of birth of the account.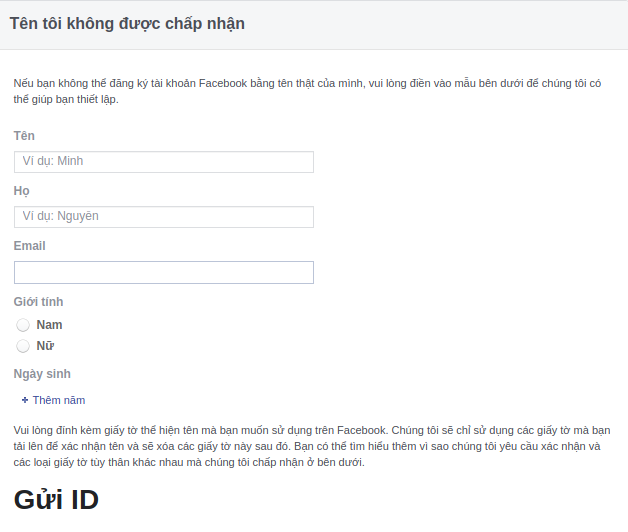 Note: The email here is the email used to log in to the account. If you log in with your phone number, just enter the normal number in the form +84xxxxxxxxxxxx.
Step 3
Upload a photo of your ID card and check the box I agree then press Send.
Step 4
Go to Email and wait for a response from the Facebook team. When you receive the response letter, attach the ID file and then reply to that Mail. Wait a while, you will continue to receive an Email with the following content:
Thank you for reporting. It looks like you signed up for Facebook with a name that doesn't follow our Community Standards. We require people on Facebook to use their real names in everyday life, and also block certain names to prevent fake accounts from being created.
Now, you continue to attach your ID card and answer with the following content:
This is my real name (This's my real name).
Now just sit back and wait for the name to be changed.
Good luck
Lmint.
Rewrite as directed by Tran Minh Quang