Share Source Keylogger virus code in C++
Join the channel

Telegram

belong to

AnonyViet

? Link ?
In this article, AnonyViet would like to send you a very unique knowledge resource. That is the source code of a Keylogger written in C++. As you know, C++ is a programming language that is quite popular.
Behind C# in terms of popularity on the polling list. So many virus written in C++ and bypassed Antivirus. Most are Keyloggers.
See more about DDOS: Koding User Guide to DDOS (EbolaHttp.py)
What are keyloggers?
Do you watch action movies about hacker by hollywood. In the movie, the hacker often use tricks hacking is to track the victim's keystrokes. Thereby they know the password and content of the victim's chat or text message. The spyware that tracks keystrokes is the Keylogger. Keyloggers is a common name for software that can track keystrokes. Through that we will know what the user has entered.
Some Keyloggers now have the feature of taking pictures and sending them to email at a specified time.
C++ programming language
C++ is a middle-level programming language because it is very multitasking. It can handle hardware operations like a low-level language. Can interact well with the operating system as a high level language. So it is the middle level and is quite commonly used.
In 1979 at Bell Labs in Murray Hill, New Jersey was the birthplace of C++. Its father is Bjarne Stroustrup who invented this language.
Support object-oriented programming?
C++ supports object-oriented programming very well including 4 features:
Encapsulation
Data hiding
Inheritance
Polymorphism
Introducing Virus Keylogger this time
This time a Russian developer shared a keylogger written in basic C++. The purpose is to provide more reference materials for students. Especially those of you who are passionate about hacking. From the basic code this time, you can add or subtract or deploy as you like. If you can pass the Antivirus, it is very successful.
Message from the author.
EXE file was not included on rar file, only source code was included. This share is educational purpose.
Translate.
Exe file is not present in this rar archive. This file contains only the source code of the software. Share for educational purposes.
As you can see, this file is shared for learning purposes. It's normal for you to be into hacking. You can hack to warn others, that's too good. But if you guys hack for personal purposes and profits. All consequences are yours to bear.
Link to download Source Code KeyLogger C++
Decompression pass: anonyviet.com
The file will include as shown below.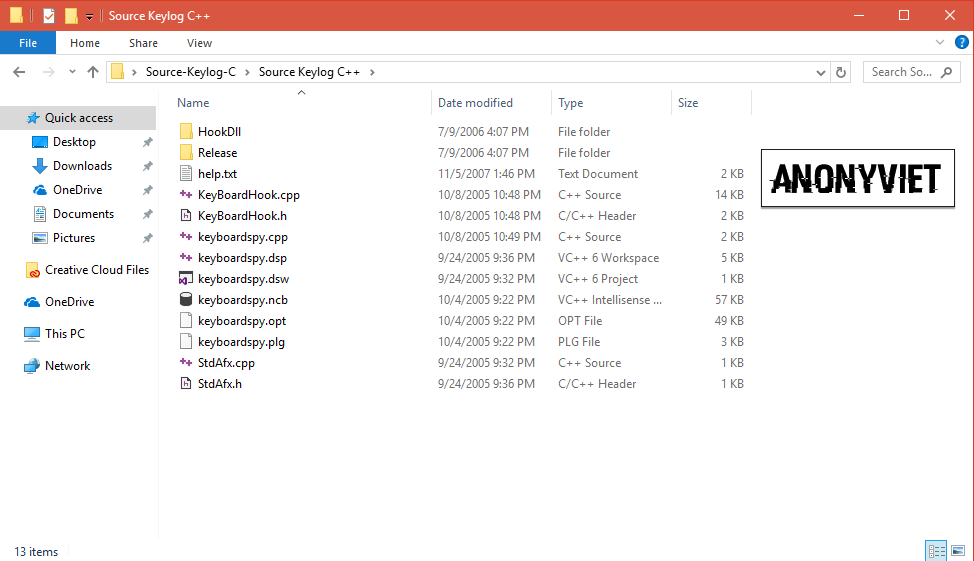 Good luck
Lmint.