Share Key license Avast Internet Security 2016 latest license update valid until 5/2019
Avast Internet Security 2016 is a comprehensive computer security software, against viruses entering computers, laptops, USBs, phones.. from malicious Websites, Emails, malware… Avast Internet Security is used by many users. trusted and used in the world for many years, still retains a very prominent black and orange software interface and has been evaluated for many years as the most powerful anti-virus software in the world.
Join the channel

Telegram

belong to

AnonyViet

👉 Link 👈
Every year, Avast Internet Security software releases updated versions that are very useful to users such as user-friendly and easy-to-use interface, do not occupy computer resources, high security, update many virus samples, protect Comprehensive protection of your computer from viruses, keyblockers, trojans, emails and spyware.
Download Avast Internet Security software
First, download the Avast software and install it. Download here
Download the latest Avast license key
Key Avast Update 19/5 valid until April 30, 2019 : Fshare
2 keys Avast Update 1/6 valid until 5/2019 : Fshare
Note : Before activating the key, remember to run the file Blockhosts.bat under Administrator first, otherwise you will fall into a state of being blocked key!
Instructions for activating the latest Avast license 2016
first: Download the installation file and the Key file. Proceed to decompress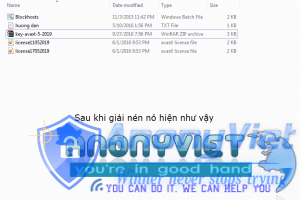 2: Run Blockhosts file under Administrator
3: Double click on the key to activate.
4: Finally click Ok to activate the Key.
With this License Key Avast Internet Security 2016, your computer will always be absolutely protected against any security risks.
Ben – AnonyViet