tl;dv is an application that allows you to efficiently record, review, and share Google Meet and Zoom meetings. With tl;dv, you can save time, increase productivity, and improve team collaboration. So how to use tl;dv, please follow through the following article!
Join the channel

Telegram

belong to

AnonyViet

???? Link ????
What is tl;dv?
tl;dv is an acronym for "too long; didn't view", means a meeting recording, or any video that is too long, and people using the phrase don't watch it for that reason.
For example, if you receive an email with a demo video of a new product, but the video is longer than 10 minutes, you can reply to that email with "tl;dv" to say you don't have the time or interest to watch the video.
tl;dv is also the name of an online meeting recording application that uses artificial intelligence (AI) to record, transfer documents and summarize meetings with customers, partners and colleagues.
Features of tl;dv
tl;dv has many outstanding features, such as:
Create automatic video and audio recordings for Google Meet and Zoom with high quality
Review audio recordings accurately with speaker labels
Text-to-speech in over 20 languages
Highlight and highlight important points in the meeting
Using artificial intelligence to create notes
Send links to automatic recordings to Slack and E-Mail
Search for keywords in any meeting
Import meeting information into CRMs like Salesforce or Hubspot
Edit audio recordings and create short videos
How to use tl;dv
Install an extension for Google Meet or Zoom
Step 1: Visit the homepage tl;dv HERE
Step 2: Click "Get tl;dv for Google Meet" or "Get tl;dv for Zoom" > Click "download" > Select "Add extension"
Step 3: Sign up for an account with Google
Record the meeting
When you join a Google Meet or Zoom meeting, you'll see a "Start Recording" button at the bottom left of the screen. Simply tap the "Start Recording" button to start recording your meeting with quality video and audio.
At this moment, tl;dv will appear on the screen
Highlight the important ideas of the meeting
While recording a meeting, you can tap the "Timestamp" button to mark important moments in the meeting, such as a decision, an opinion, or a response. You can also use the keyboard shortcut Ctrl+T to do this.
After the meeting is over, you can review all the recorded ideas
The application will divide the video length into segments corresponding to the main idea that you have noted. When you want to watch a clip again, just click on it.
Automatically generate meeting script
Clicking on the "Transcript" section will display the entire meeting content. Tl;dv with the application of AI technology has automatically turned voice into text extremely convenient.
You can click on any main idea (highlight) and the application will redirect you to the corresponding script
Translate meeting content into another language
You can choose the language you want to transfer in more than 20 different languages, including Vietnamese.
Create any short video
You want to save a certain main idea in the meeting, just highlight the script> Select the video icon> Select "Copy link" and share it with others.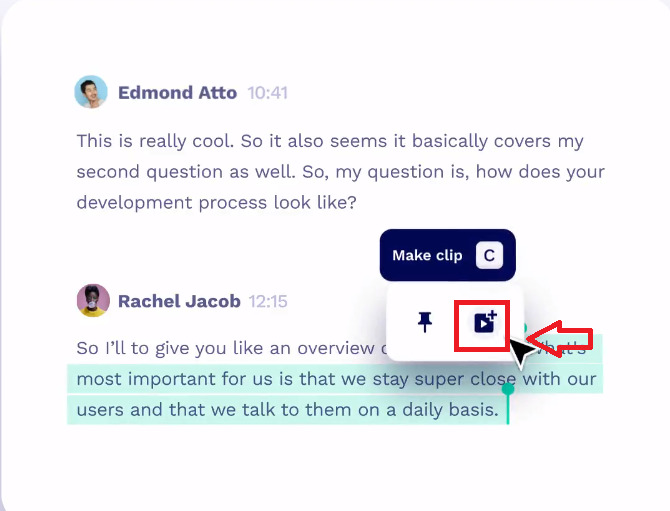 Search and summarize the meeting
You can use keywords to search for topics discussed in meetings and summarize any relevant conversations. This helps you update content that you missed when leaving work, or reiterate what you discussed with customers, colleagues, etc.
Easy to share
Click "Copy team link + highlights" to easily share this meeting recording on other platforms like Notion, Google Docs, Slack, Salesforce or HubSpot
Epilogue
So thanks to tl;dv where you can leverage the power of AI to jot down important ideas, review meeting content, and find and share them more easily, thereby improving optimal work performance. This is really a useful tool for those of you who often work via Google Meet or Zoom. Good luck with your application!