Instructions to use old SmartPhone as a fire alarm
Older smartphones will usually have relatively low hardware, so instead of throwing them in a corner, you can install additional apps to turn the device into a remote surveillance camera, digital photo frame, device GPS navigation, game emulator, remote control, e-reader, portable Wi-Fi hotspot, backup battery… and even as a remote fire alarm device.
Join the channel

Telegram

belong to

AnonyViet

👉 Link 👈
Fire alarms will often sound a siren to alert the user when smoke is detected or an abnormal temperature rise is felt. However, if you are away from home, how can you hear the alarm? The following tips will help fix the above problem with SMS alerts.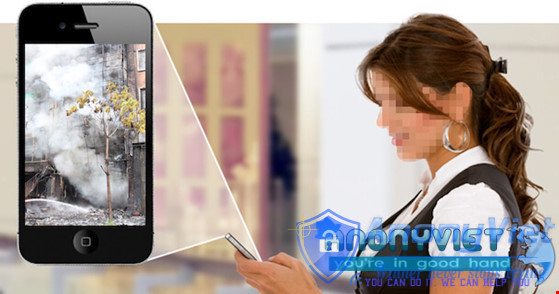 In addition to alarms, you can receive alerts via SMS. Photo: Internet
Turn your old smartphone into a fire alarm device
– Step 1: First, download and install the CleverLoop Smokey application at:
For IOS: https://goo.gl/9Jxea0
For Android: https://goo.gl/yKKe12
The app is developed and provided for free by CleverLoop, a company specializing in smart home security.
– Step 2: Next, give the application permission, set up the corresponding email address and phone number to receive notification messages when detecting smoke or unusual signs.

Add the corresponding phone number and email used to receive alerts. Photo: MINH HOANG
– Step 3: When done, the user just needs to touch the green button to activate the tracking mode. If you want to save battery, click the option Dim Screen to turn off the screen but leave the application running in the background.
Accordingly, when the fire alarm device at home sounds an alarm, CleverLoop Smokey will make use of the microphone on the phone to listen and analyze the sound, if it is a fire alarm sound, the application will immediately send an alert to the phone. phone or email you. Thereby, helping users to find a timely solution or ask a neighbor in case they are not at home.

Activate alert mode on smartphone. Photo: MINH HOANG
Note: you can place the smartphone with the CleverLoop Smokey application installed near the fire alarm device, router, house center … and remember to plug in the power as well as connect the Wi-Fi to the smartphone.
In general, CleverLoop Smokey will turn old smartphones into effective assistants, helping users minimize possible fires and explosions, most recently a karaoke bar fire that killed 13 people in Hanoi. .
Source: Kynguyenso
Good luck !!