As you know, Dropbox is a cloud storage service of the same era as Mediafire, Box… Currently, there is a free 3TB Dropbox upgrade tip, no cost.
Join the channel

Telegram

belong to

AnonyViet

???? Link ????
What is Dropbox?
Dropbox is a cloud storage service that allows users to store and share data online. With a free 3TB Dropbox upgrade lets you upload and download files from any device with an internet connection. You can also share files and folders with others and work on the same file together. Dropbox offers data synchronization, so you can access and manage your files from many different devices. The Service also provides security features to protect your data, including data encryption during transmission and storage.
Features of Dropbox
If you are looking for a reputable online data storage solution, the free 3TB Dropbox upgrade is the perfect choice for you. With millions of users around the world, Dropbox has become one of the most popular cloud storage services today. Let's explore the features and benefits that Dropbox brings.
Reliable cloud storage
Dropbox allows you to store your data in the cloud, saving you storage space on your computers and mobile devices. Data is stored on Dropbox's secure servers, ensuring that you can access your files anytime, anywhere via an Internet connection.
Easy data sharing
One of the great features of Dropbox is its ability to share data easily. You can create sharing links to send to others, allowing them to access and download your files. You can also create shared folders to work with colleagues, friends, or family. Dropbox provides access options for you to control who can see and edit your data.
Easy data synchronization
With Dropbox, you can sync data across multiple devices. Regardless of whether you use a personal computer, laptop, mobile phone or tablet, your data is automatically updated and synchronized. This helps you continue your work without interruption and always have a backup of important data
Features Backup and restore data
Dropbox offers a Backup feature that allows you to periodically and automatically back up important data. This ensures that you never lose important data in the event your computer crashes. In addition, Dropbox also allows you to restore previous versions of files, making data recovery quick and easy.
Security and privacy features
Dropbox has always focused on the security of users' data. Your data is encrypted during transmission and storage, ensuring that only you have access to it. In addition, Dropbox also offers additional security features such as two-factor authentication to enhance the security of your account.
Integration with other apps and services
Dropbox integrates well with a variety of apps and services, making it easy to work with and interact with other tools. You can link Dropbox with office applications like Microsoft Office or Google Docs to work directly on your files. In addition, Dropbox also integrates with other storage and sharing services, expanding your ability to manage data across multiple platforms.
Instructions to upgrade Dropbox 3TB for free
To upgrade Dropbox 3TB for free, you need to borrow an iPhone or iPad, then download Dropbox trial version of TestFight in the following way:
Step 1: Enter Appstore load TestFight and install it on your iPhone or iPad
Step 2: Access to the road this link to download Dropbox trial version on TestFight
Step 3: After installing Dropbox, go to the Dropbox application to log in or create a new account. Then go to Menu Account -> Upgrade -> choose package Professional -> Register (Although it will show the amount when registering, but you can rest assured that it will not be deducted from your account because this is an experimental feature of TestFlight, even after 1 month you will still not be charged.) . After the registration is complete, you can check the Space used to see up to 3TB.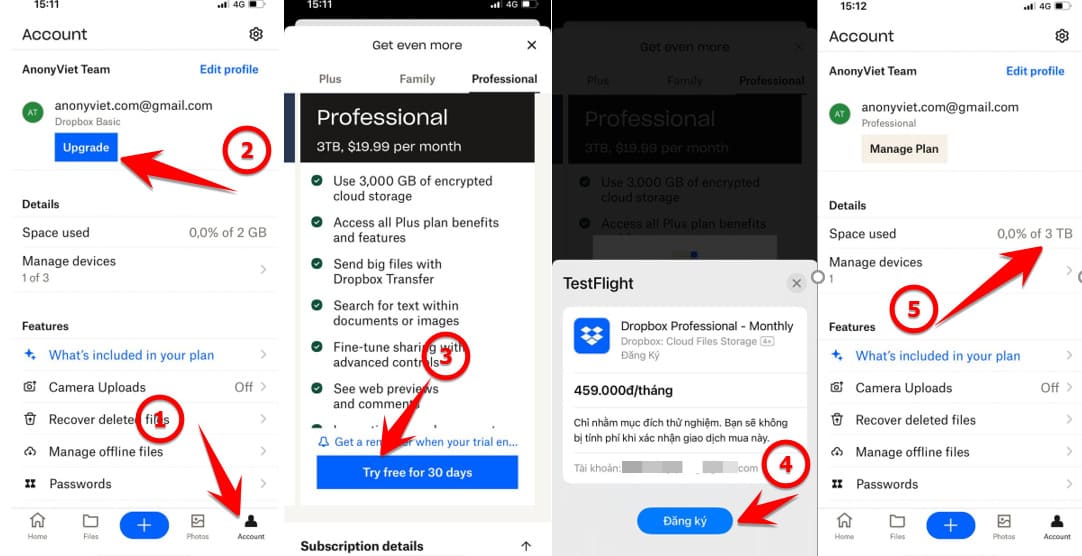 Now you can log in to your free 3TB Dropbox account on your phone, PC or tablet to store photos and data. After 1 month, go back to App dropbox to renew for free. As long as Dropbox is still testing on TestFight.
Conclude
Dropbox 3TB Free Upgrade is a leading cloud storage service with many features. From reputable Cloud storage and easy data sharing, to data synchronization and recovery, Dropbox offers convenience and flexibility for managing your data. By combining security and integration with other services, Dropbox becomes a powerful tool for individuals and businesses. Try Dropbox today and experience the amazing benefits it has to offer!
Your guide Truong Duc Toan – Tech Addiction Group