Timer to post status on Facebook
Join the channel

Telegram

belong to

AnonyViet

? Link ?
Posted on December 30, 2017 | 11.00 AM
Facebook updated to the last version of 2017. In this update, users can schedule a status to post on the timeline. In the past, this feature could only be used for Fanpage only. But for now, regular accounts can still be used.
All you need to do is:
Write the status you want to post.
Select the post timer function.
Schedule the date, month, year and time to post.
Finally, confirm the timer for your post.
Instructions to schedule posting status on Facebook
If your account does not have this function, please wait for Facebook to update. Because of the new Update, some accounts have not been updated in time. For mobile devices, please update Facebook to the latest version!!
When you post a status, you'll see a small arrow next to the . button Post. It's a feature that allows you to schedule and time your posts.
If you want to schedule a post, then press the arrow next to the . button Post. Then select "Schedule Post" to enter the timetable and schedule posts. And if you want to post immediately, you don't need to press the arrow, but always click on the word Post.
When you click on "Schedule Post", a table of dates and times will appear. It's a place to schedule and schedule posts. By choosing the time you want to post and then press Schedule to schedule.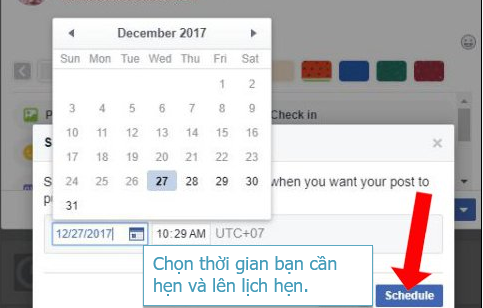 Edit or delete scheduled post
Facebook will list you a list of timed posts under the status box. Press "see scheduled posts" (See Posts) to enter the list of articles you have scheduled.
A list of scheduled posts will appear and you can edit them if you want. Of course, you can also delete the scheduled post and schedule another post. To delete a post, click on the three dots in the upper right corner. Just choose Delete Post (Delete Post) to delete like I do below.
You can schedule multiple posts, because Facebook does not limit the number of posts that can be timed. This feature greatly benefits your work and life. I will give examples of cases where you can use this feature, especially on special days or anniversaries.
Cases to take advantage of Facebook post timer
If you are a person who forgets first, forgets later or forgets the date of an appointment. Then this feature will be a tool that you should take advantage of, and how to take advantage of it? I will suggest a few cases where this feature is extremely useful in life and work.
In daily life
If you need to post a status at 4pm tomorrow to congratulate Idol. But tomorrow you are busy studying until 6 o'clock and can't post as planned. Let's schedule the article to self-publish tomorrow at 4 o'clock.
You have a medical appointment next week, but you are a forgetful person. Schedule a reminder to post about 3 hours before your appointment. At that time, you will have enough time to prepare and arrange your work properly to go to the doctor.
More common is the situation of lending money to others. You lend money to friends and are afraid to forget the debt collection date? Make a timer to post Tag them to pay the debt !! You can set a timer every day at 7am to increase the drama.
On special occasions
Your best friend will be touched when you wish them happy birthday at 12 o'clock at night. But you are afraid to post 12 hours incorrectly or oversleep and miss out. Set a timer for the article and it will be posted exactly at 12 o'clock.
Have you ever been angry by your lover because you forgot your anniversary? You will never get angry again because you can set a timer for Anniversary greetings post. It is best to come to this month's anniversary, then make an appointment for the next month's anniversary.
For example, tomorrow is a big day in your life and you are not free to post your memories on your timeline? Make an appointment in advance today!!
Good luck
Lmint.