What is Apple TV+?
Apple TV+, also known as Apple TV Plus, is Apple's online movie service. Similar to Netflix or IFlix, this application has hundreds of high quality 4K copyright movies. You can watch movies or TV on Apple devices. You can now sign up for a free 1-year Apple TV+ subscription to watch on your phone, TV, iPad, etc. Some features that make Apple TV+ better than the competition are:
Join the channel

Telegram

of the

AnonyViet

? Link ?
Watch movies without ads
Allow up to 6 family members to share an account at no cost.
Watch in stunning 4K HDR with Dolby Atmos sound.
You can download movies to watch Offline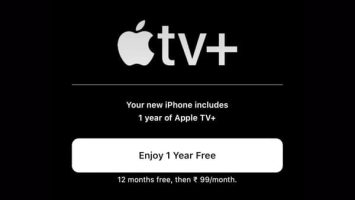 Which devices can watch Apple TV+
Apple TV+ is not exclusive but apps in the App Store, You can watch on the following devices:
iPhone, iPad and iPod touch
Updated to firmware version 12 or later
Mac
Update to the latest version of macOS
Apple TV
Apple TV 4K and Apple TV HD
Apple TV (3rd generation)
Smart TV (Smart TV)
Roku Devices
Amazon Fire TV Device
You cannot subscribe or make purchases on Fire TV devices.
On Windows or Microsoft Surface
To access your movie and TV show purchases, use the latest version of iTunes.
To subscribe to and use Apple TV+, go to tv.apple.com
On the Web
Instructions to register for Apple TV + 1 year free to watch movies Online
Apple TV+ officially launched on November 1, 2019, and anyone who purchased an iPhone, iPad, ‌Apple TV‌, iPod touch, or Mac after September 10 can sign up for free a year use Apple TV+ for free. If you don't have a new device, you can use the old one 7 days free of charge. The one-year free trial will be activated in the ‌Apple TV‌ app on Apple devices. If you haven't seen the 1-year free trial message, do the following:
Using the Apple TV App
Go to Settings -> Itunes & App Store on your new Apple device (Iphone, Ipad…) and sign in with your Apple ID.
Open the Apple TV app. Make sure your device is running the latest version of iOS, iPadOS, tvOS, or macOS.
A 1-year free Apple TV+ notice will be displayed on the app. Otherwise, head over to the Apple TV+ channel page where you'll see the offer.
Click Free Year
If you haven't added a payment method to the App Store, add a MOMO account or a VISA/MasterCard to enjoy the promotion.
Subscribe to Apple TV+ for 1 year for free using Website
In case you have opened the Apple TV application on your iPhone but do not see a notice to use 1 year free, you can go to the Website https://tv.apple.com/ Sign in with your Apple ID account to register.
You'll see a message offering a 1-year free trial of Apple TV+. Then, on your ‌iPhone‌, sign out of the TV app, close the app, then reopen the app and sign back in.
And this is also how if you don't have a newly purchased Apple device, you can still use Apple TV+ for 7 days for free.
AnonyViet has introduced details about the Appe TV+ service so that you have more options when watching copyrighted movies online. With a free 1-year subscription, you can save up to $50/year. Let's add 6 family members to watch royalty-free movies together for free.