– As you know, with each Google account, users can use most of the service applications from Google. Including 15GB of free Google Drive storage space. However, if you feel that this number is not enough to meet your storage needs and do not want to spend money to buy more storage, what to do? Of course there is a solution to this problem, and that is 1TB free for 2 years will be a huge offer for you from Google itself.
Join the channel

Telegram

belong to

AnonyViet

? Link ?
Specifically we are talking here is the offer from the Local Guides program, one of the new features of Google Maps. And all you need to do to be able to receive this offer is to become a member of Local Guides, then post comments, reviews and photos of the place where you are. So what should we do? Please read the following instructions.
Step 1: Open a web browser and access the URL of Loacl Guides Google Maps here.
Step 2: Click "SIGN IN TO GOOGLE" if you already have a Google account, or "CREATE AN ACCOUNT" if you don't already have one. This step doesn't have to be lengthy.
Step 3: Once you've logged in/registered, you'll be taken back to the Loacl Guides Google Maps page, a popup window will appear asking to allow the site to locate your current location. Please click "Allow" to allow.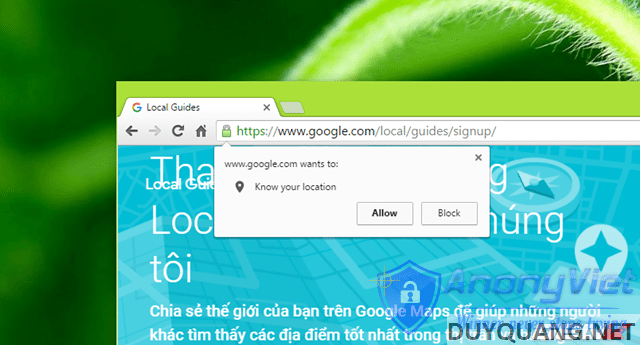 Step 4: Wait a few seconds for Google to determine your location. Once that's done, tick the 2 options below the location and click "SIGN UP".
You will then be redirected to your profile page in the Google Maps Loacl Guides program. Here, you will see information about the level and statistics of the actions you have taken.
According to the information provided, when you reach level 4, you will be able to redeem 1TB of free storage space on Google Drive for 2 years. So how can I level up? Let's go to the next step.
Step 5: When you have completed the information about the conditions to level up, click on "START CONTRIBUTION" to start "plowing. Then the Google Maps window will open with the map as your current location. Your work will be located in 3 tabs: CONTRIBUTE (contributions), REVIEWS (comments) and PHOTOS (images).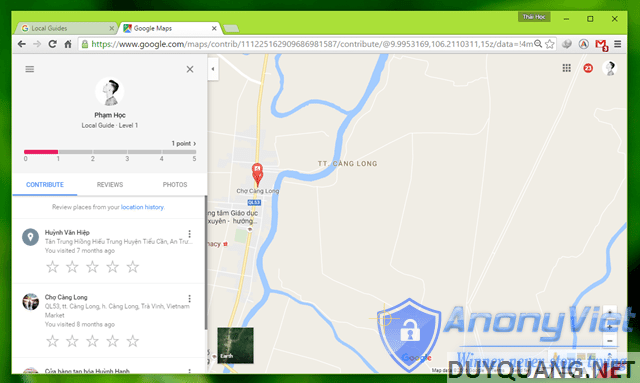 Step 6: Now click on a certain place in the map, then proceed to add comments (Write a review) and images (Add a photo).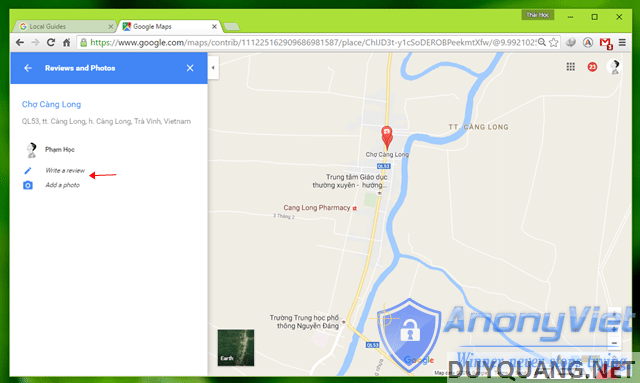 This part you should do "seriously" for Google to get the most accurate data. Because if you don't, you may lose points.
The results of points and levels will be summed up by Google after 24 hours every day.
Step 7: When you reach level 4, you will receive a notification that you have been offered 1TB of free Google Drive storage space. Now stay calm and click "Activate your free storage" to receive the reward.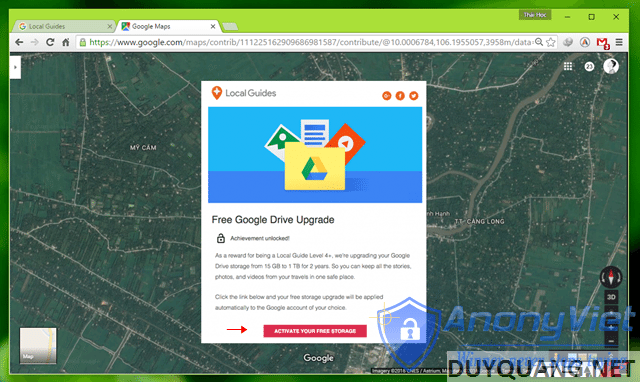 It's too fake, isn't it?
It can be said that this is a very convenient and interesting program of Google because thanks to it, you can both travel, check-in, take photos and post on Google Maps. And just like that, your points will "accidentally" increase and one day, the 1TB Google Drive reward will be yours at any time!
From Genk.vn
anonyviet.com good luck !