Do you love art and want to create unique and impressive works of art without having to learn to draw or buy expensive supplies? If the answer is yes, then you can't skip it SeaArt AI – AI creation platform is easy to use for everyone!
Join the channel

Telegram

belong to

AnonyViet

???? Link ????
Introduction to SeaArt AI
SeaArt.AI is an AI-based creative art website, developed by a team of computer scientists and artists. SeaArt.AI uses algorithms WHO Advanced tools to analyze, learn and recreate styles, techniques and artistic elements from millions of images on the internet. That way, SeaArt.AI can help you create beautiful and professional images with just a few simple taps.
How to train yourself to create your own LoRA
Step 1: Visit page Sea Art AI, click "Login" to log in to your account
Step 2: Click on the tab "AI Model"
Step 3: Select "Create Dataset"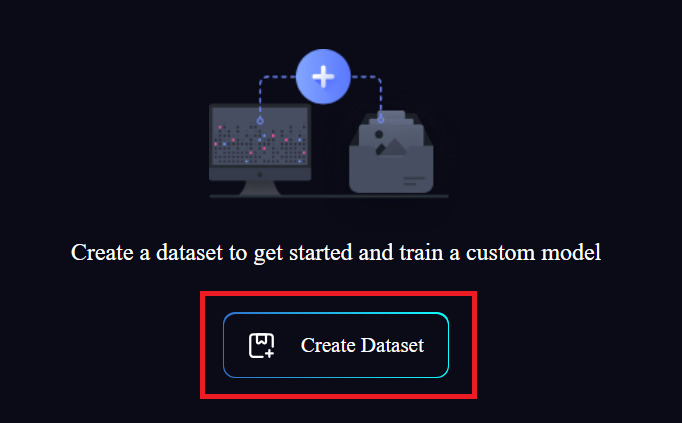 Step 4: Enter a name for your model and select "Create Dataset"
Step 5: Click "Edit Dataset"
Step 6: Click on the + sign and upload at least 9 photos of your favorite character (or your own picture) with different angles.
Then click "Start Training" in the right corner of the screen
Step 7: Give Lora a name, in the Base Model section, select "Choose More"
Step 8: To make the image look realistic, you should choose the model as "MajicMIX Realistic" > Select "Confirm"
Wait a few minutes for the Training Task Progress to reach 100%, it will display a message as shown, just click "Confirm"
How to create shapes from trained LoRA
Step 1: You click on the tab "AI Painting" > Enter the description "prompt" in the blank box
For example:
1girl,beautiful vintage color, instagram (photorealistic, high resolution:1.4), ((puffy eyes)), looking at viewer, , full body (8k, RAW photo, best quality, masterpiece:1.2), (realistic, photo-realistic :1.37),(sharp focus:1.2), professional lighting, photon mapping, radiosity, physically-based rendering, (pale skin:1.2),(small breasts:1.2), looking at viewer, (middle hair:1.5), portrait , purple eyes, (sliver hair:1.1),bangs, (simple background:1.4), solo, upper body, realistic,(masterpiece:1.4),(best quality:1.4),(shiny skin),fashi-girl,makeup ,smile(skinny,closed mouth,shy :1.3) ,(standing,black Stewardess uniform,Necromancer:1.1),medium bust,sexy pose
You customize a few parameters on the right hand side as follows:
Mode: SeaArt 2.0
Model: majicMIX realistic
LoRA: You click on My LoRA > Select the newly created LoRA
Image Mode: Select image quality (Standard, HD, UHD)
Image Size: Choose the image size (1:1, 4:3,…)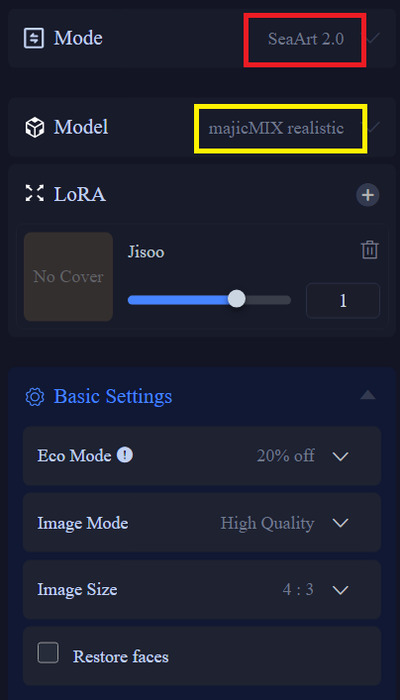 Step 2: Click on the arrow to proceed with shaping
And the result we get: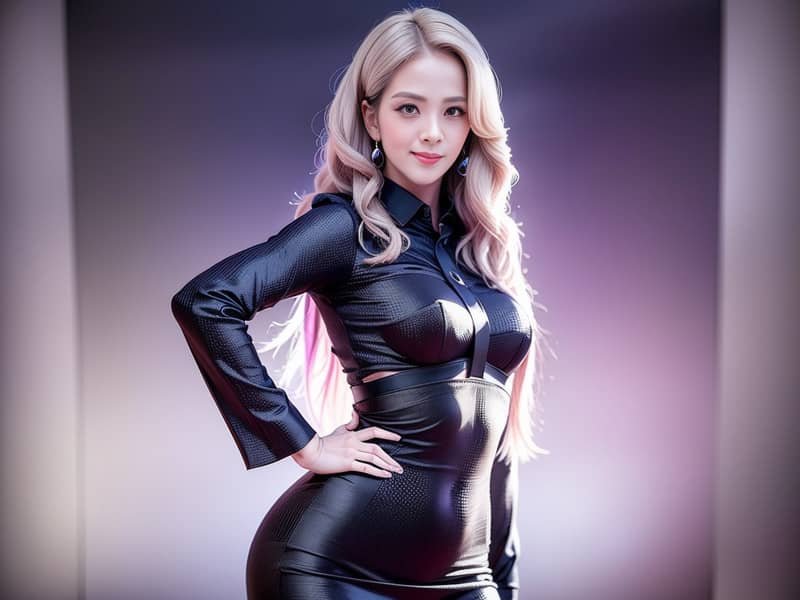 For each result, you can either Upscale (make the shape sharper) or Variation (create variations like the shape).
Epilogue
Above is a guide on how to train and create shapes from LoRA on Sea Art WHO. You can experiment with different descriptions and LoRAs to create impressive and unique images. Good luck with your application!