Windows 10 S is an operating system version aimed at the education market. The feature of this version of the operating system is that it is limited to only being able to run applications on the Windows Store application store. Surface Laptop is a pioneer device with Windows 10 S pre-installed, but only on August 2, Windows users worldwide can download the ISO and install it. (My Win10 Pro x86 automatically pre-installed Windows 10 S Installer on August 3, but I don't know how to activate it, just ignore it).
Join the channel

Telegram

belong to

AnonyViet

? Link ?
Special on version Windows 10 WILLMicrosoft has stated "No Ransomware Can Work"so the user interaction between the user and your Windows operating system is smoother with increased security. The outbreak of the WannaCrypt Ransomware Virus in May 2017 has also confirmed that not a single computer can be infected.
Users only Windows Pro, Pro Education, Education or Enterprise freshly installed and converted to Windows 10 WILL. Copy Windows 10 Home failed to convert to Windows 10 S. (I don't use any windows to install Windows 10).

After downloading the ISO settingsusers can easily perform the same installation operations as other versions (it's not ISO at all, it's just a .zip file to 5.3 Gb, it takes a long time to download).
In addition, you can also easily recover return Windows 10 Pro or other versions easily (I always install it on a separate disc, where do I need to go?). However, Microsoft also warns, Windows 10 S may not work properly with some peripherals that require custom drivers.
Windows 10 WILL aimed at users who are students, students or teachers operating in the field of education. In addition to the advantage of being able to use Win32, Hyper – V applications or participating in the Windows Insider program, Windows 10 S is considered to have good security than other versions.
Note that users will only have 10 days to roll back to the previous version of Windows after downloading and updating Windows 10 S.
Compare Windows 10 S with Windows 10 Home and Windows 10 Pro?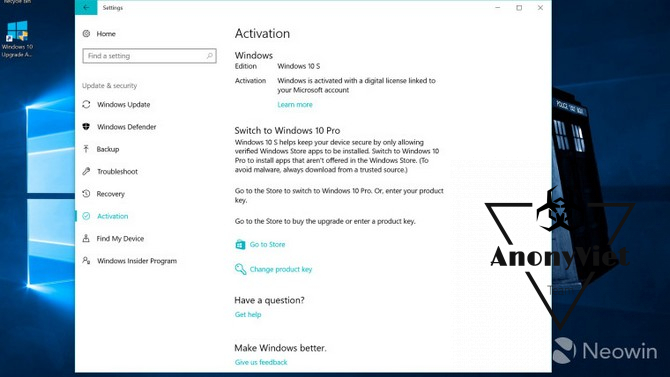 Windows 10 WILL is a configuration Windows 10 Pro special and has many features of Windows 10 Probut to ensure security and performance, Windows 10 WILL run apps only from Windows Store and use Microsoft Edge default browser. For more details on the differences, see the feature comparison table.
Windows 10 Features Comparison WILL
| Configuration & Features* | Windows 10 WILL | Windows 10 Pro | Windows 10 Home |
| --- | --- | --- | --- |
| Apps that are not from the Windows Store | | DRAW | DRAW |
| Join an On-Site Domain | | DRAW | |
| Join Azure AD domain | DRAW | DRAW | |
| Windows Store Apps | DRAW | DRAW | DRAW |
| Default browser is set to Microsoft Edge | DRAW | Can be configurable | Can be configurable |
| Windows Update for Business | DRAW | DRAW | |
| Windows Store for Business | DRAW | DRAW | |
| Mobile Device Management (MDM) | DRAW | DRAW | Limited |
| Bitlocker | DRAW | DRAW | |
| Enterprise State Roaming with Azure AD | DRAW | DRAW | |
| Shared PC configuration | DRAW | DRAW | |
| Other | Windows 10 WILL | Windows 10 Pro | Windows 10 Home |
| --- | --- | --- | --- |
| Default search engine in Microsoft Edge/Internet Explorer: Bing and specified regional search providers | DRAW | Can be configurable | Can be configurable |
| Switch to Windows 10 Pro (via Windows Store) | DRAW | | DRAW |
*This feature list is not exhaustive but is intended to illustrate configuration differences
Who should use Windows 10 WILL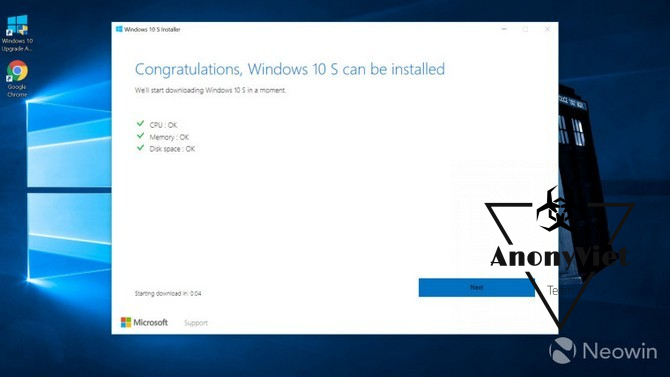 Windows 10 WILL Inspired by students and teachers, this is the best Windows ever for schools. It's also a great choice for any Windows customer who wants consistent performance and enhanced security. By limiting app usage to the Windows Store, Windows 10 S is ideal for people who have everything they need in the Windows Store and enjoy the safety of eliminating the risk of downloading apps from elsewhere. .
Download Windows 10 WILL
Windows 10 S is a completely new operating system, introduced and released by Microsoft not long ago. The first Windows 10 S devices are already on the market.
To help you have the opportunity to experience this new thing, I would like to share tips to help you download the official ISO file from Microsoft:
Step 1. Visit the Microsoft website: "Download a recovery image for Microsoft Surface"
Step 2. Click the box: "Choose a product" select "Surface Laptop"
Step 3. Click on the box "Serial Number"enter the Serial Number as: 008496172257
* Note: If that doesn't work, try changing the last 3 numbers.
Step 4. Press the button tiếp tục and wait for it to create the link
Step 5. Click "Download" when it appears to download the original, standard ISO file from Microsoft
Note: Do not use IDM to download. The file provided is a .zip file: SurfaceLaptop_BMR_11_8.199.0.zip