Parents often manage their children's Internet access by viewing browser history. But when people don't know which website they have visited, they often use incognito mode to open the Web. Incognito Mode is used to protect the privacy of Web surfers. Incognito Browser will not save Cookies or browsing history. When you close your incognito browser, the history and cookies are automatically deleted. You can still view your Web browsing history in Incognito mode. You can take advantage of the DNS mechanism on your computer to look up the websites you have visited in your browser.
Join the channel

Telegram

belong to

AnonyViet

? Link ?
View visited Web pages in Incognito mode
Open incognito browser
You need to know, incognito mode is not completely anonymous. Although in private mode, your browsing history will not be saved on your browser, but on Windows, your company server, your ISP… or your own websites can still track your browsing history. For example, if you use Google search and log in to Google using private browsing mode, previous searches are stored on the server but not in your browser history. So any bookmarks you save while using private mode will be stored on the server and you can access them even if you turn off private browsing. The safest way is to use VPN.
Incognito browser or other names such as:
Safari = Private Browsing
Internet Explorer = InPrivate Browsing
Microsoft Edge = InPrivate window
Google Chrome = Incognito mode
FireFox = Private Window
Opera = Private tab / Private browsing
For Chromium-based browsers, you open the incognito browser with the keyboard shortcut Ctrl + Shift + FEMALE.
For Firefox, Edeg use Ctrl + Shift + P.
View Web browsing history in Incognito mode using DNS Cache
When accessing a Web address, your computer will ask for directions to the Router, the Router will ask for directions to the Internet service provider, the Internet service provider will ask for directions at a higher level. During the process of asking for directions, there will be a service called DNS. DNS's job is to resolve domain names to IP addresses. The resolution process will be temporarily saved in Windows (DNS Cache) so that when you next visit, you don't have to ask for directions again.
To view Web browsing history in Incognito mode, you need to display DNS Cache. In DNS Cache will save all the Website addresses you have ever visited in any browser. The way to do this is as follows:
Step 1: Open CMD as Administrtor
Step 2: Type command: ipconfig /displaydns
In the CMD window will display a list of all the Web sites you have visited on your computer.
If the list is too long, you can output the results to a file by doing the following:
Type command: ipconfig /displaydns > C:\anonyviet.txt
In OLD drive file will appear anonyviet.txt is the content of your Web access history.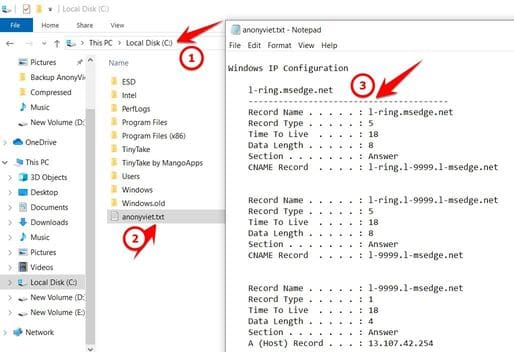 Clear Web Access History
Clear all visited history on Incognito browser
To clear DNS Cache where the Website query history is stored, open CMD and type the command: ipconfig /flushdns
Now all Web history saved on Windows has been deleted. When you visit any Website for the first time, the connection will be a bit slower, because the cache has been cleared and DNS needs to query the address again to save it for the next time.
Clear all Web browsing history on Chrome
When using normal Web surfing mode, Chrome will save all the Web pages you have visited. There are 3 ways for you to open access history from Chrome:
Press key combination Ctrl + H
Go to the address chrome://history/
Click on the 3 dots in the upper right corner and select History
A list of visited Web sites will appear, you can choose any address to delete.

You can Click Clear Browsing data for advanced deletion like clear all history, clear cookies, delete saved passwords.
Software to review Web browsing history
To review the Website access history, in addition to the Browser's History function, you can use 3rd party software. Although not viewing Web access history in Incognito mode, the software is to help you sort by time, website address, number of visits…
BrowsingHistoryView view all browser browsing history
BrowsingHistoryView is a utility that reads historical data of different Web browsers (Internet Explorer, Mozilla Firefox, Google Chrome and Safari). Browsing history list includes the following information: Visited URL, Title, Visit Time, Visit Count, Web Browser and User Profile. BrowsingHistoryView allows you to view the browsing history of all user profiles in a running system, as well as to retrieve the browsing history from an external hard drive.
You can also export browsing history to a csv/tab-delimited/html/xml file from the front-end or from the command line.
Download BrowsingHistoryView
ChromeHistoryView – View browsing history of Chrome browser
ChromeHistoryView is a small utility that reads historical data of the Google Chrome browser. Tool will display a list of all visited Web sites. For each Web page visited, the following information will be displayed: URL, Title, Date/Time of Visit, Number of Visits, number of times the user has visited this address, Referrer, and Visit ID.
You can select one or more history entries and them into a htm /xml/csv /text file or copy the information to the clipboard and paste it into Excel.