StandBy mode of iPhone iOS 17 is a new feature introduced by Apple in the latest version of its operating system. In this article, AnonyViet will introduce how to activate, customize and use iPhone StandBy mode. iOS 17 The most effective way.
Join the channel

Telegram

belong to

AnonyViet

???? Link ????
What is iPhone iOS 17 StandBy mode?
StandBy can be thought of as a kind of smart display for the iPhone, providing quick access to different screens with useful information while your device is charging.
If you charge your iPhone at night, StandBy will adapt to low light and take on a red tone. StandBy mode is available on all iPhone models that support iOS 17, but the ability to use StandBy's always-on feature is limited to iPhone 14 Pro models.
How to enable and use StandBy mode on iPhone iOS 17
To enable StandBy when turned on, your iPhone needs to be locked and charging on a MagSafe or Qi-based wireless charger, or a Lightning charger. The main things to remember are that the iPhone needs to be locked, fixed in landscape (or landscape) orientation, and on its side (i.e. not on a flat surface), so you'll probably need a charging stand.
StandBy is enabled by default, but you can turn it on or off manually by going to Settings -> StandBy and toggle the switch to activate.
To enable StandBy mode on iPhone, you need to follow these steps:
Step 1: Go to Settings > StandBy and enable this feature.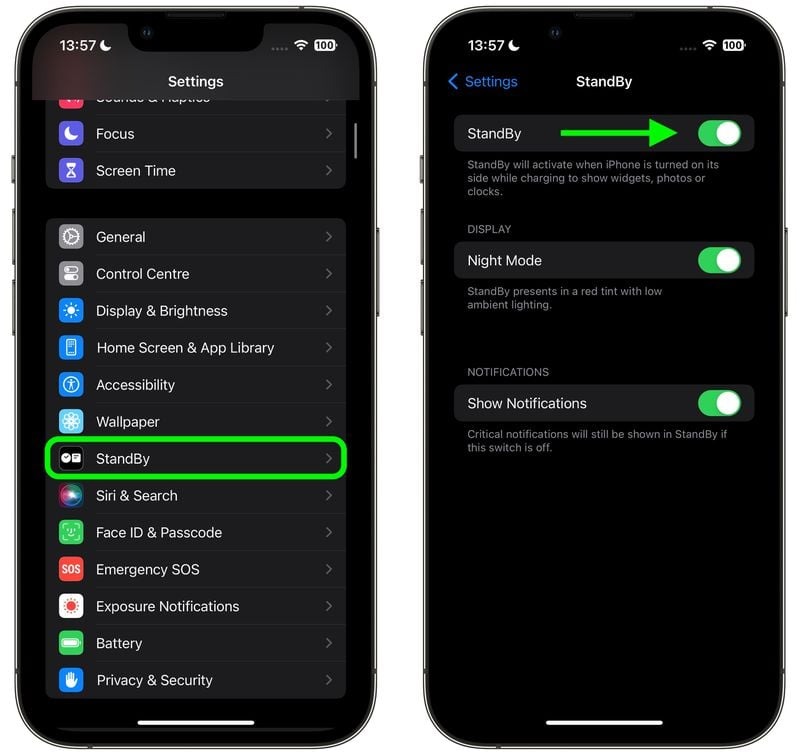 Step 2: Place iPhone horizontally on an upright charger with the screen locked. You will see the iPhone screen showing the clock/widget view.
Step 3: Use gestures to control StandBy mode. You can swipe left or right to switch to other views, swipe up to unlock the screen, swipe down from the top right corner to open Control Center…
StandBy's 3 screen modes
StandBy consists of three screens that can be accessed by swiping horizontally on the iPhone's display screen. The first screen displays interactive widgets, the second screen showcases individual photos from your photo library, and the third screen is a large clock.

Widget screen
The widget screen consists of two interactive widget stacks displayed side-by-side and you can swipe up and down independently. The stacks look like enlarged versions of the widget stacks on the Home screen and also include the same options like Smart Rotation and Widget Suggestions.
If you touch a non-interactive widget, like Calendar, an arrow indicator appears on the screen. Tapping the arrow will take you to the relevant app, helping to avoid accidental app launches.
To customize a widget stack, long press and hold on it. After unlocking Face ID, the tile will center the screen in vibrate mode. You can add widgets to the stack using the + button in the upper left corner and toggle Smart Rotation and Widget Suggestions using the buttons on the right.
Image screen
StandBy's photo displays are also interactive and customizable. Tapping the photo's location or date activates Face ID and then takes you to the image in your Camera Roll.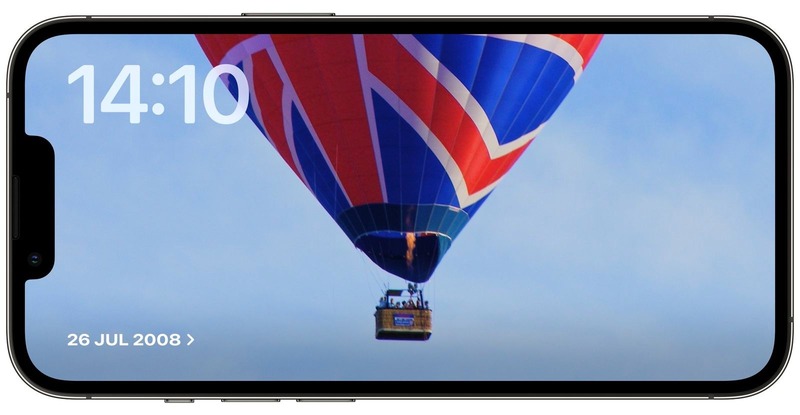 By default, StandBy will display highlight photos and memories pulled from your library, but you can long-press on a photo and unlock Face ID to swipe through specific themes like Nature, Pets, Cities and People. You can also add specific albums to display using the + button and hide topics you don't like using the eye icon.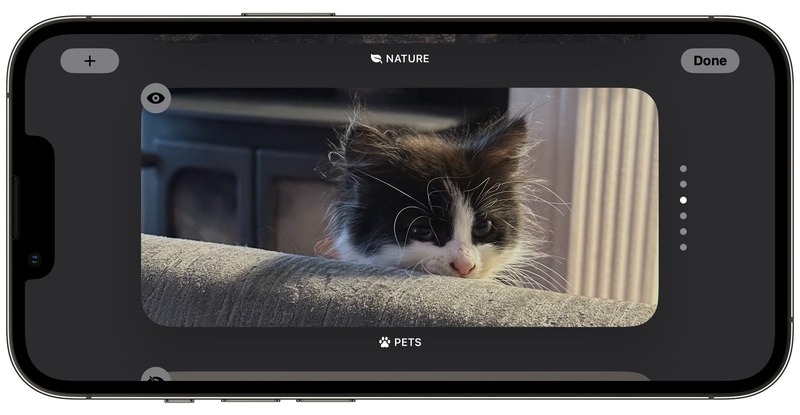 Clock screen
StandBy's third screen displays the time with various themes you can choose from. Some themes also display additional information such as temperature or alarms. If you press and hold on a watch, you can switch between different themes, including Digital, Analogue, World, Solar, and Float.
Float will display the time in large bubble numbers with customizable colors
Solar has a standard font with a solar glow design in different colors
World displays the time with a world map and your current location highlighted.
Analogue has customizable colors
Digital has bold numbers with different color options.
Live notifications and activities
Incoming notifications will be displayed full screen when you have them Iphone in StandBy mode.
For example, if you have a WhatsApp message, you will only see the WhatsApp icon and the sender's name, but not the message content. This helps protect your privacy when your iPhone is in StandBy mode.
Epilogue
StandBy mode of iPhone iOS 17 gives you a new way to use your iPhone while it's charging. You can view interactive widgets, photos from your gallery, and a large clock with different themes. You can also receive notifications and activities on the StandBy screen. You can customize StandBy's screens as you like and turn the feature on or off at any time. Try StandBy today and feel the difference!