ReRa1n officially supports on Windows and Linux operating systems to help you downgrade Apple devices from A5 to A11 chip quickly. If you own iPhone 4S (A5 chip) to iPhone 8 and iPhone X (A11 chip) you can completely downgrade to any firmware. You also don't need to use MAC OS to downgrade. ReRa1n Tool Will Help You Downgrade iOS on Windows and Linux
Join the channel

Telegram

belong to

AnonyViet

👉 Link 👈
Instructions for Downgrading iOS on Windows and Linux with ReRa1n
Rera1n is a tool to help you downgrade icloud bypass, jailbreak iOS 13 on Windows and Linux. This tool released by author @a_i_da_n is based on the checkm8 vulnerability of Apple devices using chip A5 – A11.
Current features of NON-JB include: Exit DFU/Restore, Signed Firmware Update.
Current JB features include: Update signed Firmware, respring (backboardd), respring (SpringBoard), reboot, Respring (Loop-Fix), kill a specified process process, uicache, ideviceinfo, settings package, remove package, ssh window.
Upcoming features of NON-JB include: Tethered Downgrade/Upgrade**, Unlimited OTA Downgrade*, iDeviceinfo, Possible Crash Reporter**, Live kernel debugger* *, Simple Futurestore
Upcoming JB features include: Tethered downgrade/upgrade, Unlimited OTA Downgrade*, Better iDeviceInfo, livekerneldebugger, Semi-Restore iDevice W/O update**, Simple Futurestore, Entire FS Backup **
If you are using the following Apple devices, you can downgrade using Rera1n on WIndows and Linux:
Iphone
iPhone 5S
iPhone 6 and 6 Plus
iPhone 6S and 6S Plus
iPhone SE
iPhone 7 and 7 Plus
iPhone 8 and 8 Plus
iPhone X
iPad
iPad Pro (10.5-inch), iPad Pro (12.9-inch)
iPad (9.7-inch)
iPad Mini 2
iPad Mini 3
iPad Mini 4
Downgrade iOS on Linux with ReRa1n
If you do not have a Macbook to install MAC OS using checkra1n, the Rera1n tool will help you downgrade the iPhone firmware on Windows or Linux. You can parallel installation of Windows and Linux on the hard drive for easy manipulation. To Downgrade iPhone firmware on Linux with Rera1n, open Terminal and copy the following commands:
git clone https://github.com/AidanGamzer/ReRa1n.git
cd ReRa1n
sudo cp rera1n.sh /usr/bin
sudo chmod +x /usr/bin/rera1n.sh
sudo apt-get update --fix-missing
rera1n.sh
After executing the commands, you see the message restart program to continue.
Continue typing the command rera1n.sh once and a half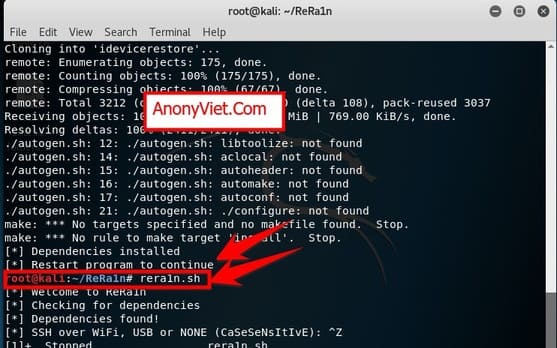 Continuing the program will ask you to connect your iPhone via WiFi, or USB. If you connect your iPhone to your computer with a USB cable, type USB (Note that correct capital letters).

Now you open 1 more Terminal window new and type the command: cd rerain-dep && sudo ./forward.sh

Return to the first Terminal windowyou press Enterthen a message will be displayed Enter the root password of your iDevice. Enter your password as: alpine

When there is a Connected to iDevice message, continue to follow the on-screen instructions to downgrade the ios firmware as you like with ReRa1n.
Downgrade iOS firmware on Windows
Currently, the author of Tool ReRa1n has only released Tool for LInux. The iOS 13 Jailbreak Tool on Windows will be released soon and AnonyViet will update the instructions for using ReRa1n on WINdows soon for you to use.