As you know, nowadays, if you want to register for any account, you must use Email. Currently, Gmail is considered the most widely used email in the world. But it's a bit difficult to sign up for Gmail now because Google requires phone verification.
Join the channel

Telegram

belong to

AnonyViet

? Link ?
Previously AnonyViet had an article Create multiple Gmail accounts with 1 phone number for those of you who need a lot of Gmail to reg nick. Depending on different purposes, if you do not want to add Gmail account but still can register multiple accounts on forums, website accounts, etc. Then follow the instructions below:
How to use 1 Gmail to register any account
First, you need to have a primary Gmail account. (Don't tell me you don't have Gmail by now :D). I will give this example: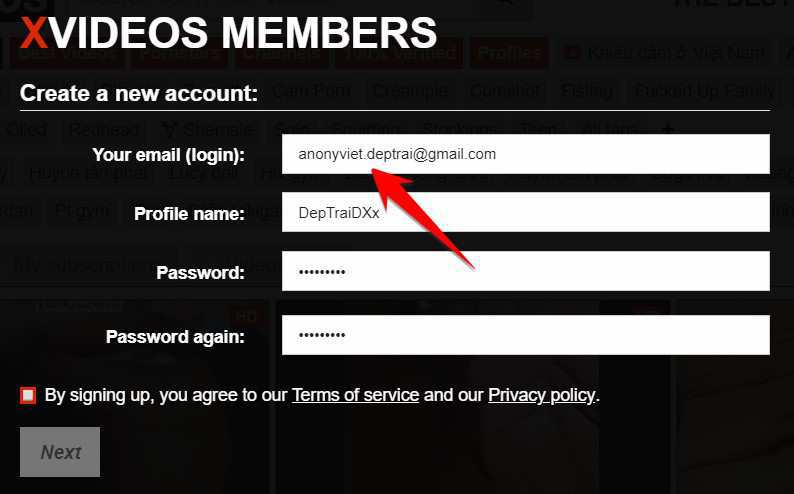 My Gmail account is: [email protected]
I used this email to register an account on xvideoss.com to study hand-cranked material. The roommate found the material in here very interesting, please let me create an account for him, so that he can both watch and comment for fun. But it has no Email. You can use email [email protected] To register another account at xvideoss.com, by following tips:
Add 1 dot "." anywhere in the email [email protected]
For example: you enter in the box to register for an account on xvideoss with email as:
Then all account verification emails will be sent to the main email:[email protected]
So for Websites that require registration and account authentication via Email, you can use this method with 1 Gmail registered for any number of accounts. This way will save time and effort of remembering Email.
You can use Tool to create multiple Gmail accounts. Just enter the main Email, Tool will automatically batch out Gmail for you