Featured photo function, used to show your friends your best photos. However, you can completely decorate your own in many ways to make your Profile page stand out more. Aim to create better communication, or bring a strange message to friends.
Join the channel

Telegram

belong to

AnonyViet

? Link ?
This way you can crop 4, 5, 9 photos as you like
The method of merging 9 small photos to merge into a large image in the Photo section on the Facebook wall is being used a lot. Page owners take advantage to promote more impressive products to viewers.
Try cutting an image into many smaller images, and then merge them into a complete image. This article AnonyViet will guide Crop photo to make it stand out Facebook.
How to crop 9 photos to make Facebook stand out
First. You need to select 1 image to crop. Then go to the Website below to cut online photos into 9 parts.
Function :
Crop 1 image into 9 equal parts: with size 400x400px. When combined, it will create a large image with a size of 1200×1200 px
Support writing content on photos: you can transmit any content you want.
This website will support you to cut 4 parts, 5 parts, 9 equal parts depending on your preferences. But now Facebook has supported Up 9 outstanding photos already.
If you like, you can add more content to the photo, if not, click the Crop image button.
Once done, you will see the work cut and arranged in order from 1 to 9. Save these 9 photos and Upload them to Facebook featured photos one by one.
Enter personal pagelook on the left hand side you will see the posting Featured photo.
Up turn from left to right, from top to bottom.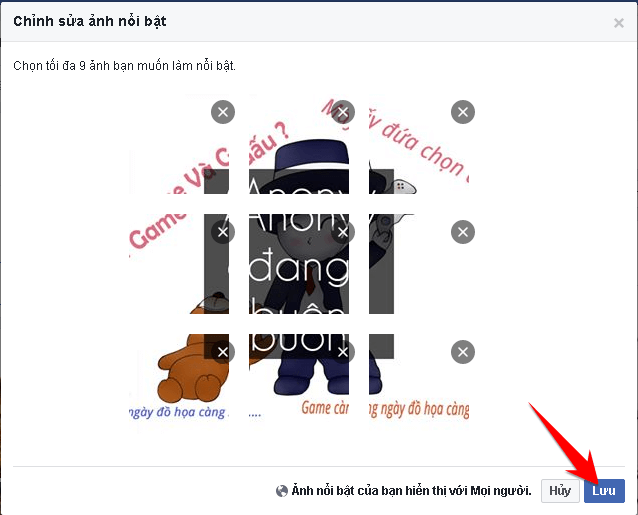 If successful, you will have a beautiful set of featured images like this: