If you need to look up someone's information on Facebook, but they leave it private or friends. Are you not friends with that person? There's a way you can search anyone's information on Facebook. Here's a trick to help you take advantage of Facebook's search engine to find images. Besides that, you can see which groups someone has joined, which pages have liked, or which photos have been commented on…. I tried and gathered more information than I expected.
Join the channel

Telegram

belong to

AnonyViet

? Link ?
How to find someone's information on Facebook
To search for anyone's information on Facebook, you need to go to that person's profile. Press Ctrl + U or right click select View page source. Now will appear the entire source code of the Facebook profile.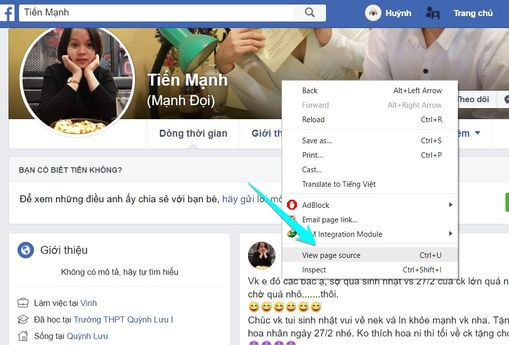 You press the key combination Ctrl + F or key F3. Right in the upper right corner will appear a small Search box. You type the word profileid and press Enter.
You Copy this ProfileID number again. This is the ID of that person, you use to search for images related to this ID.
Next step, you access the link below:
www.facebook.com/search/

id-of-people-to-find

/photos-of
Replace id-of-people-to-find is the sequence of numbers you just searched for in ProfileID in the step above. For example: 100008668771609
Result will list images related to this person on Facebook. Just scroll down to see all the images.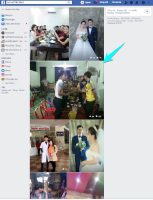 To search for other information, you can replace the search link with the keywords below:
Photos tagged / photos-tagged:
www.facebook.com/search/

id-of-people-to-find

/photos-tagged
Photos taken by /photos-by
www.facebook.com/search/

id-of-people-to-find

/photos-by
Photos that the person has Liked / photos-liked
www.facebook.com/search/

id-of-people-to-find

/photos-liked
More pictures/photos-of
www.facebook.com/search/

id-of-people-to-find

/photos-of
Pictures that the person commented on/photos-commented
www.facebook.com/search/

id-of-people-to-find

/photos-commented
Find the page that person liked/pages-liked
www.facebook.com/search/

id-of-people-to-find

/pages-liked
Search by group that person has joined/groups
www.facebook.com/search/

id-of-people-to-find

/groups