How to downgrade iOS 17 Beta to iOS 16 is an issue that many iPhone users are concerned about. iOS 17 Beta is the test version of Apple's latest operating system. However, not everyone is satisfied with the new features and interface iOS 17 Beta. Some users experience errors, problems, or difficulties using familiar applications.
Join the channel

Telegram

belong to

AnonyViet

???? Link ????
Therefore, they want to return to the more stable and familiar version of iOS 16. AnonyViet will guide you through the steps to downgrade iOS 17 Beta to iOS 16 safely and effectively.
Why should you downgrade iOS 17 Beta to iOS 16?
Each year, Apple announces a new version of iOS that will be released to the public in the fall of the same year. However, Apple will release beta versions before the stable version launches. Developer beta version is for application developers so that they can make necessary changes/updates in the application.
The Public Beta version will be for the public who wants to test this latest version.
Because it's beta, it's prone to application errors, and things won't be as smooth as in the stable version.
If you are also one of the early adopters who installed the iOS 17 beta but now want to go back to the iOS 16 stable version, this guide is all you need.
How to downgrade iOS 17 Beta to iOS 16
Turn off beta updates
Starting with iOS 17, beta versions are no longer installed using beta profiles. So, you cannot delete the beta profile to start receiving iOS 16 updates. You can only disable beta updates and wait until the official version of iOS 17 is released. To turn off beta updates, do the following:
Step 1: First, go to the Settings application.
Step 2: Then, tap "General" (General Settings)
Step 3: Click "Software Update"
Step 4: Then, tap on "Beta Updates" (Beta Updates).
Step 5: Select "Off"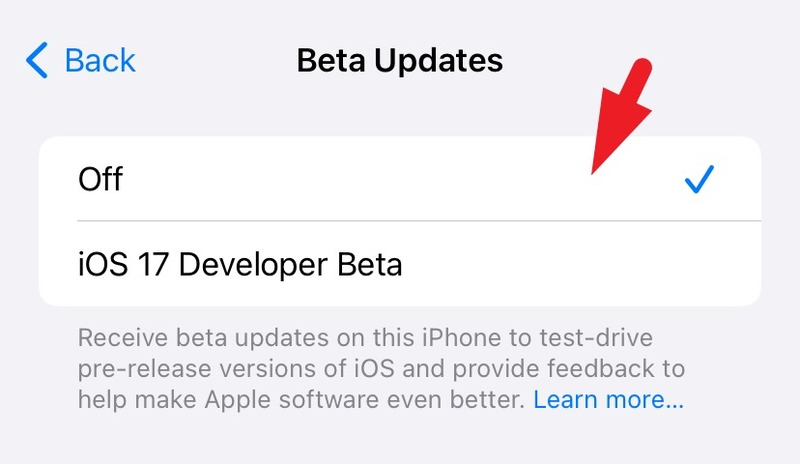 Once you've turned off beta updates, you'll only receive updates when an official version of iOS 17 is released, and until then, you'll keep the current version installed.
How to downgrade iOS 17 to iOS 16 using iTunes
Note: You can only downgrade to iOS 16 if you created an archive backup before installing the iOS 17 beta on your iPhone.
In case you don't want to wait until the next stable version update is available and want to completely remove the Developer Beta version from your iPhone, you can do so using iTunes.
Please also note that any backup (Offline or Cloud) after you have installed the iOS 17 developer beta will not be able to restore your data, as iOS 17 backups are not compatible with iOS 17. iOS 16.
Step 1: First, launch iTunes on your computer. Then, connect your iPhone using the cable.
Step 2: Enter recovery mode on iPhone.
To do that, you press and quickly release the volume up button and then similarly press and release the volume down button. Finally, press and hold the Lock/Unlock button until you see the recovery screen. You will see a wired cable connected to the iTunes icon when you enter Recovery mode.
Step 3: When your iPhone enters recovery mode, you will receive a message on iTunes saying "There is a problem with the device, and it needs to be restored." > Click "Restore" to continue.
iTunes will begin downloading iOS 16 from Apple servers. Note that your iPhone will exit recovery mode after 15 minutes of inactivity.
Step 4: Once completed, start with the first time setup process and select "Restore from Mac or PC"
Then, follow the onscreen instructions on your macOS or Windows device to complete the restore process. Once your iPhone is restored, you will have all your personal data and preferences back, and the device will be successfully downgraded to iOS 16.
How to downgrade iOS 17 to iOS 16 using Reiboot
Step 1: On your computer, download and install Reiboot. Then, open Reiboot and use the cable to connect your iPhone to the computer. Next, select the iOS Upgrade/Downgrade button.
Step 2: You select the "Downgrade" button to start the process.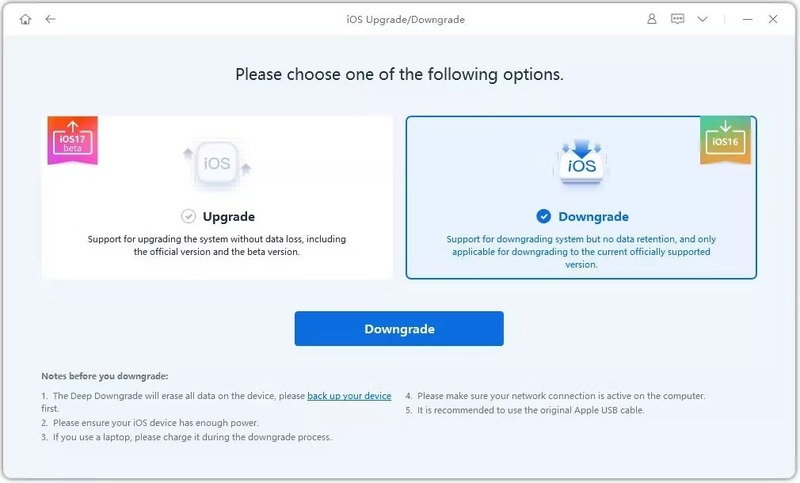 Step 3: You select Download to download the firmware package.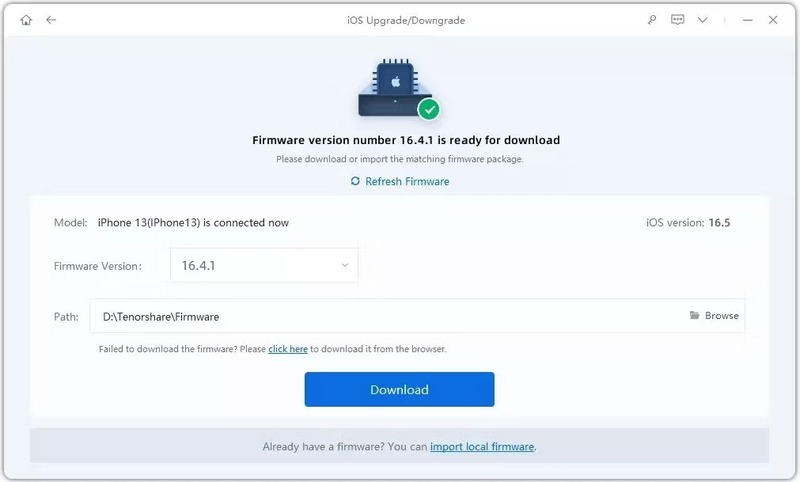 Step 4: Finally, click on "initiating downgrade" and wait a bit.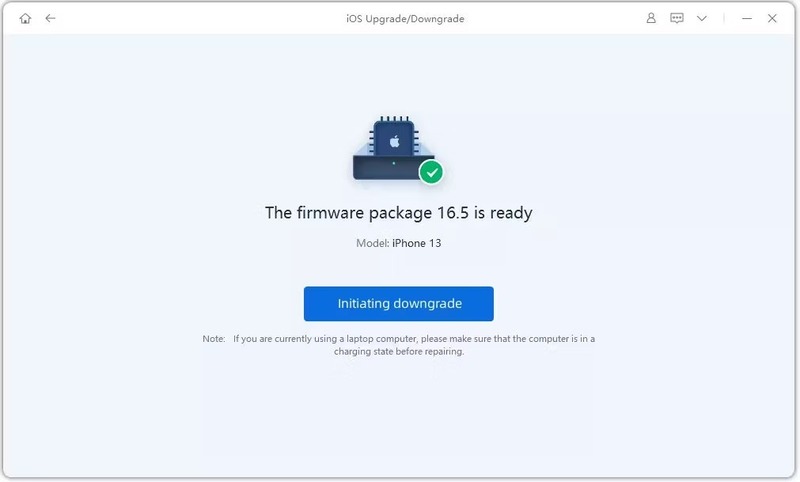 Reiboot will automatically downgrade the iOS 17 version to 16 and install the stable iOS version for your device.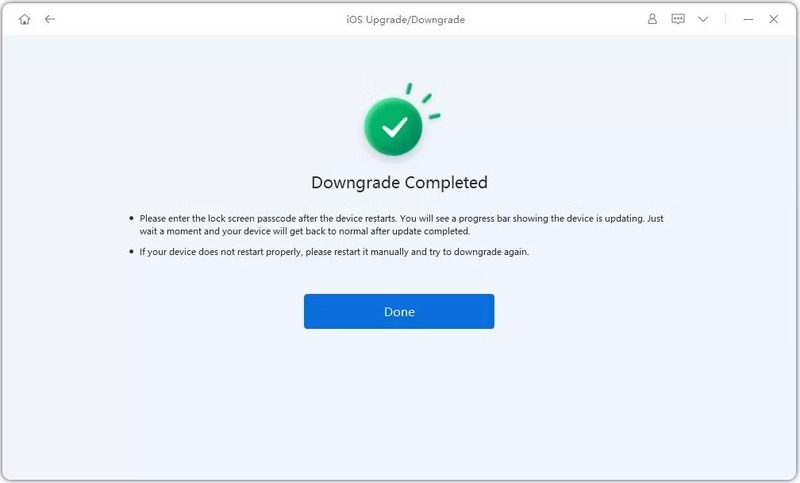 Epilogue
How to downgrade iOS 17 Beta to iOS 16 It's not too difficult if you have a Windows or Mac computer and a cable. However, you should note that downgrading may erase all data on the device, so you should back up your data before doing so. Wishing you a successful application!