How to create a secondary Facebook account is a trick to help grow your social network, especially when you have multiple goals. You just need to follow the simple steps that AnonyViet will guide below, and you will have a new personal page in just a few minutes.
Join the channel

Telegram

belong to

AnonyViet

???? Link ????
How to create a new secondary Facebook account
To know how to create a new secondary Facebook account, you need to follow these steps:
Step 1: On your phone, click on the avatar icon in the bottom right corner of the screen to access your personal page > Click on the mark icon…
Step 2: Click "Create another profile"
Note: Not all accounts have this item. You can change to another account and try again!
Step 3: Select "Start"
Step 4: Name the new secondary Facebook page
Step 5: Add avatar, cover photo, username > Click "Continue"
Step 6: If you are satisfied with this information, click the "Create profile" button to complete the process.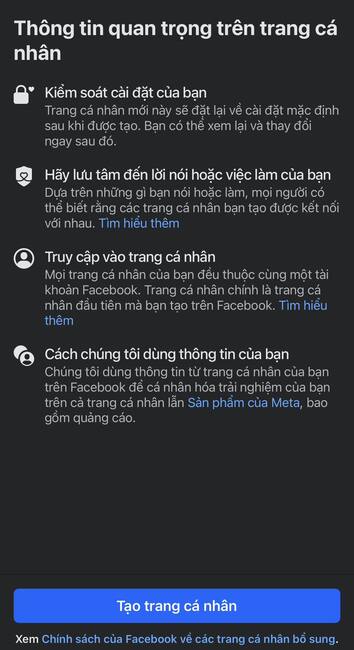 It is done! You have successfully created a page Facebook new personal on your phone. You can start posting content, making friends, and interacting with other users on this site.
You can switch between accounts easily by clicking the inverted triangle at the top. You'll see a list of accounts you're signed in to or have created. Just click on the account you want to use to switch to.
Benefits of having multiple secondary Facebook pages
Creating a new secondary Facebook account has many benefits, for example:
You can create a separate profile for personal or business purposes, without affecting your main profile.
You can manage many different personal pages easily and quickly, without needing to log out and back in.
Security and privacy settings can be customized for each profile, to control who can see and interact with your content.
Increase your reach and engagement with potential customers, partners or fans, using Facebook marketing tools.
Epilogue
Hope this article has helped you understand better How to create a new secondary Facebook account on the phone. If you have any questions or suggestions, please leave a comment below. Thank you for reading and good luck with your new secondary Facebook page.