Usually, you will go online and download the full anti-virus software. But by doing so, the risk of catching the virus is even higher. Because the software on the network is Crack software from other people, there is no guarantee.
Join the channel

Telegram

belong to

AnonyViet

? Link ?
Real anti-virus software license is very expensive, hard to buy for students. Today, I will guide you to manually remove viruses within 2 notes quickly. Anyway, doing it yourself will be more secure, right?
Instructions to remove viruses within 2 minutes
This is the most effective Free way that I am using myself. I will use two Microsoft support software to scan. These two software have built-in Virus Total, so the detection of malicious code is 99.9%.
Why is this good and effective?
Microsoft products are developed by professional teams and communities over the years. The data it holds is huge, updating new virus information is also faster. The software is designed to be lightweight and easy to use for everyone.
Doing
Download Microsoft's Process Explorer (In the past, ad used to make money on the net with this).
Remember to skip the ad to support me.
Genuine Microsoft products always!
Process Explorer does not need to be installed, just open and run. You download, extract and run the file procexp.exe (Windows 32bits) or procexp64.exe (Windows 64bits).
Then select Virus scanning mode on VirusTotal world library as shown in the photo below.
It will ask if you agree to VirusTotal's terms and conditions. In terms of terms, virusTotal will have the right to get information about Virus and save it for documentation.
Select 'Yes' to agree to the terms and continue. Then wait about 30 seconds for it to scan the entire system and give the results.
So I have an infected software. You right click and select Kill Process to stop its progress. Or choose Properties -> Explore to go to the file where it is installed fa check again.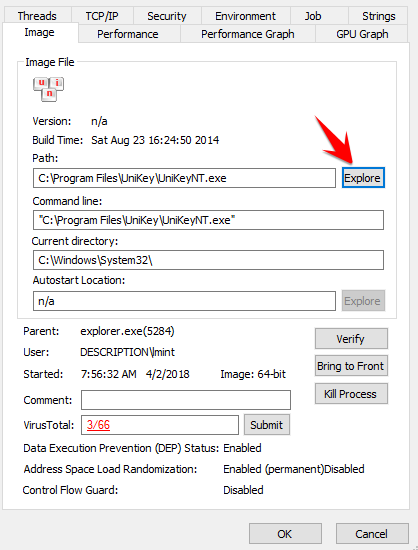 Note
There are some software that interfere with keystrokes like Unikey that will be misunderstood as a Virus. So remember to think carefully before uninstalling it.
Like Fanpage or follow Website for quick updates of good articles.
Good luck
Lmint.