Making MMO games is one of the popular methods of making money online in recent years. Along with that, VPS MMO is also gradually becoming popular as an indispensable element for this form of making money. So what exactly is a VPS for making MMO games and which VPS is suitable for making MMO games? Let's find out more in detail in the article below.
Join the channel

Telegram

belong to

AnonyViet

???? Link ????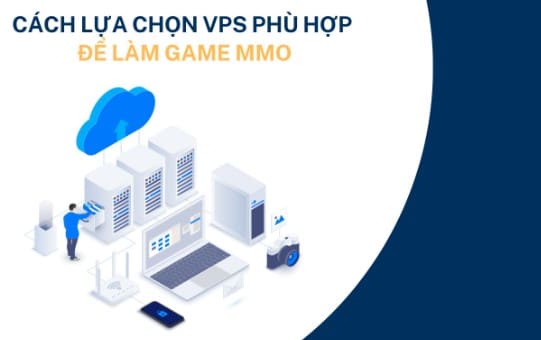 What is MMO?
MMO stands for the phrase Make Money Online, is a term commonly used to refer to methods, activities, or ways of making money online through the internet. This is an activity where participants can generate income online, such as doing business online, selling through e-commerce websites, blogging, doing social media marketing, participating in Take an online survey, do online financial transactions, or even write an e-book…
In this article, we talk about the problem of making MMO Game. This is an effective money-making trend that many people are interested in. However, to be able to make the most of this form of sword, you not only need quick thinking with professional knowledge and experience, but also play in combination with many supporting tools. And one of them must be mentioned VPS.
What is VPS?
VPS MMO is a dedicated virtual server service (Virtual Private Server) capable of providing multiple IPv6 addresses. VPS making MMO games will be an effective support tool for those who make game servers, play games, hang games, .. to make money. Through this tool, you can change IPv6 addresses continuously, quickly and easily to optimize efficiency when making MMO games.
Why should you choose VPS to make MMO games?
Buy VPS making MMO games for money game development gives you full control over the server environment. You can customize profiles, install software, and make adjustments to optimize your game performance the way you want. VPS allows you to isolate your game's resources from other applications, helping to ensure greater performance and stability. This is important for creating a quality experience for players, engaging them, and generating revenue.
In addition, making MMO games can often experience sudden growth in player count and data volume. With a VPS, you can easily scale resources like CPU, RAM, and storage to meet this increased demand. Take necessary security measures to protect player's personal information and avoid security problems. Moreover, VPS is often cheaper than renting a private server. This helps you control costs and optimize resources to generate profits.
Some notes when choosing the right VPS to make MMO games
Should choose the right VPS for your needs
First, determine your game's resource requirements such as CPU, RAM, storage, and bandwidth. This helps you to choose VPS with large enough resources to ensure good performance for the game.
Server location is also important for latency and the gaming experience of users from different regions. Choose a VPS provider whose servers are located close to your main audience. With that, make sure that the VPS provides enough bandwidth to support the expected number of players and the data volume of the game.
MMO games often require complex graphics and calculations. GPU (Graphic Processing Unit .) – Graphics processing unit can provide more powerful graphics processing than CPU (Central Processing Unit) – Central processing unit). VPS GPUs are usually equipped with GPU graphics cards to provide higher graphics processing power. This improves game performance and minimizes visual lag. Meanwhile, VPS can often only use normal CPU resources for graphics processing, resulting in lower performance.
You need to double check the specifications and requirements of the specific MMO game. Make sure that your MMO VPS has enough resources and performance to meet your gaming needs.
About the account
After registering to rent VPS MMO at the providers, you will receive a login account (including user, password) via email. You need to check if you can log in normally or not. Don't forget to change your password after logging in for the first time to improve the security of your account.
Notes on control and management applications when choosing the right VPS to make MMO games
To access the VPS for making MMO games, click on the menu Startthen type keyword Remote Desktop Connection. The Remote Desktop Connection panel available on Windows will appear for you to make the connection.
VPS MMO is usually Windows VPS Use the same with a computer. You proceed to install and use browsers and applications as usual. If you want to connect on your phone or tablet, install the application Remote Desktop Connection onto the device. Then continue to connect and use the same as on the computer.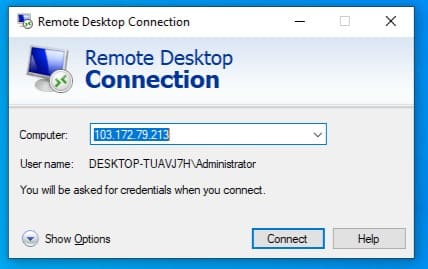 However, to make MMO games, it is not necessary to use a Windows VPS. You can choose to use a Windows VPS or Linux VPS depending on your requirements and skills in MMO game development and implementation. Linux is also popular in game development for its stability, high performance, and flexible customization capabilities.
Where to choose the right VPS to make MMO games?
CLOUDING.VN is the leading virtual server service provider in Vietnam with extremely cheap prices. You can easily own a VPS for only 129,000 VND/month to help you optimize costs and make the most of your resources. Virtual server services are usually and virtual servers with GPUs for plowing games, hanging games, making MMO games and other needs.
Advantage:
High performance:

Usually has powerful hardware resources and a good network connection, ensuring high performance for

MMO . activities

.

Flexible and extensible:

Offers VPS packages with a variety of configurations, allowing you to choose the right resource for your MMO's requirements.

High security:

You have complete control over your virtual server.

Professional support service

:

Provide professional support services through channels such as zalo, telegram, facebook, website, hotline, etc.

Cost savings:

You only pay for the resources you use, and can easily upgrade or reduce resources as needed.
VPS price list at CLOUDING:
| | | | | | |
| --- | --- | --- | --- | --- | --- |
| Service pack | CPU | RAM | Hard Drive | IPv4 | Price (Month) |
| Cloud GR #1 | 1 vCPU | 1GB | 30GB | 1 address | 129,000 VND |
| Cloud GR #2 | 1 vCPU | 2GB | 30GB | 1 address | 149,000 VND |
| Cloud GR #3 | 2 vCPU | 2GB | 30GB | 1 address | 199,000VND |
| Cloud GR #4 | 2 vCPU | 4 GB | 60 GB | 1 address | 299,000 VND |
| Cloud GR #5 | 4 vCPU | 4 GB | 60 GB | 1 address | 399,000 VND |
| Cloud GR #6 | 4 vCPU | 8 GB | 90 GB | 1 address | 499,000 VND |
VPS price list at CLOUDING
Price list of VPS with GPU at CLOUDING:
Service pack

CPU

RAM

Hard Drive

IPv4

Price

VPS GPU #1

4 CPUs

8 GB

40 GB

Private IPv4 in Vietnam

600k/month

Cloud GR #2

6 CPUs

12 GB

40 GB

Private IPv4 in Vietnam

1,000k/month

Cloud GR #3

8 CPUs

16 GB

80 GB

Private IPv4 in Vietnam

1,250k/month

Cloud GR #4

4CPU

16 GB

120GB+ 960GB SSD

US Private IPv4

1755k/month

Cloud GR #5

4CPU

32GB

120GB+960GB

US Private IPv4

2,225K/month

Cloud VN #6

8 CPUs

64 GB

120GB+960GB

Private IPv4 in the US

3,675KZK

/month
VPS price list with GPU at CLOUDING
Hope the above article has helped you better understand How to choose the right VPS to make MMO games?. If you have any questions or want to rent a quality server, please contact us immediately CLOUDING.VN for detailed advice and support.
GREEN CLOUD TECHNOLOGY CO., LTD
Address:

No. 23A, lane 212, Nguyen Trai street, Ha Giang city, Ha Giang province.

Hotline:

0888,662.393

Website:

CLOUDING.VN

Telegram:

https://t.me/cloudingvn