Hi guys, after recent Windows updates, perhaps activation has become more difficult. Microsoft has patched and blocked some old activation methods. Today, I would like to share with you how Activate Windows 10 license Latest.
Join the channel

Telegram

belong to

AnonyViet

👉 Link 👈
This is how to activate the digital copyright I have tested and succeeded. You only need to activate it once, the key will be attached to the device. This means that even if you reinstall Windows 10, it will still be activated automatically.
Why you need to use Windows 10 license
Microsoft only protects activated versions of Windows 10. If you use Windows 10 Crack then you are putting your computer at risk. Viruses can attack your computer at any time because you are not protected.
Windows 10 Crack will not be able to run as smoothly as the original version. Because the Crack process will break the encapsulation and distort the perfection of Windows. That is why using Windows Crack for a long time will be heavy and lag.
What is Windows 10 Digital Activation?
You've probably heard or seen a lot of these problems online. Many of you often message me to ask if this activation method is valid or not. Today, I would like to answer that this is a valid activation method !!
When you activate Windows 10 digitally, your computer will receive an electronic code. This code is called Digital Code and it will be imprinted into the core of your computer. Later, when you install Windows 10 again, it will automatically recognize this code and activate automatically.
That's why many people like to activate this way to save effort. Today I will guide you to activate Windows 10 digitally in a new way.
Windows 10 Digital Activation Guide 2018
You can still use the old activation method using KMS. But after 180 days you have to use KMS to reactivate again. However, this method is very risky and not as safe as before.
We will use the GENERIC KEY (the standard key of each version of Windows) to activate. KEY GENERIC is the key entered directly during Windows installation. Each KEY only corresponds and activates for 1 version of Windows only.
Below are the Windows versions that support license activation by KEY GENERIC
Core (Home) (N)
CoreSingleLanguage (N)
Professional (N)
ProfessionalEducation (N)
ProfessionalWorkstation (N)
Education (N)
Enterprise (N)
EnterpriseS (N)
Method 1 – Activate Windows 10 with W10 Digital License C#
Because the activation method with KEY GENERIC requires you to use many complex commands. So a programmer wrote this software to make it easy for you to do without remembering commands.
W10 Digital License C# written by him angelkyo on the forum nsaneforums.
W10 Digital License C# User Manual
First of all, you need to download the software at the link below.
After downloading, extract and run the software normally. Because the software is not polished interface, it looks a bit ugly. But the operation is still very efficient!!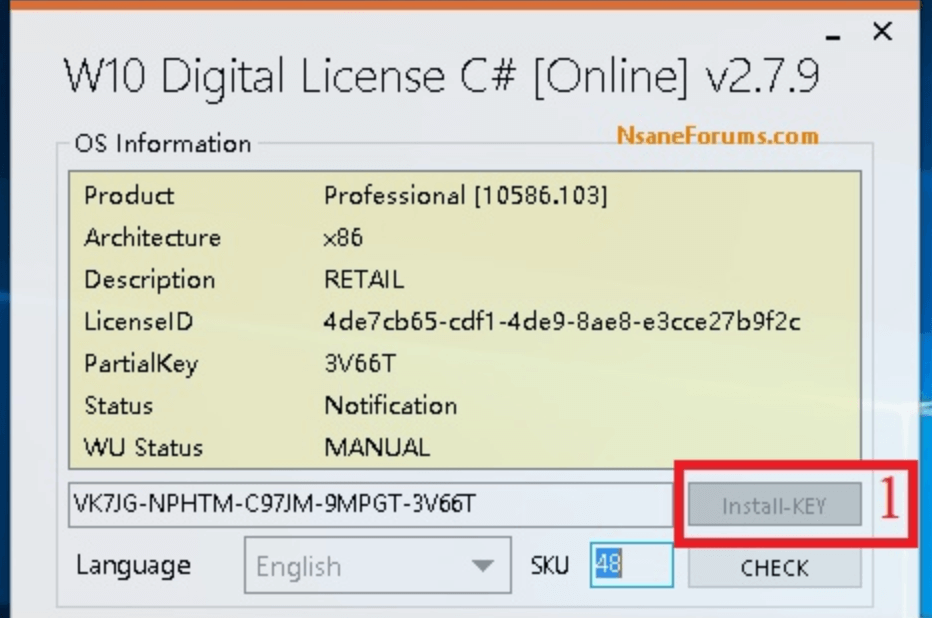 Select the INSTALL KEY button as shown above to GET Digital Key. Then continue to select the ACTIVE button in the lower left corner to proceed to load the KEY for the computer. This process will take some of your time.
Wait a moment until the ACTIVE process tree below runs successfully and receives a message like the image below.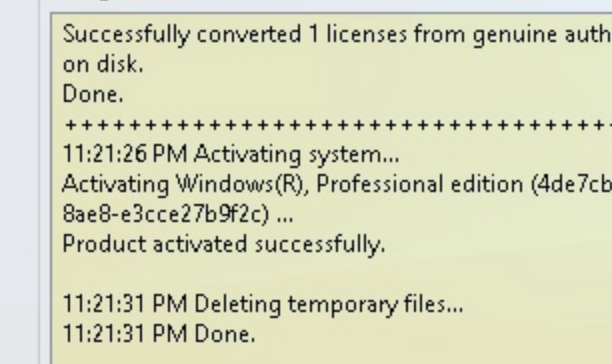 You have successfully activated your Windows 10 digital license. You reboot the machine and go to Settings -> Update & Security -> Activation to view genuine copyright certification parameters.
Method 2 – Activate Windows 10 with W10 Digital License Activation Script
Similar to the above method, this way also saves you time and does not need to remember the Code. This Tool is a precompiled Script, so it is lighter than the Tool above. And it is also rated as fast and compatible with more machines.
W10 Digital License Activation Script Details
This script has been tested for safety and does not contain any malicious code.
Fast, simple and automatic operation.
When activating you must allow the Update feature of Windows 10 to work.
A stable Internet connection is required for use. If you do not have Internet, the code inserted into the machine will automatically activate when the device is Online.
Secured by VPN.
User manual
The first thing you need to do is make sure your computer is connected to the Internet and the network connection is stable. Next you need to extract the downloaded file and run that Script with permissions Administrator.
Because this script needs deep access to the system to insert the digital KEY. So you must allow to run with administrator rights (Administrator).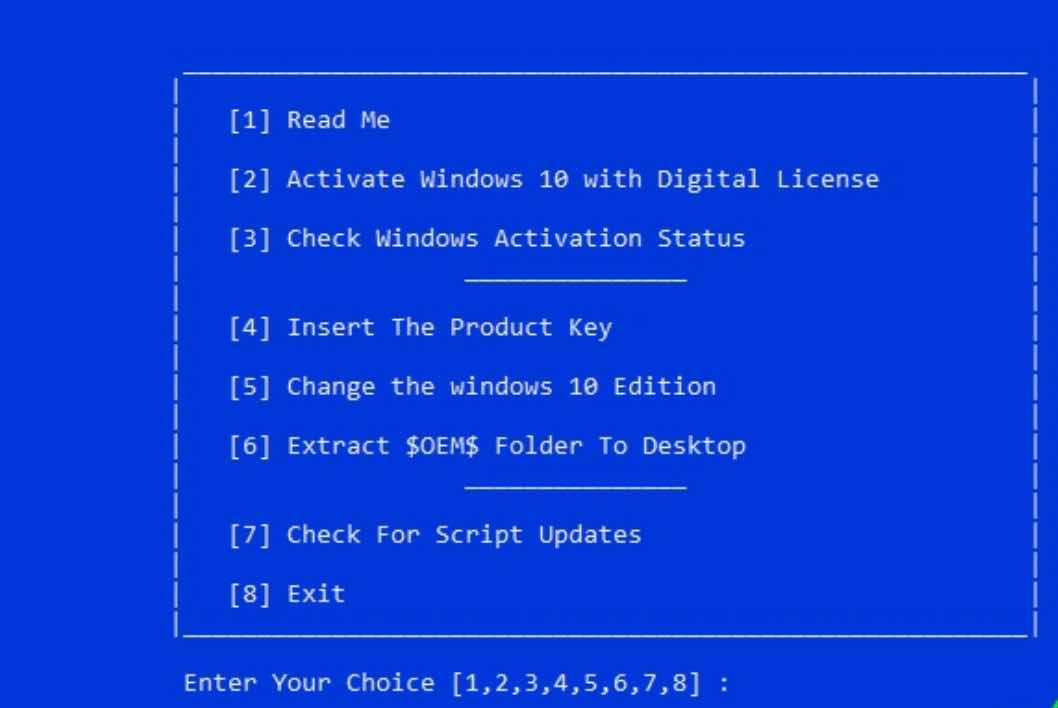 On the interface there will be many different options from 1 to 8. You do not need to understand this Script in depth because it is quite a lot of things. You enter No.3 and press Enter to activate. Wait a few seconds until a message like the image below appears is successful !!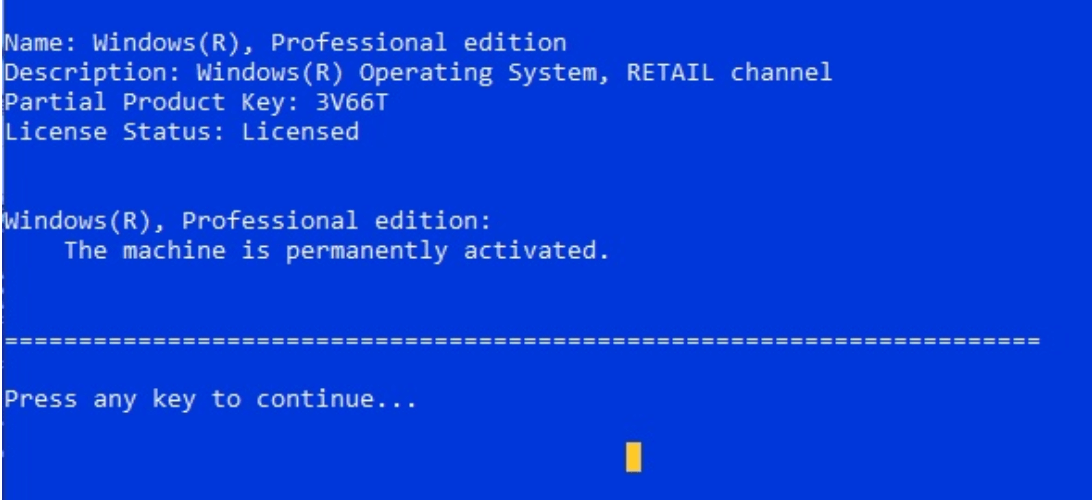 Press any key to exit the program after success. Restart the machine and check the copyright certificate like in method 1. So I have introduced 2 ways to activate Windows 10 copyright for you.
Hope this sharing of AnonyViet will be useful for you. Like Fanpage or follow website for quick updates of good articles.
Good luck
Lmint.