Continuation of 2 articles about my Korean and Japanese courses. Today I will share with you a set of 3 very quality English courses. You can use it to practice English yourself at home without having to study far away.
Join the channel

Telegram

belong to

AnonyViet

? Link ?
This course I compressed into Combo 3 courses with different topics. Of course, I have also tested the quality of the courses through Reviews of learners. The reason that I constantly share foreign language courses for readers is because:
Knowing more foreign languages ​​will be a great advantage when applying for a job.
There are more opportunities to work in foreign companies.
You can read foreign documents by yourself to learn new knowledge by yourself.
Beneficial for those learning programming and technology.
Helping you to self-study and improve your foreign language knowledge at home.
Save money on expensive schooling in centers.
What's so good about the combo of 3 English courses?
The reason I grouped them together into a set of 3 courses is because these 3 courses together will be very effective. The courses will complement each other's knowledge. From there, it will help you to develop your own language skills more comprehensively. I will go through the details of each course in turn below:
Communicative English – confidently express yourself
The price of this course at Edumall is 349,000 VND.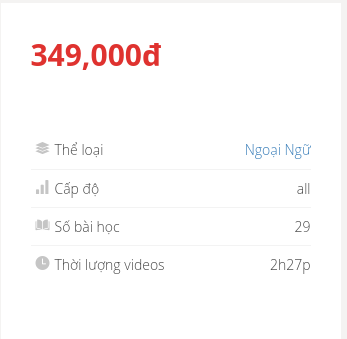 The content revolves around how to teach you the necessary communication skills and techniques.
course content
Learn vocabulary
Learn sentence patterns
Reflex training
Learn to pronounce
Application English: Entertainment in English
This course costs 349,000 VND at Edumall.
This is the 2nd course in a set of 3 Combos of this course. You will get acquainted and expand your English vocabulary in practical applications. In addition, the learning style of this course leans towards entertainment, so there is nothing heavy to learn.
course content
The course helps to review and expand knowledge of vocabulary, sentence patterns to practical scope in life.
Applied English: Confidently communicate in everyday English
This is the last course in a set of 3 communication English courses. The price of this course in Edumall is 349,000 VND
course content
Like the 2 courses above, this one expands your vocabulary. Helps you to be able to confidently communicate with native speakers in a normal way. Because these 3 courses are related to each other, I have compiled them into 1 combo for you to learn easily.
Download combo English course
Like Fanpage or follow website for quick updates of good articles.
Good luck
Lmint.