Duolingo is launching a free music course is a news that caused a stir in the online learning community. Duolingo is a famous foreign language learning application, with more than 500 million users worldwide. This is a breakthrough in the field of online education, opening up new opportunities for those who love music and want to learn in an interesting and effective way.
Join the channel

Telegram

belong to

AnonyViet

???? Link ????
Introducing Duolingo
Duolingo is a free, popular, science-based language learning app. With Duolingo, you can learn more than 40 different languages, from English, French, Spanish to Norwegian, Esperanto or Klingon. You only need to spend 5 to 20 minutes a day practicing listening, speaking, reading and writing skills.
Duolingo also has fun features like study clubs, online events, language certificates, and podcasts.
Duolingo is launching a free music course
Did you know that Duolingo not only teaches languages ​​but also teaches music? That's right, Duolingo is preparing to launch its new music learning app. The goal of this project is to help everyone learn music easily, happily and effectively.
You will learn basic music concepts such as notes, musical tones, volume, rhythm, etc. from a library of more than 200 songs through hundreds of short lessons. You will also learn how to play different musical instruments such as piano, guitar, drums, etc. You will practice musical skills such as listening, singing, composing and performing.
This project is in the testing phase and is expected to launch later this year.
"We believe that math and music, like languages, know no boundaries and connect people easily," said Severin Hacker, co-founder and CEO of Duolingo. "Soon, you'll be able to learn math and music in the same Duolingo app – all with the fun, engaging, and effective experience you know from learning languages ​​with us."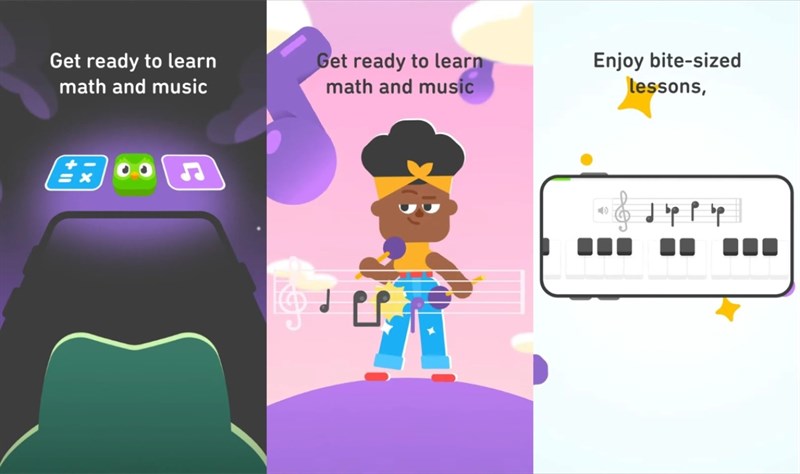 Duolingo Revealed about learning music on the app. Screenshots show musical notes combined with piano keys, along with games like "fill in the words" and "match the pairs." The app will appear alongside math and foreign languages ​​at the top of the Duolingo home screen.
The math teaching application has launched on iOS, with levels from beginner to advanced, all using interactive lessons, learned through games. A job posting spotted earlier this year said the company was developing a music app.
Duolingo didn't reveal many details beyond a few screenshots, but did say that "the course is free, fun, and effective." The company will announce the changes at the Duocon conference on October 11. Are you "excited" to learn music from Mr. "Blue Owl"?
Epilogue
Duolingo is not only an effective foreign language learning application, but also a comprehensive educational platform, giving learners many attractive and diverse options. Job Duolingo is launching a free music course is a clear testament to the innovation and pioneering of this application. With Duolingo, learners can not only communicate in many different languages, but also express themselves and enjoy the fun of music.