(PLO) – Google Chrome is not only famous for its fast speed, but it is also known by many people for its ability to "eat up" everything from battery, memory to CPU usage of the computer.
– Although born late, Chrome has shown everyone that it is not an ordinary browser but followed by an application platform. However, besides that, it is also very famous for its battery and memory consumption, especially on low-profile computers. So how to fix this?
First, the user needs to access the address https://goo.gl/OjWhrpress Add to Chrome to install The Great Suspender. When you're done, tap the smiley icon at the bottom of the address bar, select Settings to reconfigure some parameters. This extension will limit Chrome's memory "consumption" by temporarily disabling or freezing, ie reclaiming the occupied RAM space of open but unused cards after a certain period of time. The default is 1 hour, but the user can change it arbitrarily in the section Automatically suspend tabs after.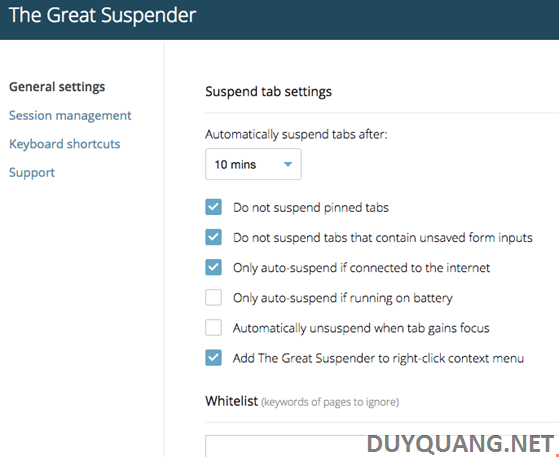 In addition, it has a few other options like Do not suspend pinned tabs (do not disable pinned tags), Only auto-suspend if connected to the internet (only temporarily disable tags if internet connection), Automatically unsuspend when tab gains focus (does not automatically freeze heavily used cards)… Besides, users can also enable high-resolution screenshots via the option. Enable Screen capturing, however this will consume Chrome a lot of memory. If you don't want to apply this feature on web pages that contain a specific keyword, enter its address in the box. Whitelist.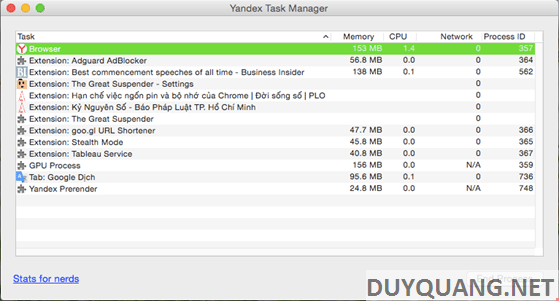 Here the writer will test on Yandex browser (similar to Google Chrome and Coc Coc). When you open 5 cards, you will see that only 2 cards are still active and consuming memory, while the remaining 3 cards due to little use and long leave have been temporarily frozen (Memory and CPU parts are removed). drum). In general, this feature is quite good, helping users to regain occupied memory.
Cards that are frozen will show a BILLION messageab suspended, click to reload (this tag is temporarily disabled, click here to reload the page from cache). Besides, The Great Suspender also integrates a small command line on the right mouse so that users can customize everything faster.
Note : This trick can also be applied well on browsers built on the Chromium open source platform, for example, Coc Coc or Yandex, etc.
To Avoid consuming RAM of Google Chrome / Coc Coc browser When using you can follow the instructions in this article.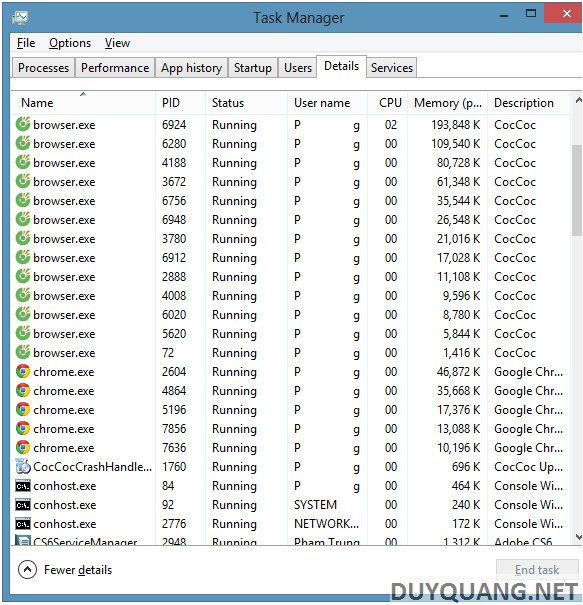 The principle of operation of Chrome / Coc Coc is quite similar when each Tab opened will open a process to handle the loading website. So the more tabs are open, the more processes will be born, and the level of "eating" RAM also increases gradually. Then if a Tab is "crash" then only that Tab is "crash"Okay, the browser is still working normally. That means you won't lose all the remaining Tabs if you have 13 Tabs open for example.
However, the disadvantage of this way of working is that each "process" will require a certain amount of RAM. If that Tab has a Flash Player or content that contains a lot of information, then "process" will eat up quite a bit of RAM. To handle this you can force Chrome to behave differently by adding the command "process-per-site". At that time, Chrome will only use a "process" for each web page loaded. Of course, this change will affect Chrome's performance.
You can check how many"process" that Chrome is using by opening Windows Task Manager (Ctrl+Alt+Del). Skip to item Details. How much chrome.exe (similar to Coc Coc is browser.exe) is how many Tabs you have open.
Handle Chrome / Coc Coc to save RAM
Step 1: Find Shortcut of Chrome and Coc Coc on Desktop.
Step 2: Right-click the shortcut, then select "Properties".
Step 3: After the table Properties appears, select the Shortcut tab. In the Target box, scroll down to the endpoint then add –process-per-site, then OK.
Step 4: Done, please restart Chrome / Coc Coc to see how.
Lmint – Good luck !