Did you know that August 8th is International Cat Day? This is a special holiday for those who love cats and want to protect the world's cats. And to celebrate this day, Google has launched an extremely cute and fun online game: Create cat paw prints on Google. Let's learn about International Cat Day and this game with AnonyViet in this article!
Join the channel

Telegram

belong to

AnonyViet

???? Link ????
What is International Cat Day?
International Cat Day is an annual 8 August holiday, created in 2002 by the International Fund for Animal Welfare. The purpose of this day is to celebrate and protect cats, as well as to show love and care for our four-legged friends.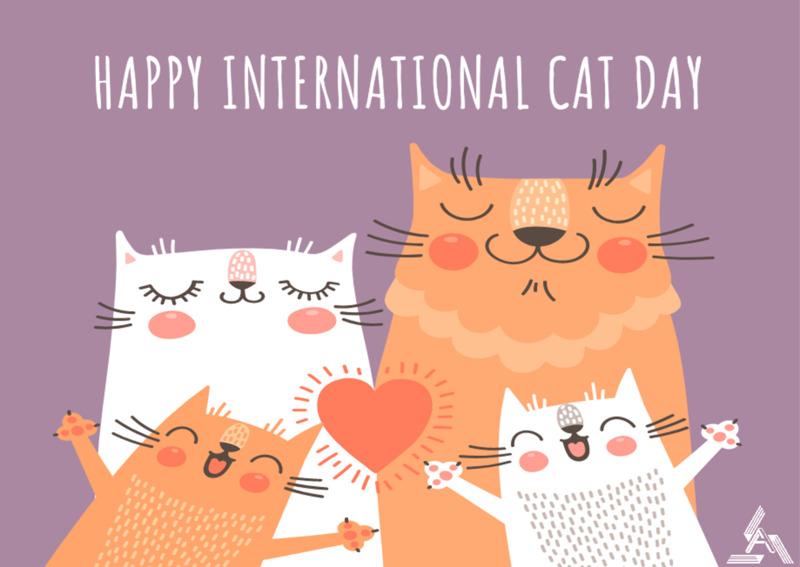 Did you know that cats are one of the most farmed animals in the world?
According to the 2020 statistics, there are about 220 million cats that are kept as pets, and about 600 million feral cats live on this planet. Cats are intelligent, versatile, and lovable creatures. They can bring joy, comfort, and health to people. Many studies have shown that petting, hugging, and playing with cats can reduce stress, lower blood pressure, and improve mood.
Benefits of International Cat Day
However, not all cats live in good conditions. Many cats face the risk of disease, starvation, abuse, or neglect. International Cat Day is an opportunity for us to be aware of the hardships cats face, and take action to help them. There are many things we can do to protect cats, such as:
Join an animal protection organization or campaign, such as the International Fund for Animal Welfare, the World Wildlife Fund, or the Vietnam Association for the Protection of Animals.
Support shelters or adoptions for feral or abandoned cats. You can find these centers online, or contact cat-loving communities on Facebook or Zalo.
Take care and raise your cats in the best way. You should take your cat for regular checkups, get vaccinated against diseases, provide clean food and water, and keep your cat clean and safe.
Respect and love cats like family members. You should play, talk to, and cuddle with your cat often, to create a strong and happy relationship.
Are there any more cat-related holidays?
In addition to International Cat Day, there are many other cat-related holidays in different countries. For example:
World Cat Day on February 17 in Europe
This day is organized by the European Union for the Protection of Cats, to raise awareness about the protection and care of cats.
Cat Day on March 1st in Russia
This day is considered the day of all cats, regardless of breed or color. Russians often give each other cat gifts, or send each other photos or videos of cats.
Cat Day on February 22 in Japan
This day, called Neko no Hi, is a day to show gratitude to cats who bring joy to humans. The Japanese often eat cat-shaped foods, such as rice cakes or cookies, or wear cat-shaped costumes.
How to play create cat paw prints on Google
To celebrate International Cat Day, Google launched an extremely cute and fun online game: make cat paw prints. This is a game developed and published by Google on their homepage. You can play this cat paw print game on Google for free and don't need to install any software.
Step 1: Go to Google homepage and search "International Cat Day" > Enter
wish 2: There will now be a cat's claw button just below the left search bar. Click on that icon.

It will summon the paw of a virtual cat that stretches out across the screen and creates a very interesting footprint.
As you move around the page and click, different cat breeds will create footprints on your screen, which will stay in place until you click the 'x' button at the bottom of the screen.
When cats leave footprints, they also make noises – meows in their own unique voices.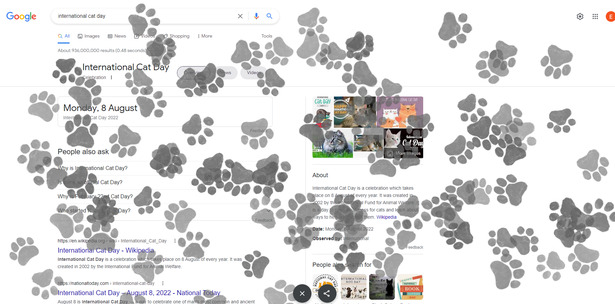 Epilogue
So I just showed you how create cat paw prints on Google International Cat Day. Please experience this exciting feature as a way to thank our feline friends for bringing joy and warmth into our lives!