So we have completed the 30 day Python learning challenge. For those of you who don't know, this is my challenge for those who are new to programming, and want to learn about the Python programming language on anonyviet's facebook group.
Join the channel

Telegram

belong to

AnonyViet

???? Link ????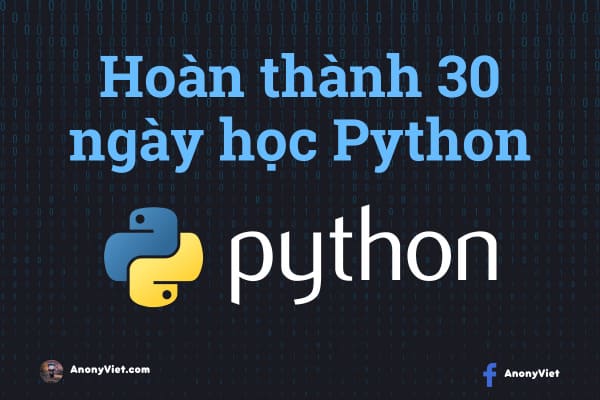 About the 30 Day Python Challenge
Learning a new programming language can be a challenge for those new to programming, but it can also be a fun and rewarding experience. In order to make it easy for you to learn and create an environment to learn with others, I have launched a series of 30 Days of Python Challenges inspired by the roadmap of Mr. Asabeneh, a great teacher and a great teacher. who mainly inspires himself. In this challenge you will learn everything needed to be a python programmer and a whole bunch of other programming concepts.
The challenge is divided into 30 days, each day focusing on a different topic about Python. Topics include:
Introduction to Python
Python Syntax
Object Oriented Programming
Data structures
Algorithms
Data Science
Web Programming
This challenge is designed for all levels, so you can join the challenge too don't know anything about python or you already have some experience working with python.
I also changed the learning method to each slide, helping you feel new and more interested in learning. The route and lesson content has been well researched, from other people on github and I also checked the code so you can rest assured about this challenge.
At the end of each lesson, there will be exercises related to the content learned. Exercises will be divided into different levels, from easy to difficult, these exercises will help you practice and apply the knowledge you have learned, as well as test your ability. If you don't know how to solve it, you can also comment under that lesson or ask others in the community. So don't be afraid to ask, studying with others will definitely be less boring than studying alone and those studying with you will also be a source of motivation to help you continue your self-study process.
Through this series, I see that people really like the way this content is delivered, as evidenced by the fact that every post has a high number of interactions and shares. After this series of 30 Days of Python Challenge, I will need some time to put the whole process together, and plan a new series that is equally fascinating. So you can go to anonyviet's facebook group and look forward to the new challenge.