BlueStacks is an Android virtualization service on computers that everyone must have played through. The disadvantage of Bluestacks is that it occupies quite high PC resources, so it is difficult for computers with weak configuration to play smoothly. So, a Cloud Gaming platform named BlueStacks X was born that will solve the problem of configuration. BlueStacks X as a VPS, you just need to log in to the Cloud and use BlueStacks like on a real computer.
Join the channel

Telegram

of the

AnonyViet

? Link ?
BlueStacks X can be accessed via mobile browser on iOS, Android, Windows 11, Mac, Chromebook and even some smart TVs. The BlueStacks X native client is available on Windows 11, Windows 10 and earlier versions of Windows. BlueStacks App Player users can also use BlueStacks X.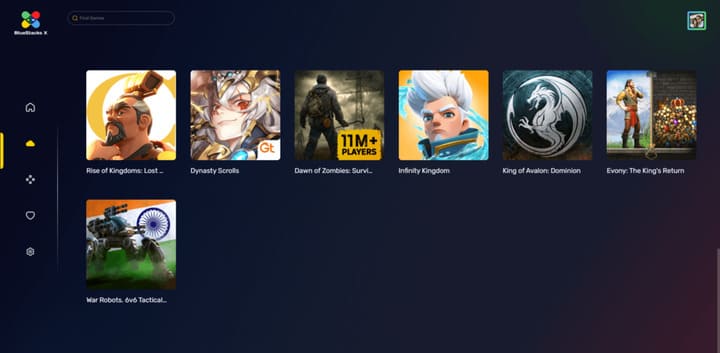 10 years ago, BlueStacks was born as an Android emulator for Windows, allowing anyone to run native Arm-based or x86 Android apps on Windows PCs and tablets. Now this emulator is transitioning to a cloud service, bringing Android games to the browser and playing on iOS, Windows, macOS, Android and Linux devices, and even inside the Discord platform.
BlueStacks X launched at the end of September as the only Cloud Gaming service that offers free Mobile Games on multiple platforms and devices, I was quite excited to learn it. BlueStacks built cloud technology in conjunction with the brand now.ggsame servers Amazon's AWS Graviton. Thanks to advances in modern web browsers, Bluestacks X can also reduce the load a lot even when it comes to loading graphics-heavy games.
How to use Bluestacks X
Currently, BlueStacks X is still only launching as a Beta, so there are only 14 Games available to install and promises to have more titles added weekly. Games like Raid: Shadow Legends, Disney Sorcerer's Arena, and Lords Mobile: Kingdom Wars are all playable. BlueStacks has also created its own Discord bot, named Cloudy, which is integrated into the Discord server and allows friends to launch cloud-based Android games and share playing sessions with others.
Step 1: Access BlueStacks X via the link: x.bluestacks.com and find the game you want to play among the supported games.
Step 2: Hover over the selected game and click the "Play on Cloud" (Play on Cloud)
Step 3: Log in to your game account as usual and play the game.
When playing games on BlueStacks X feels very smooth, of course it requires you to have a relatively strong internet connection, otherwise lag will occur and affect the results of the game.