AI tool for creating tattoos is an application of artificial intelligence (AI) in the field of tattoo art. This tool helps users design their desired tattoos easily and quickly, without needing drawing skills or the support of a tattoo artist. AnonyViet will introduce you to 4 tools WHO create today's top tattoos. Let's follow along!
Join the channel

Telegram

belong to

AnonyViet

👉 Link 👈
4 AI tools to create impressive tattoos
Tattoos are a form of art on the body, expressing the person's personality, interests, opinions, or honoring loved ones. However, designing tattoos is not easy, requiring creativity, skill, and experience of the tattoo artist.
Thanks to the development of AI technology, there are now many AI tools that help users create tattoos according to their wishes quickly and conveniently. Top 4 AI tattoo creation tools today.
Fotor is a website that provides photo editing, graphic design, and online video creation services. One of Fotor's outstanding features is the AI ​​Tattoo Generator, which allows users to create unique tattoos from their ideas.
You just need to enter a detailed description of the tattoo you want, choose the style (normal, old school, neo traditional, fine line, tribal, realism,…), and click Generate to let Fotor use AI to create the tattoos. Matching tattoos.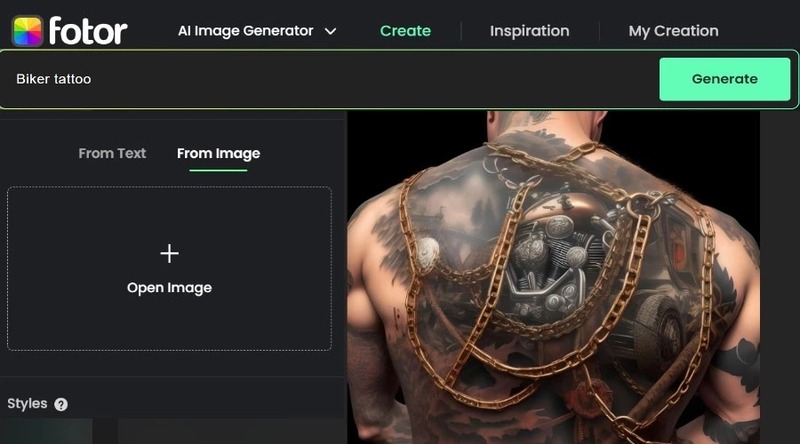 The advantage of Fotor is that there are many different tattoo style options, you can customize the size and position of the tattoo on the body, and you can save or share the tattoo with others.
Using:
Click the "Create a Tattoo with AI" button on the home page Photo.
Select "From Image" mode or "From Text" mode depending on the type of input you want to use
Enter your tattoo design idea in as much detail as possible in the text box or upload an image for it.
Wait a few seconds for Fotor's AI to generate several tattoo designs based on the input.
Choose the one you like best and download it or edit it further.
BlackInk AI is an AI tool that creates unique flash tattoos for you in seconds. BlackInk AI has over 2,000 designs to choose from in three stunning styles: Dotwork, blackwork, and Sketch.
You can try BlackInk AI for free, for 5 credits (create 20 images). This is the perfect tool for those who love tattoos and want to explore their own style.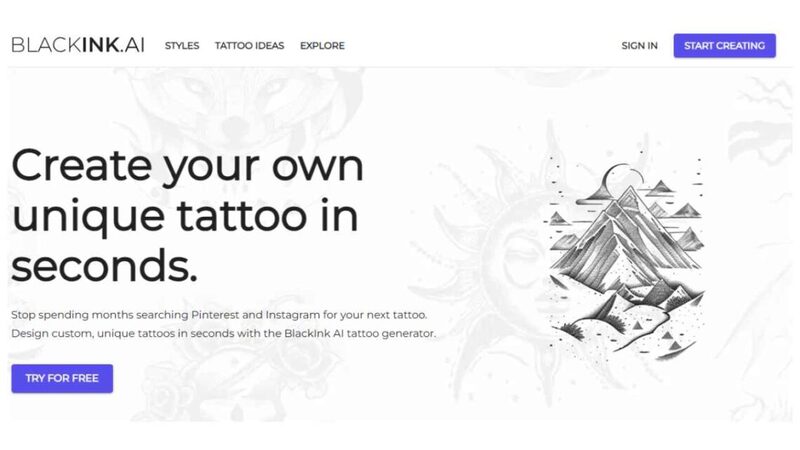 Using:
Visit our website BlackInk AI. Click the "Try For Free" button.
create a new account
Enter a description (prompt) for the tattoo design.
Choose the design you like and download it.
Tattoo Jenny is a tattoo generating AI tool developed by a group of university students. Tattoo Jenny uses a neural network to learn from thousands of previously trained tattoos, and then generate new tattoos according to the keywords the user enters.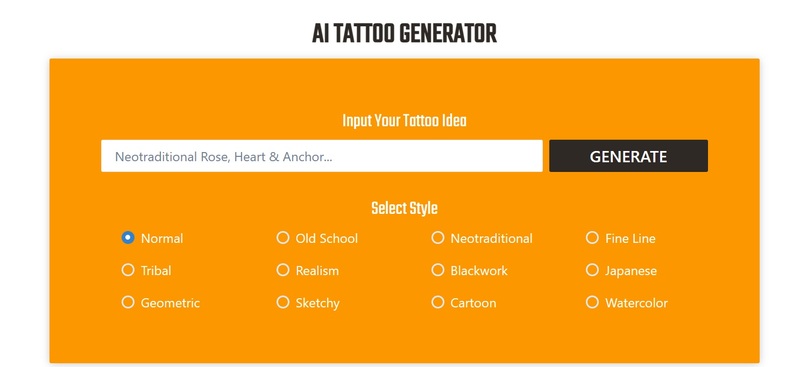 Users just need to enter one or two keywords about the tattoo they want (for example: a rose, a dragon), and Tattoo Jenny will create related tattoos for users to choose from.
The advantage of Tattoo Jenny is that it can create simple and easy-to-understand tattoos from short keywords, with many tattoo style options for you to choose from.
Using:
Visit the homepage Tattoo Jenny
Enter a description of the desired tattoo
Choose style (old school, japanese, tribal,…)
Click Generate
InkHunter is an AI tattoo creation app for smartphones. InkHunter allows users to test out tattoos on their bodies before deciding to get a real tattoo.
You can choose from hundreds of tattoo designs available in the app, or upload your own tattoo. Then, you just need to draw a small symbol on the location you want to tattoo, and the application will use AI to display the tattoo on the user's body via the camera.
The advantage of InkHunter is that it can help users experience tattoos on their bodies in an intuitive and vivid way, can compare many different tattoos, and can get opinions from friends or tattoo artists. .
The downside of InkHunter is that it does not have the ability to create tattoos from AI, but only uses AI to display existing tattoos.
Epilogue
Above are 4 AI tool for creating tattoos that you can use to design unique and impressive tattoos. You should also note that getting a tattoo is an important decision and can affect your life, so you should consider carefully before deciding to get a real tattoo! Wishing you beautiful and meaningful tattoos!