For some reason, your home network cannot access any Web site, it may be because this Web site is not in accordance with Vietnamese law or blocked by ISP. This is sometimes annoying for you, please use the following ways to bypass blocked Web pages.
Join the channel

Telegram

belong to

AnonyViet

👉 Link 👈
Method 1: Use Web Proxy
This is the way AnonyViet Most commonly used because there are many Web Proxy on the Internet, we can access the banned Website through these Web Proxy, its operation method is very simple.
Instead of us directly accessing the blocked Web site, when using Web Proxy, we will access the intermediate Proxy, from that intermediate Proxy access to that Website.
Do not use proxies: PC <–> Website
Using Proxies:
Request: PC —> Proxy —> Website
Receive: PC <— Proxy <— Website
Some popular Web Proxy providers
Method 2: Use VPN
VPN (Virtual Proxy Network) allows you to connect your phone, computer with a secure connection to another network over the internet. VPN allows you to access blocked websites from your home network and set your IP address in a far away land. You can also download apps or open websites that are blocked in your country.
VPN acts as a tunnel that converts your data into garbage value that is difficult for anyone to perceive and recognize. There are many services VPN free/cheap that one can use and enjoy uninterrupted Internet experience.
If you're looking for ways to boost your computer's security, you can also go for the deadly combination of TOR and VPN.
For details on how to use a free VPN, read in the article: Free VPN User Guide
Method 3: Use Google Translate
Companies or even countries sometimes don't ban Google Translate. So you can bypass the Website access restriction by converting the blocked website to some other language you may know. please try Google translator and self-study. This is a simple way to access blocked websites.
You can also use the translation service Microsoft's Bing to unblock a banned website.
Using:
Go to the link Google Translate
Paste the blocked Website Link in, then press the Translate button, it's too simple to access the blocked Website
Method 4: Use extensions
The most common and popular is Extension Hola above Google Chrome
After the installation is complete, go to The link of the website is forbidden then start Hola and choose Nation Let Fake IP and that's it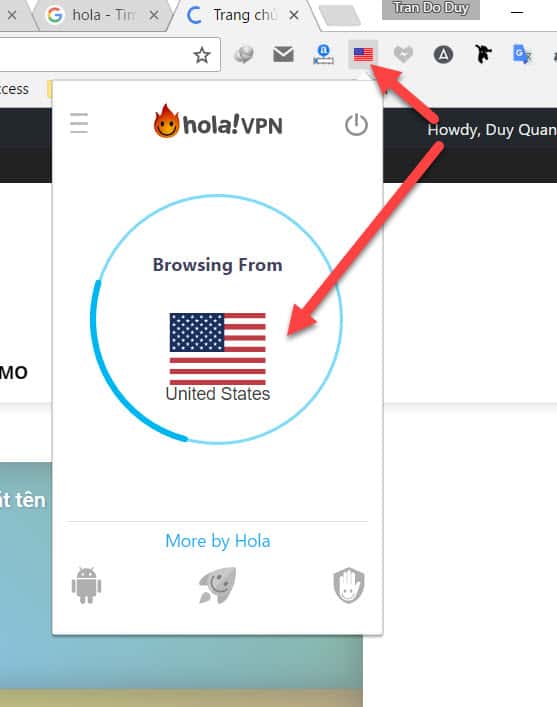 Hope 4 fastest ways to access blocked websites will help you solve the inconvenience when accessing the Internet.
If you have better ways, please contribute to the community