IPv4 proxies, an important tool in the digital world, have become familiar to people who use the internet every day. However, how many of us really understand what an IPv4 Proxy is and why it plays an important role in protecting personal information and managing networks? In this article, we will explore the world of IPv4 Proxies together, and learn about places to buy cheap IPv4 Proxies in 2023.
Join the channel

Telegram

belong to

AnonyViet

👉 Link 👈
What is an IPv4 proxy?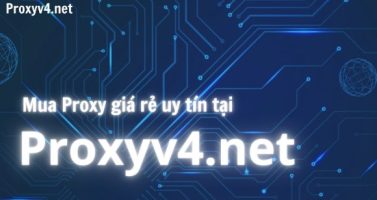 An IPv4 proxy, or simply "Proxy," is a server that acts as an intermediary between your computer and the internet. It forwards requests and data between your computer and online servers. Essentially, IPv4 Proxies help anonymize your IP address and protect personal data from online tracking.
How IPv4 Proxies Work
IPv4 proxies work by acting as an intermediary between your computer and the internet. When you want to access a website or online service, your computer makes a request to connect to that website. Instead of sending requests directly, requests from your computer are sent to a Proxy server. The Proxy Server, which has its own IP address, receives this request and then forwards it to the target website or resource. This process anonymizes your IP address and protects your personal information from online tracking.
Using an IPv4 Proxy brings many important benefits to users, especially in today's digital environment:
Online security
IPv4 proxies act as a barrier between you and the internet, helping to protect your personal information and IP address from online tracking. This is especially important when you visit websites that require privacy or transact online.
Access blocked content
Another interesting benefit of using an IPv4 Proxy is the ability to access limited local content. If some websites or online services only allow access to users from certain countries, you can use a Proxy to change your IP address, allowing you to access this content easily .
Increase access speed
Some Proxy services offer internet connection optimization. This means you can take advantage of higher speeds when accessing websites and online services. This is especially useful when you need a fast and stable connection.
Protection from cyber attacks
IPv4 proxies have the ability to stop some cyber attacks and malware before they reach your computer. This provides extra protection for you and your computer, especially in today's dangerous digital environment.
Using an IPv4 Proxy does not simply protect personal information but also provides many other useful benefits in interacting with the internet and online world.
Buy Proxies Where is IPv4 reputable?
Proxyv4.net
IPv4 Proxy is one of the first addresses you can consider when you want to buy cheap IPv4 Proxy. They offer Proxy packages at reasonable prices, suitable for many users.
Another strong point of IPv4 Proxy is the diversity in choosing locations and Proxy types. This helps you take advantage of the best options for your specific needs.
Proxyv6.net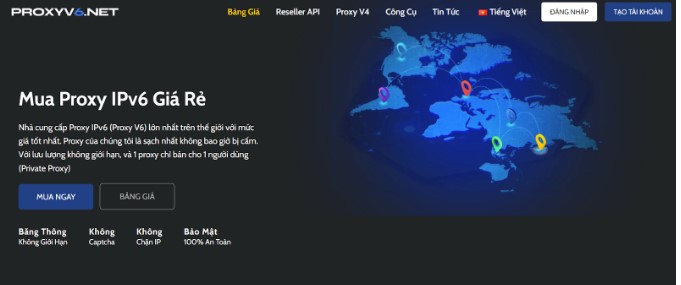 To protect your personal information, Proxyv6.net is committed to comprehensively securing your data. They use top security measures to ensure that your data is always kept safe. Proxyv6.net has been trusted by many users because of their stable and effective service.
Keyshop.vn
If you are looking for stability and high quality, Keyshop.vn is an address that you should not miss. They are committed to ensuring quality IPv4 Proxy services, ensuring that you always have a smooth and secure online experience.
Another advantage of Keyshop.vn is 24/7 support. This means that you can get support when you need it, every time, ensuring that you never have a problem using their services.
YourProxy.vn
YourProxy.vn allows you to customize Proxy according to your own needs. This means you can choose the Proxy type, location and time of use based on your specific needs.
ProxyKing.com
ProxyKing.com is an address with Proxy available in many countries around the world. This allows you to access content from a variety of sources and even change your IP location as you like.
Conclude
IPv4 proxies are an important tool for network security and management. It helps protect your personal information and IP address, as well as allowing you to access restricted online content. With the list of top 5 addresses to buy cheap IPv4 Proxies in 2023, you can find a service that suits your needs.