LANIT just launched the service VPS MMO dedicated for those who are active in the field of MMO. Service VPS MMO is highly appreciated for speed – stability, the number of IPV6 up to 10000/1VPS , high security and many other outstanding advantages. We invite you to follow this article for more details!
Join the channel

Telegram

belong to

AnonyViet

???? Link ????
What is the role of VPS MMO in the MMO 4.0 industry?
MMO is a form of online money making business that is becoming a trend that many people are interested in in recent years. In order to make the most of this form of making money, in addition to professional knowledge and quick thinking to grasp the market, the selection of supporting tools in the working process is also focused by MMO experts. In particular, VPS MMO is one of the tools to meet that need.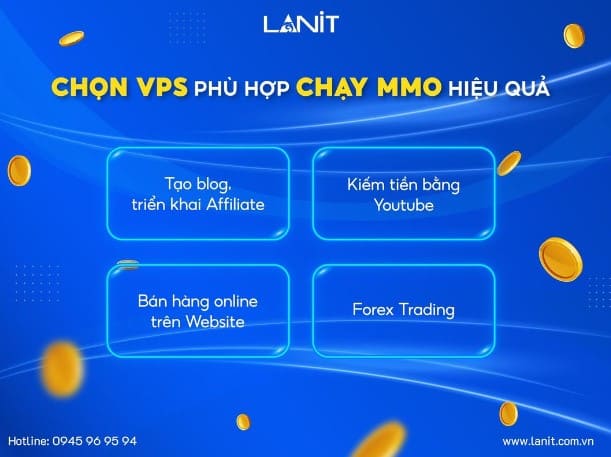 VPS MMO aka virtual server dedicated to MMO activities. VPS MMO has outstanding performance, high speed Internet connection, large number of IPv6 and can change IPv6 continuously, quickly and easily. These things support users very well when they set up and run MMO software programs/tools to set results such as increased views, increased interactions, increased likes, etc. to make money online.
So, on the market today, which unit's VPS MMO service is popular? If you are an expert in making money with online platforms, you should not ignore today's leading MMO VPS provider – LANIT. Let's find out what LANIT's MMO VPS service is outstanding in the next content!
Outstanding benefits when using VPS MMO at LANIT
LANIT is a leading unit in the field of providing data storage services with core services such as: Renting physical servers, cheap virtual server, Cheap Hosting for thousands of businesses and individuals. In there, VPS MMO . service recently launched by LANIT received many positive feedbacks with outstanding advantages:
Outstanding performance
For those who do MMO, the most important thing when looking for a server rental unit is speed and stability. Understanding that desire, LANIT invests in infrastructure, server systems, new generation Intel CPUs 2680v4, 2696v4, high-speed SSD hard drives, bandwidth up to 1Gbps, helping to accelerate applications and software running MMO as well as increase performance for online money-making activities. LANIT believes that the performance of VPS MMO will satisfy every customer.
Cost savings
In addition to quality being the top criterion, the VPS MMO service at LANIT is also highly appreciated by customers for its extremely reasonable price with a variety of service packages, suitable for all customer needs.
In addition to 10% discount when registering VPS MMO, customers also receive additional gifts: RAM up to 3G, IpV4 up to 4IP.
Incentives on prices and services help businesses and individuals save investment costs and increase revenue on online platforms.
IPv6 count up to 10000/1VPS
In order to help customers limit risks such as blocking the whole IP range, LANIT provides customers with IPv6 numbers up to tens of thousands, IPv4 up to 5 IPs on each VPS, helping customers change IPv6 continuously, easy.
Security
In addition to the MMO server system with high security features, LANIT is also equipped with a hard Firewall system to help prevent effective network attacks. Make sure your online money making activities are always safe.
24/7 Support
LANIT always wants to bring customers the most satisfaction. Therefore, LANIT makes constant efforts to research and improve service quality. For customers who have been using the service in general and the VPS MMO service in particular, customers will always receive timely support from technical experts and customer care when there are any problems. in use. Ensure customer's system operates continuously 24/24h
Free 24h trial
In order for customers to be able to safely register to use the VPS MMO service, LANIT offers a policy to support customers to try VPS for free within 24 hours. The trial registration process is easy and fast.
VPS MMO at LANIT – The best choice for those who are and will be operating in the MMO field. Meet the diverse needs of customers as well as bring the best performance. Please contact LANIT for the best advice and quotation!
LANIT . TECHNOLOGY AND COMMUNICATION JOINT STOCK COMPANY
Address: Building CT5 X2 Bac Linh Dam – Hoang Liet Ward, Hoang Mai District, Hanoi City.

Hotline: 0945.96.95.94

Website:

https://lanit.com.vn/

Fanpage: https://www.facebook.com/lanit.vn