You want to know how to make transparent avatar on Tiktok to make your channel stand out and get more views, likes and followers? Today I will show you how to do that using many different tools for you to choose from. Let's get started now!
Join the channel

Telegram

belong to

AnonyViet

???? Link ????
Note: This image style only applies to some Android devices and is not available on iPhone phones.
How to make a transparent avatar on Tiktok with Remove.bg and PicsArt
Remove.bg is a free website that helps you to remove background images automatically with high accuracy and can be edited as you like. PicsArt is a popular, versatile and easy-to-use photo editing application even for first-timers. The steps are as follows:
Step 1: You go to Remove.bg, click the "Upload image" button, select the image you want to remove the background from, and upload the image. After the image has finished separating the background, click "Done" and then click "Download".
Step 2: Next, go to PicsArt, scroll down and select "Color Wallpaper", click the first wallpaper. Click "Add" and then select the background image. Adjust the image size as you like, then press the tick mark and select the arrow in the top right corner and select "Save".
Step 3: Go to Tik Tok, select Profile, "Edit Profile" and "Change Photo". Add the saved photo and then click "Confirm" to finish.
How to make a transparent avatar on Tiktok with Background Eraser
Background Eraser is a compact and convenient application that helps you to erase photo background, combine photos with other backgrounds simply and quickly. Please follow the steps below:
Step 1: First, go to the Background Eraser application, select "Load a photo" and then select the image to remove the background, adjust the size accordingly. Choose commands to remove the background, including:
Auto-Selfie: Remove the background of selfies automatically
Auto Color: Automatically separates the selected color
Manual: Split the background manually
Step 2: You press "Done", select Smooth level 5 and then click "Save" to save. Remember to check the format of the image because only PNG format can make a transparent avatar.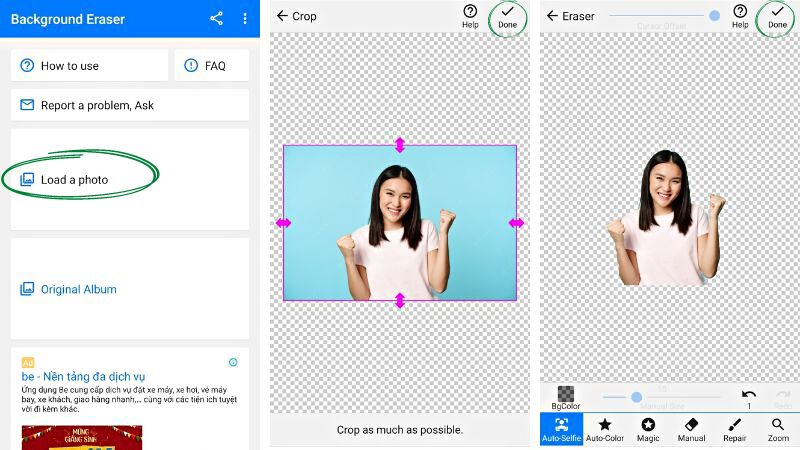 Step 3: Enter Tik Tok, continue to the section "Profile". Tap "Change Photo", then select the photo with the background removed and tap "Confirm".
How to make a transparent Tiktok avatar using taoanhdep.com
Taoanhdep.com is a website that helps you create beautiful photos, cover photos, backgrounds, memes, collages and many other types of photos easily and simply. You can create a transparent Tiktok avatar by the following way:
Step 1: Go to the "Create transparent Tiktok avatar"
Step 2: Fill in the information that you want to display on the avatar, such as font style, font size and color, etc.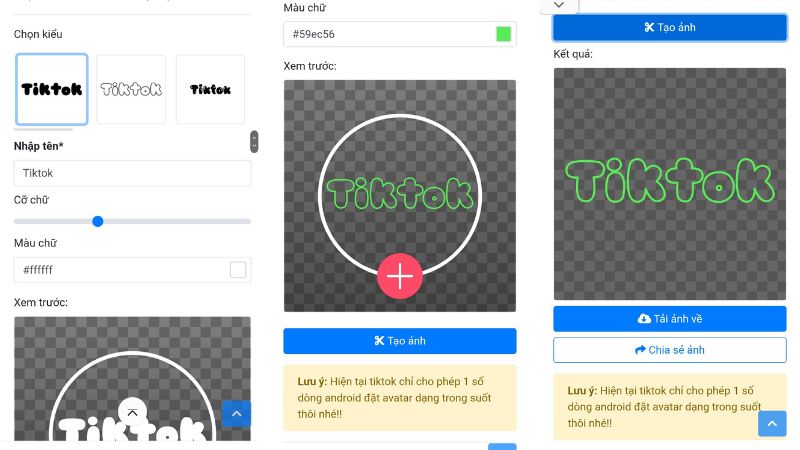 Step 3: See the avatar created in the Preview section. If you are satisfied, select "Create image" and then click "Download image".
Step 4: Open TikTok and change the avatar as in the two ways above.
Epilogue
So you already know how to make transparent avatar on Tiktok in 3 different ways. This will help you make an impression, attract the attention of others, the video has a larger viewing area, create a better user experience, which can significantly improve the number of followers on Tiktok. Good luck to everyone applying!