Users are increasingly coming online banking to manage personal finances and conduct financial transactions conveniently. The combination of technology and banking has changed the way we interact with money. In this article, we will explore the advantages and disadvantages of online banking.
Join the channel

Telegram

belong to

AnonyViet

👉 Link 👈
Basic concepts and characteristics
Online banking is a form of banking service using the Internet and mobile applications. This allows users to access their accounts and make transactions from anywhere with an Internet connection. This has brought convenience and flexibility to users.
Advantages of online banking
Convenient and flexible
Online banking allows users to make transactions without going to a bank branch. You can view your account balance, transfer money, pay bills and even invest online from anywhere and at any time, 24/7.
Safe and secure
Despite safety concerns, online banking has put in place many security measures to protect users' information. Two-factor authentication (2FA) and other advanced security measures help ensure privacy and safety.
Diverse services and features
Online banking is more than simply a tool for checking account balances. It offers a variety of services and features, including transferring money between accounts, paying bills, managing transactions, and investing online. The mobile app also makes it easy for users to access their accounts and make transactions on their mobile phones.
Disadvantages of online banking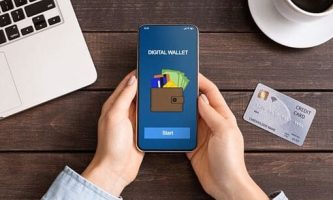 Although online banking is convenient, some people still have difficulty using a computer or accessing the Internet. This causes limited accessibility for some users.
Cyber ​​security risks
With the rise of online banking, there are also increased risks related to cybersecurity. Users need to be vigilant to ensure their personal information is not stolen or defrauded online.
The lack of passivity
Online banking does not provide face-to-face interaction with bank staff as is the case with traditional banking. This may leave some users feeling like there is a lack of personal support.
How to use online banking effectively
A. Register and install the online banking application
To get started, users need to register an account and install the online banking application on their mobile phone or computer.
Manage accounts and perform basic transactions
They can perform basic transactions like viewing account balances, transferring money, and paying bills.
Secure your account and personal information
Users are required to maintain the security of their accounts and personal information by using strong passwords and regularly changing them.
Take advantage of advanced features
In addition to basic transactions, online banking also offers many advanced features such as online investing and online saving.