3-compartment drawer models are a smart and convenient solution that many people choose when they need a product to manage documents and records in the office. If you are also looking for this product, please follow the article below, we will introduce to you the following models: 3-compartment cabinet best seller 2023.
Join the channel

Telegram

belong to

AnonyViet

👉 Link 👈
Best-selling 3-Drawer Cabinet Models of 2023
3-Drawer Mobile Cabinet HT1-084
HT1-084 is the model Mobile cabinet with 3 drawers Multi-purpose designed to fully meet the storage criteria of office workers. With its compact and flexible design, this product is always at the top of the list of indispensable items for every office.
HT1-084 not only helps you maintain neatness and organization in your workspace but also helps optimize storage. With 3 large compartments, you have enough room to organize and store documents, files, or personal items.
Besides, the compact design also helps you easily move this product to any location in the office.
Mobile Drawer Cabinet HT1-T
The HT1-T mobile 3-compartment cabinet has a modern design with a minimalist style, suitable for many different types of office interiors. With compact size and moderate weight, you can easily move the cabinet to any location in the office you want.
The HT1-T drawer is made up of 3 equally sized drawers, each drawer is equipped with a sturdy handle. This helps you organize and store documents, records, or personal items neatly and conveniently. This product is highly appreciated by many customers for its durability and aesthetics during use.
3-Drawer Cabinet HT1-TT
The HT1-TT 3-compartment cabinet is an outstanding product in the world of office cabinets with its minimalist and convenient design. The main material of the product is MDF wood covered with high-quality scratch-resistant melamine, which helps protect the product from mold and termites.
The size of 40cmx45cmx55cm of the HT1-TT drawer helps save space. This size creates favorable conditions for you to utilize the working space effectively.
The product is available in delicate white color, creating a clean, comfortable feeling and suitable for many different office interior designs.
Cheap 3-Drawer Cabinet HT1-7392
Cheap 3-compartment cabinet HT1-7392 of Zear Furniture brand is a smart choice for every office, especially in the low-cost file cabinet segment. This product is designed with a modern design, elegant and luxurious colors, suitable for many types of popular office furniture on the market.
HT1-7392 is manufactured from high-quality Melamine industrial wood, ensuring durability and beauty throughout the period of use. With a basic box design, it easily combines with many desk designs, manager desks, director desks, or L-shaped desks. This helps you utilize your workspace effectively and economically. frugal.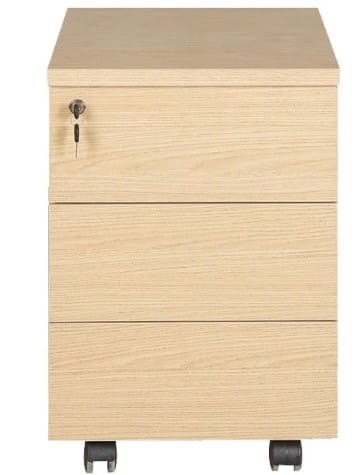 3-compartment mobile cabinet HT1-612
The 3-compartment mobile cabinet HT1-612 possesses a modern design and elegant colors, bringing luxury to your office space. With its compact size, this product is suitable for many working spaces and can be placed in many different positions.
With the HT1-612's three spacious drawers, you have enough space to store documents and personal items. Secure locking system helps protect your important information. Besides, the product's portability allows you to easily move it to any location in the office.
The HT1-612 drawer can be perfectly combined with a director's desk or wooden desk in a corporate environment.
Why should there be a 3-drawer cabinet in the office?
Equipping a 3-compartment cabinet for the office is very necessary. Here are some benefits that 3-compartment drawers bring:
Suitable for small spaces: In offices with small areas, 3-compartment cabinets are an ideal solution. It helps utilize every corner of the space and keeps everything organized and easy to find.

Easy cleaning: A big advantage of drawer models is the ease of cleaning and preservation. You can easily remove the compartments to clean, clean and maintain cleanliness.

Variety of sizes: 3-drawer cabinets are available in many different sizes, to suit your needs and space. You can find compact or portable cabinet models, making it easy to move around the office.

High durability: With materials such as industrial wood or iron, 3-compartment drawers often have high durability and good impact resistance. Luxurious colors and designs help the product not only perform storage tasks but also decorate your workspace.
Where to buy 3-compartment cabinet models for offices in Ho Chi Minh
Zear Furniture Brand
With many years of experience in the field of office furniture, Zear Furniture is one of the reputable brands and is trusted by many individual and business customers. Zear is always committed to bringing you quality products and perfect services, helping to elevate your workspace to a new level.
Zear's 3-compartment chest of drawers is carefully selected from material to finish. They fully meet the criteria of an excellent product with high utility and aesthetics. With dedication and professional working techniques, we always update the latest models and unique designs, ensuring that you will always find products that suit your style and needs.
When choosing Zear Furniture, you are choosing certainty, class and dedication in service. We are committed to taking your workspace to the next level, bringing convenience and comfort to your every working day.
Contact Info
Store address: Dragon Parc 1, Nguyen Huu Tho, Phuoc Kien, Nha Be, Ho Chi Minh City

Hotline: 0919 715 111

Zear Furniture Website: https://noithatzear.vn/