Do you know? You can use USB to increase Ram capacity in Windows 7, 8, 10 without using any Support Software. Please read the article below to know more about these methods
Join the channel

Telegram

belong to

AnonyViet

👉 Link 👈
AnonyViet I've known this trick for a long time, but maybe some of you haven't heard of it. I confirm that I can do it, not Download Ram, or download RAM like on troll Web sites. As you know a basic function of RAM memory. For gaming purposes, one needs a lot of RAM. What if you don't have enough money to buy new RAM and also sometimes don't have an extra slot on your motherboard to set up new RAM. How would you upgrade the RAM? Well, the answer is simple. Today, we are going to share some tips that will help you to Increase RAM for computer with USB in Windows.
😛 😥
😛 😥
😛 😥
😛 😥
How To Increase RAM Using USB / Pendrive In Windows 8 & 10
#1 Method: Using Virtual Ram Concept For Windows
Step 1. First attach the USB to the computer. Then open computer and right click My Computer =>Afterward, Properties.
Step 2. Now the Properties window will appear, then click on Advanced system settings from the left side.
Step 3. Then in Advanced Tab click Settings button appears in Performance tab.
Step 4. New window will appear again then click Advanced Tabs.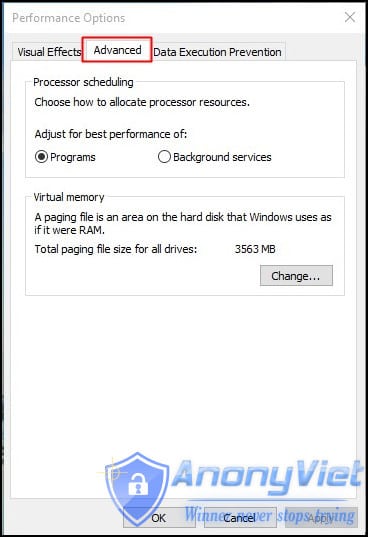 Step 5. In the Advanced Tab there is an option of Virtual Memory, Then click Change
Step 6. Now uncheck the box (Uncheck)Automatically manage paging file size for all drives. In the box below, select USB your plugged into the computer, remember the capacity of the USB. In the cell Custom Size: enter the amount of USB you want to share for Ram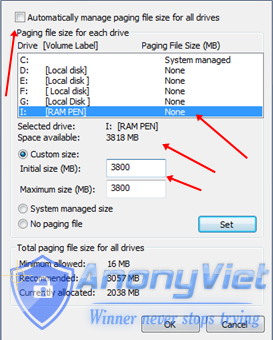 Note: If your USB is of Size 4Gb, then you should subtract 10 Mb. As shown in the picture, I am using 4Gb USB and the available space is 3700 Mb, so I only enter the Custom Size as 3690, to ensure safety for use.
Restart your computer or laptop and now your USB is working like Virtual Ram. If you face problem in above method then also can follow below method which is easy to implement and work on Window 7, 8
#2 Method: Use ReadyBoost in Windows 7, 8, 10
Step 1. First of all attach your USB to the computer => Now please right click go to your USB drive and open Properties
Step 2. Now you need to browse to ReadyBoost Tabs.
Step 3. Then switch to Use disk device and reduce your current memory space. If your current device location is 4100MB, then reduce it to about 200-300MB.
Step 4. Then click the button and all Done Apply.
Step 5. In case if you want to change your drive back to normal then switch it back to Do not use a device in the tab ReadyBoost.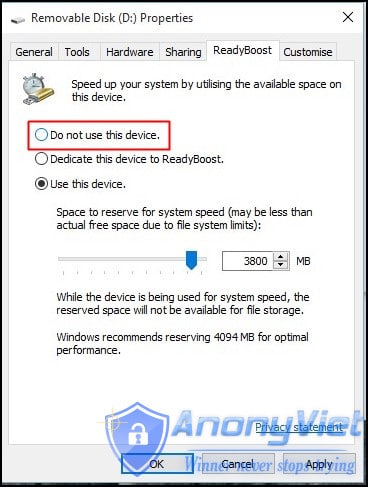 #3 Method: Use external software
RAM Disk is a high performance RAM disk application that allows you to have a drive on your computer completely stored in its memory. As memory is much faster than the physical hard drive, storing data temporarily on a fast in-memory disk achieves a higher performance. Whatever your job is, read on to find out what a RAM disk can offer you.
You can see how many MB of memory is free on your computer's USB or hard drive and can set them up as RAM Disk.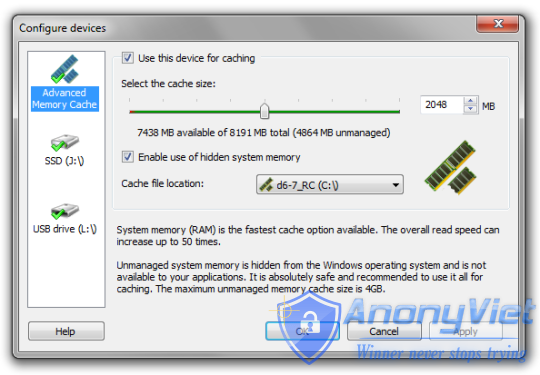 eBoostr is designed to make your computer faster. It features an easy to use interface and an automatic configuration wizard that will get you "super speed" in no time at all. It also has a selection of ReadyBoost where you can use your USB drive to speed up the computer.
Important recommendations:
first. Always Safely Eject USB Drive (Safely remove USB) when not in use
2. In the virtual memory method if you want to convert your USB back to normal. You follow the steps above and Remove the custom memory value, select the default settings by checking Automatic Size Management Paging.
3. In Method ReadyBoost if not half used, delete all files do ReadyBoost created in your USB.