Not only do you have a free trial of Cloud VPS with VMWare virtualization technology, you also get an additional discount of up to 300,000 when you sign up for an account at TotHost. Join now!
Join the channel

Telegram

belong to

AnonyViet

???? Link ????
Event Summary: as new users, you will be able to register for 2 days of free trial of VPS TOT M12, then will receive an additional discount code of up to 300k when doing the experience quality survey (3 questions survey) and TotHost review on Google.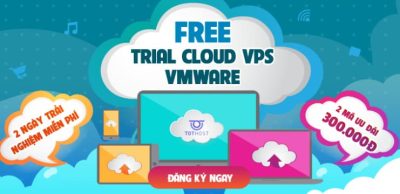 Program introduction
Time: From 6/4 until further notice
Promotion form: Free trial for 2 days and get discount code 300K CZK
Applicable services: VPS TOT M12(1 vCPU, 2GB RAM, 20GB SSD Disk, VMWare Virtual)
Audience: Customers who have never used TotHost service.
Content:
During the program, all new TotHost customers get 2 days free trial of TOT M12 VPS and get discount code 2 worth up to 300,000. The codes include:
1 code Discount 50,000/monthin the first 3 months
1 code 250,000 VND offfor orders to buy VPS by 3 months / 6 months / 12 months (with discount 5% / 10% / 15% respectively for each term)
50,000 plus to the account when joining Rate TotHost on Google Maps
Instructions to receive the FREE TRIAL CODE offer
Step 1. Click "Try Free" button
You will be directed to the Free Trial VPS TOT M12 registration page, select the operating system and click "Continue". Then, click on "Payment".
Step 2. Fill in the account registration information and click "Place Order"
If you have already created an account, select the "Member Login" button to log in to your account.
Step 3. Submit a review – Get an offer
Share your usage experience via Table "Evaluate the quality of VPS service TOT US" was sent to email and received 2 special discount codes.
Rate TotHost on Google Maps to instantly receive 50,000 into your account.
Note:
See how to use the promo code at This.
Promo code applies to all TOT M VPS packages, except TOT M Tiny
Each promo code is valid for one-time use only and cannot be used in conjunction with other promotions
The program is not exchangeable for cash.