In previous articles, I showed you how to automatically receive Daily Pot by Honeygain Use hang or use VPS hang to automatically receive. But in today's article, I will share with you another way to automatically receive Daily pot without having to hang up your computer or VPS!
Join the channel

Telegram

belong to

AnonyViet

👉 Link 👈
The article links you need may be needed before reading this article
Instructions for getting Honeygain's Daily Pot using Github
Using the old method will force you to hang up your computer or rent a VPS. So after using it for a while, I can summarize the disadvantages of this method as follows:
For computer crashes:
Very harmful to your device due to long-term use
Sometimes the network has an error and cannot receive gifts
Computers are consuming resources
For VPS use
Requires you to have a credit card or mobile banking to pay
Lost VPS fees that cannot be compensated by income
As for the method I'm about to share, you can use it right on Github without having to spend money, and you also don't need to hang up your computer.
Credits
This article gets you Le Khanh Binh () share. Everyone, when sharing, please put credit under your video or article!
Setup instructions
Before proceeding, you are required to have an account Github and the registered Honeygain account has an Email and Password because the following method cannot use the token to log in
Step 1: Access the original repo of gorouflex/honeygainbot here
Step 2: You guys Fork this Repo.
Step 3: Select Create Fork in the lower right corner of the screen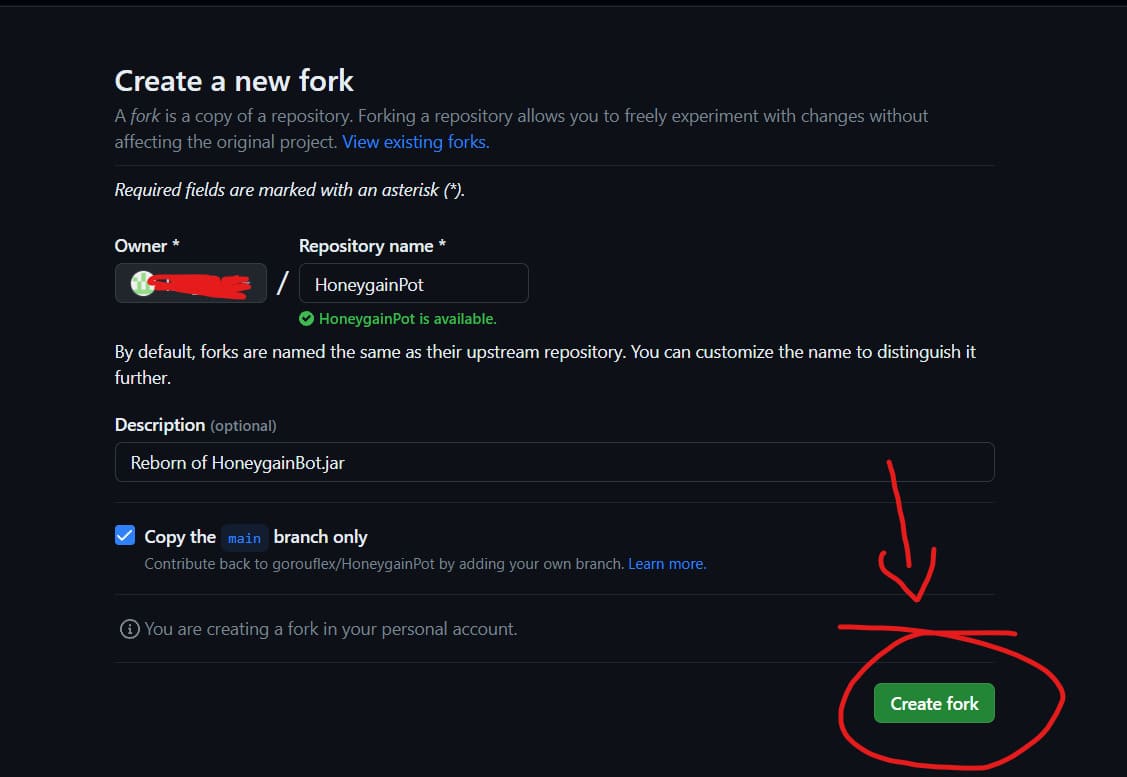 Step 4: In the newly forked Repo, go to settings
Step 5: Scroll down and go to Security > Secrets and variables > Action

Step 6: Select New Repository secret
Step 7: Please fill in the information below.
Name: MAIL_JWD
Secret: email you registered with Honeygain
Once done, click add secret.
Step 8: Go back and redo from step 6. For step 7, you change your information as follows:
Name: PASS_JWD
Secret: your Honeygain account password
Step 9: Go to the action section on the toolbar

Step 10: You click I understand my workflows, go ahead and enable them
Now you have completed the setup to automatically receive Honeygain's Daily Pot without having to hang up your computer or VPS. You can see other articles related to making money online here