If using ChatGPT Now you need to change VPN, create an account and a lot of other cumbersome steps, now you can experience the power of AI for free without doing anything else. Can you believe this? Follow the article below to know the answer!
Join the channel

Telegram

belong to

AnonyViet

???? Link ????
What is ChatGPT?
ChatGPT is a language model developed by OpenAI. It can answer your questions, talk about many different topics, write good stories, summarize content, translate languages, etc.
This is a very useful and interesting AI tool in the field of natural language processing and can help us add a lot of knowledge, helping the job to be solved quickly without spending too much time researching. research, explore.
How to use ChatGPT for free
First, you access this link
This is a "clone" version of ChatGPT but can still work as effectively as the original.
Here, the features are clearly classified in the left corner of the screen, so if you want "ChatGPT" to do something, just click on that tab.
A rather convenient thing of "ChatGPT" is that when you access the link, you can use it right away without having to register an account, change VPN, etc.
Interesting features of "ChatGPT"
Answer questions by voice
An interesting feature of this website that the original version didn't even have, is the ability to interact by voice, in many different languages.
For example, you can ask questions about "ChatGPT" with your voice by clicking on the "microphone" icon, select the language "Vietnamese", then start speaking…
Simultaneously, "ChatGPT" can also answer you by voice, by clicking on the speaker icon. After it has finished answering in writing, a voice will say it back to you.
Features such as answering questions, giving ideas, solutions, writing essays, writing poems, "ChatGPT" are all quite stable.
Draw a picture
You click on the "DigiArt" item, similar to the usual "text to image" tools, you just need to type the image description in the blank box and the system will return the image that meets those requirements.
But in my opinion, this feature is not really excellent compared to Bing AI Image, Playground AI, Midjourney, etc. because the image creation time is quite long, only 1 image can be created at a time, and sometimes the output image is not correct. with the request entered.
Write code
"ChatGPT" also supports users to write code in many different programming languages. For example picture: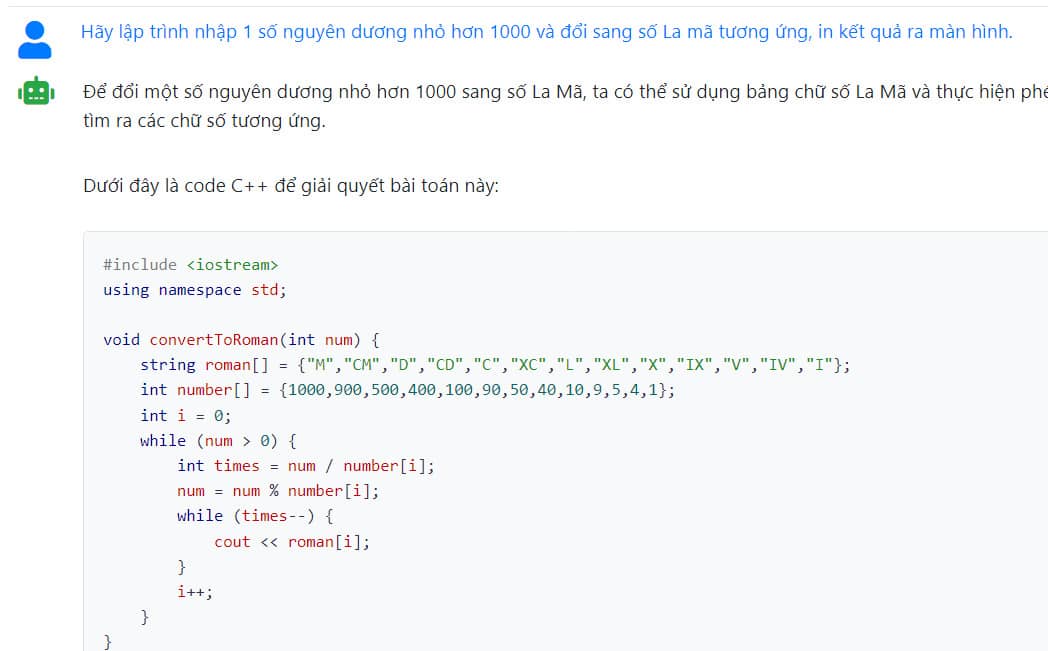 Do mathematics
You just need to enter the topic and the system will give you the results. The system also provides mathematical symbols such as square roots, derivatives, integrals, etc., making it easy for you to write problem requirements!
Epilogue
So you can easily use ChatGPT for free without having to create acc or change IP to another country like before. Although there are many limitations, this is really a good and useful tool that you should try. Good luck with your application!